One of the most crucial and challenging decisions that you need to make when planning an event in Italy is where to host it. In fact, the venue can have a significant impact on your attendees' experience. And many of your other decisions are influenced by the venue choice. This is even more relevant in the era of Covid-19, as you need to pinpoint the event spaces that meet all the safety protocols while also being flexible in the ever-changing circumstances of the pandemic.
As always, at Italian Special Occasions DMC & Events we meticulously select venues that match our philosophy in being authentic, sustainable and unspoiled by mass tourism. Naturally, we have added an extra layer of controls to make sure that they:
are all compliant with health and safety protocols;
guarantee safe food and beverage;
provide adequate technology solutions for those who are interested in hybrid events.
Today we want to share our selection of venues where to host a safe event in Italy in the current climate!
Borgo Pantano (Rometta, Sicily)
Borgo Pantano is a small hamlet that was once abandoned. Nestled in the Messinese countryside, it is now coming back to life thanks to the passionate work of the Bisazza Family. What makes this village special is that it did not undergo any transformations following its abandonment, so its heritage of medieval architecture is still intact!
Here you can host an event outdoors, among the terraced hills where ancient cultivation methods are carried out, among the orchards or the vegetable gardens, or in the small piazze and alleys that make up Borgo Pantano. The venue is ideal for team building experiences involving artisanal workshops or farming activities. Your attendees will be surely inspired by the history and authenticity of the place.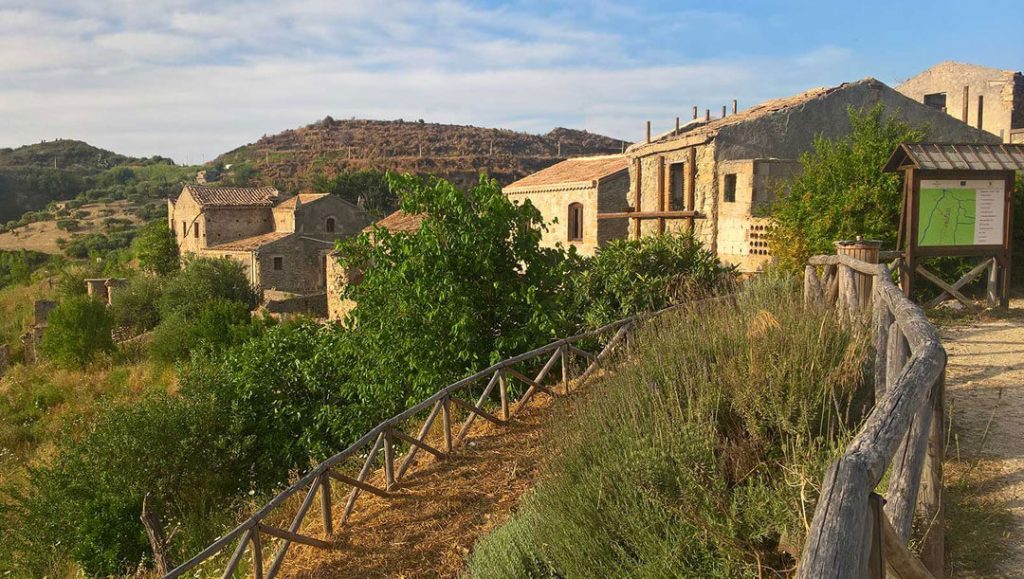 Hotel Villa Fiorita (Treviso, Veneto)
This historic property from the 1700s today hosts a hotel with top-notch event facilities, charming gardens and a fine restaurant. Villa Fiorita is in Treviso, in the heart of the lands where Ernest Hemingway lived during the First World War. It is off the beaten path, yet close to Venice. It's therefore ideal for an incentive or bleisure trip to discover both famous and unknown destinations.
Hotel Villa Fiorita is also a great choice for hybrid or in-person events, as it features 15 meeting rooms for a total of 1000 conference seats. All rooms have natural light and are equipped with the best technologies. We particularly like the property's approach to eco-sustainability, which it applies to all its domains – events included.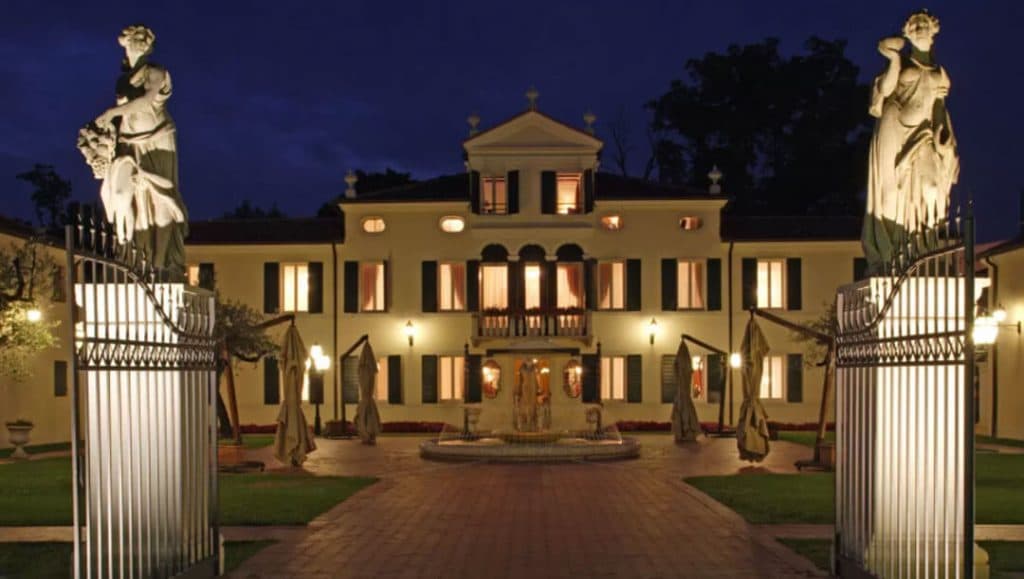 Terrazza Triennale (Milan, Lombardy)
If you want to organise a business lunch or a gala dinner that WOWs your clients or your top managers, this is the place to go. Terrazza Triennale is a rooftop restaurant that serves Italian cuisine of the highest class. It also has a mixology cocktail bar.
The venue is located on top of the Palazzo dell'Arte, home to Triennale Milano – one of world's leading cultural institutions. It is set partly in a transparent greenhouse and is surrounded by an outdoor terrace. The views of Milan's skyline are spectacular! Just like its host city, Terrazza Triennale mixes the best of Italy with a cosmopolitan vibe.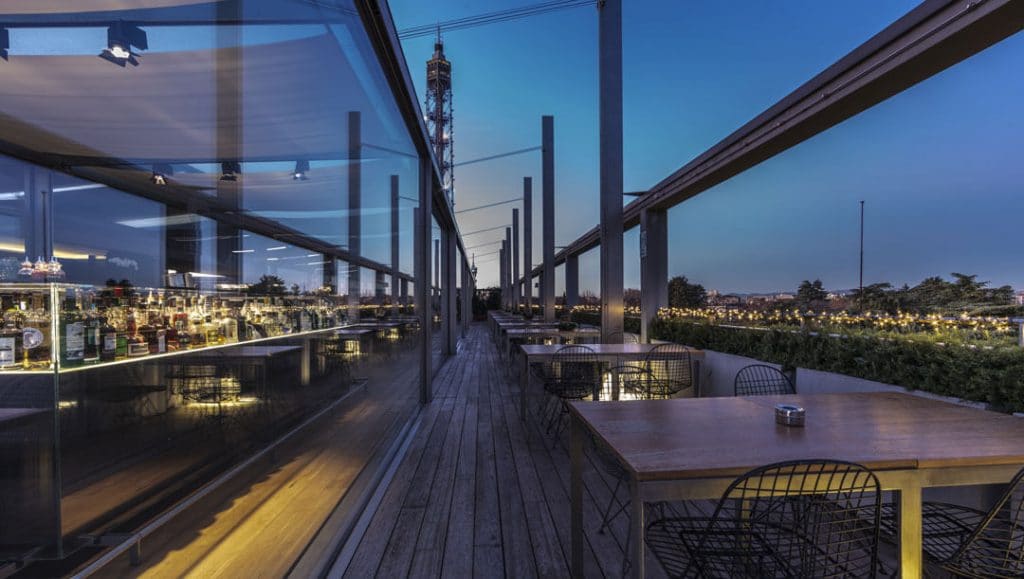 Villa Olivo (Civitanova Alta, Marche)
Are you looking for a luxurious venue for a small, exclusive event in Italy? Villa Olivo is the amazing solution if you want to host up to 22 people. This eco-luxury hilltop retreat is set between the countryside and the coast of the little-known Marche region. Its estate spreads over 8 acres and includes its own 400-tree olive grove. Imagine yourself taking a swim in its infinity pool surrounded by all this greenery!
Sustainability is at the heart of how Villa Olivo operates, from managing the estate to supporting the local community. Here we can offer bespoke services and organise authentic activities all year round. This venue is ideal for wellness retreats (especially involving yoga and cycling), for food and drink experiences, and for intimate destination weddings.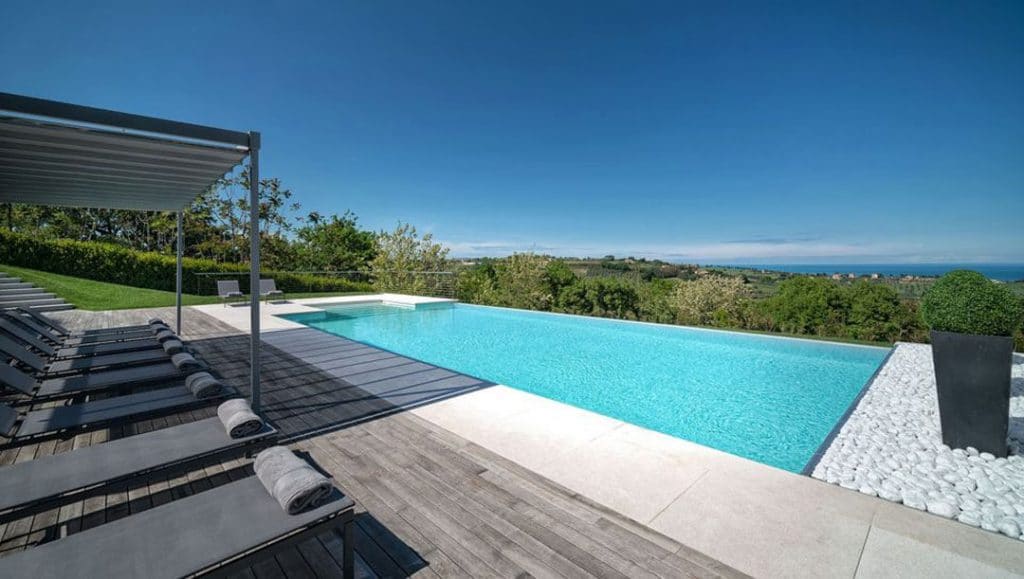 Castello di Potentino (Seggiano, Tuscany)
Can you believe that the first record of this castle is from 1042? This is the perfect venue if you want to breathe ancient history while enjoying quality services and beautiful views. The Castello di Potentino and its vineyards are located on the slopes of the highest peak in Tuscany, Monte Amiata, which is an extinct volcano. The owners took advantage of the unique microclimate to grow Pinot Noir, a grape that is not very common in Tuscany, along with Alicante and the traditional Sangiovese grape varieties.
In this inspiring venue we can organise private music concerts and a variety of activities linked to the local culture, such as wine tastings and craft courses. Castello di Potentino is ideal for team building experiences, company retreats and destination weddings, especially if you want a unique atmosphere off the beaten path.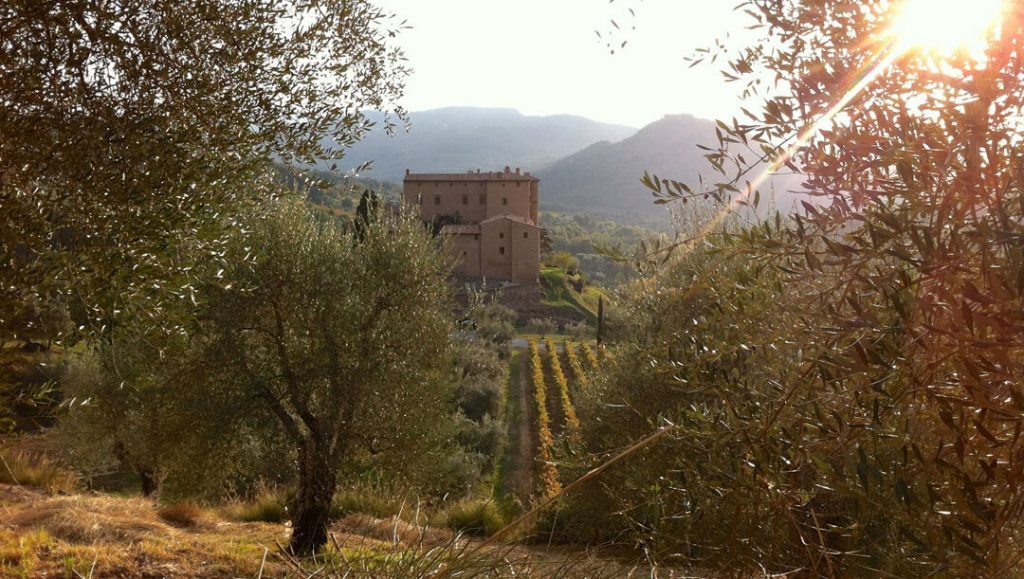 Let us help you find the perfect Italian event venues tailored for you
This small selection of ours shows the great variety of amazing event venues across Italy, from the luxury estate in the countryside to the ancient castle on a mountain, from the modern hotel that embraces its history to the hamlet that has never been transformed, all the way to the fine restaurant that serves the best Italian cuisine in a vibrant and international city like Milan.
What they all have in common – in addition to being sustainable and compliant with Covid-19 regulations – is that they showcase regional specialties and offer a distinct, pure view of Italy. This is one of the keys to making your event unforgettable!
Let us help you find the ideal venue for you, and to plan your successful event in Italy. We are happy to offer you a free consultation on your next corporate event or special occasion in Italy. You can reach us via email , phone +39 0564 813 473 or WhatsApp +39 329 769 2116.