Wine Tours & Food Tours in Italy
Are you yearning for an Italian holiday – in which your days are peppered with authentic gastronomic experiences? With stays in rustic farmhouses and historic villas – and with an itinerary infused with regional dishes, exceptional wines, local traditions and seasonality?
You've come to the right place.
At Italian Special Occasions DMC & Events, we delight in creating artisan, Italian food tours, and unique wine tours in this Mediterranean culinary mecca. Our itineraries highlight regional specialties and fresh, seasonal products.
We introduce you to local producers, stimulate your senses, and show you beautiful stretches of Italy that are rarely visited by tourists.
We choose to solely partner with artisan food producers, chefs, winemakers, sommeliers and hotel properties that promote local excellence and regional heritage. By veering off the beaten path and embracing the local culinary heritage – you'll have a fabulous time, savor your meals, and discover recipes that have been handed down from generation to generation.
A day in the life… See firsthand what it's like to work on a vineyard in Italy. Our wine tours are led by local winemakers and sommeliers. Trek through the vineyards, see how wines are produced, and taste unforgettable wines paired with regional specialties.
We tailor-make wine tours, classes, tastings, and pairings throughout Italy's top wine regions.
As a Destination Management Company, we can also assist with your accommodation and local travel arrangements.
Experience an authentic grape harvest in Italy, in all its magnificence. As this golden, time-honored tradition differs from region to region, let us guide you in creating a memorable harvest itinerary in an enchanting corner of Italy.
Enjoy Italy's noble wines alongside its noble families. These creative, off-the-beaten-path wine tours take you to charming, aristocratic homes in Sicily, Tuscany and Piedmont, to meet with families whose estates have produced noble wines for centuries.
Considering a Tuscany wine tour, a gastronomic tour of Italy's Emilia-Romagna region, or a culinary tour of Rome's top markets? We organize food tours, tastings, classes, demonstrations and visits.
Explore Italy's charming Old Towns on foot with our personalized 'art & food' tours.
Take an original culinary tour that incorporates local storytelling in the magnificent countryside of Sicily, Veneto, or Tuscany – or 'cook and dine' with the locals in the culinary capitals of Palermo, Naples, and Rome.
Relish risotto, ragù and ricotta! Carpaccio, Chianti and cannoli. Prosciutto, pancetta, pesto, polenta, pappardelle, pizza, pecorino, parmigiano and prosecco. Mozzarella, mascarpone and mortadella and much more.
Our successes:
learn about some of our previous gastronomic tours in Italy
The story of Barbara & Shelly
Celebrating 56 years: Barbara and Shelly's wedding-anniversary travels on the island of Sicily
We're here to help. Read on for more tips on food travel in Italy.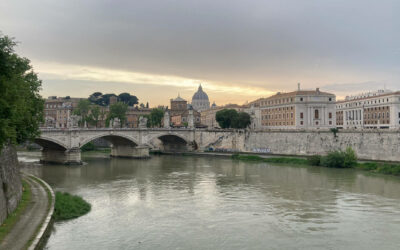 Last May, our event planning company had the privilege of curating a unique and unforgettable experience for a client: an important foreign company in the medical diagnostics field wished to organise an exclusive event centred around the rich culture of Rome to...