Last May, our event planning company had the privilege of curating a unique and unforgettable experience for a client: an important foreign company in the medical diagnostics field wished to organise an exclusive event centred around the rich culture of Rome to entertain and reward its Customers.
Specialising in off-the-beaten-track ventures that are authentic and sustainable, we aimed to present Rome's history, life, and gastronomy in a way that would leave a lasting impression. After careful consideration, we handpicked a fabulous venue and an excellent supplier to create an event that would immerse our guests in the essence of Rome through food, wine, and music.
How did we do it? Discover some of the secret ingredients behind our one-of-a-kind event!
Setting the stage in an authentic venue in Rome
We selected "The Apartment" as our striking venue, nestled in the ancient Palazzo Taverna Orsini between Piazza Navona and Castel Sant'Angelo. This authentic venue provided the perfect ambience for our vision: an immersive experience into the world of wine in a hidden and unexpected location away from the chaos of Rome.
Rich in history and offering panoramic city views, this place allowed us to set the stage for a journey through time, blending the past and the present seamlessly.


Choosing a sustainable and iconic supplier
Truth to our philosophy of working with companies that represent Italy's gastronomic excellence while preserving the beauty of their territory and the integrity of their community, we collaborated with Feudi di San Gregorio.
It is a prestigious winery from the lesser-known area of Irpinia, in the region of Campania. The Equalitas and B Corp certifications are a testament to the strong commitment to the sustainability of this family-owned winery, which changed its legal status to a Benefit Company to safeguard and promote the natural, cultural and social heritage of Irpinia.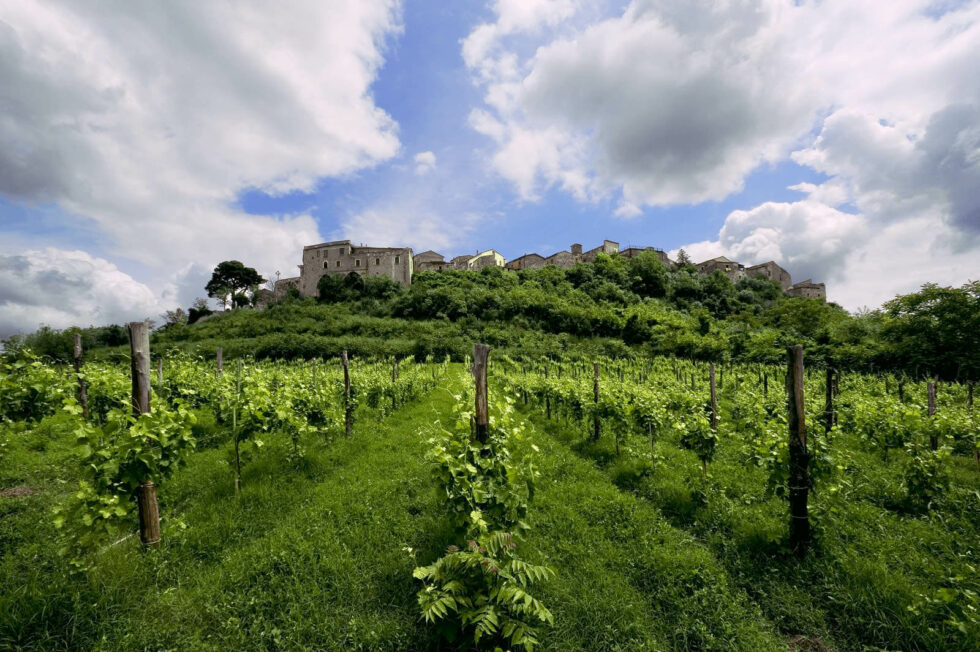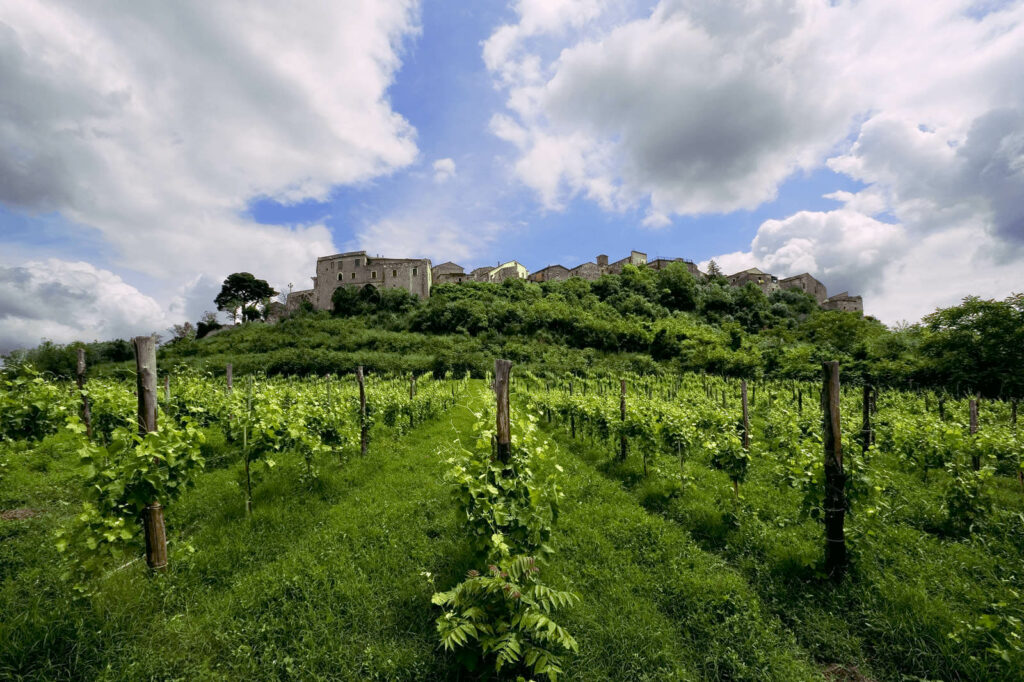 Crafting a delicious and unforgettable wine and food experience
We teamed up with a talented chef who sourced ingredients from local suppliers and crafted a delicious tasting menu paired with Feudi di San Gregorio's exceptional wines. One wine, in particular, was the protagonist of the evening, allowing event attendees to discover the link between the winery and their host city: this fantastic wine dates back to the ancient Romans!
Combining the chef's culinary expertise and the winery's fine selection created an authentic and unforgettable gastronomic journey.
Adding some extra touches before and during the event
We wanted our guests to thoroughly understand what surrounded them – outside and inside the venue. To achieve this, we had the group walk to Palazzo Taverna Orsini with our tailor-made itinerary, guiding them through the historical context of the building and its importance in Roman history. This personalised experience allowed the delegates to soak in the atmosphere of Rome's streets and monuments, creating a sense of anticipation and connection.
To enrich the evening further, we arranged for a live music duo to accompany the guests during their dinner. The captivating performance set the mood, further immersing the attendees in the essence of Roman culture. With each course change, the owner of Feudi di San Gregorio and the chef shared stories about the dishes and wines, turning the event into a captivating and educational storytelling experience.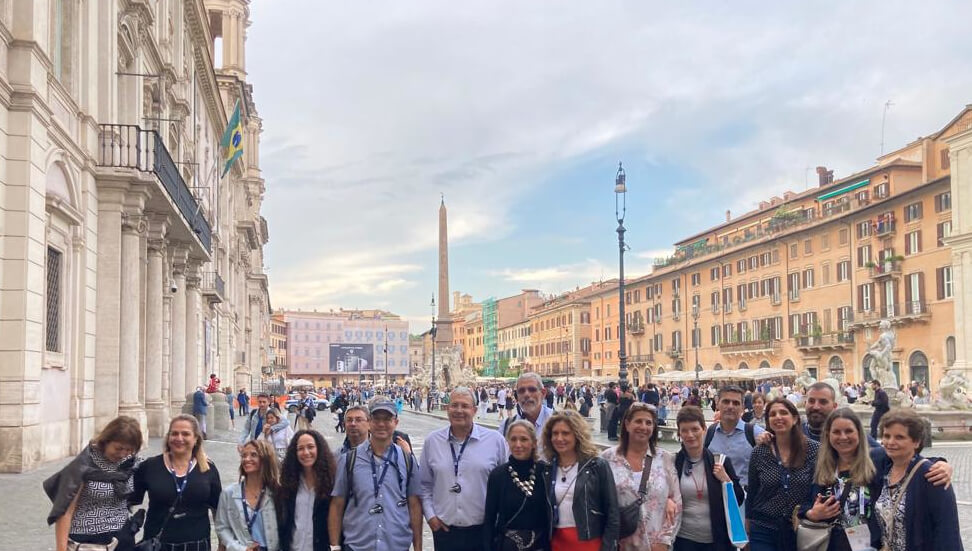 What did the client think of the event?
Our primary goal was to create a positive impact while leaving our guests with lasting memories. Exploring Rome's historical context, indulging in exquisite food and wine, and being enchanted by live music made the event stand out from the ordinary. The remarkable tasting journey, combined with the unique heritage of the venue, added an element of discovery and exclusivity to the event. Attendees felt relaxed, engaged, and connected with the experience, which provided an excellent environment for building meaningful connections.
At Italian Special Occasions DMC & Events, we couldn't be prouder of the client's testimonial:
Dear Laura,
I wanted to write and express my gratitude for the amazing event you and your colleagues have organised for our customers in beautiful Rome.
From the beginning, you were very thorough, patient, and kind, and you made me feel that I was in good hands.
You really thought out all the details and the result was outstanding. It was very important for us to offer our customers a unique thoughtful experience and you really delivered. A wonderful combination of activity and an exclusive dining experience for our customers.
We have received numerous compliments such as:
"A wonderful experience with great food, wine and people"
"Truly memorable…"
"A truly magical evening.."
Thank you and I hope we meet again.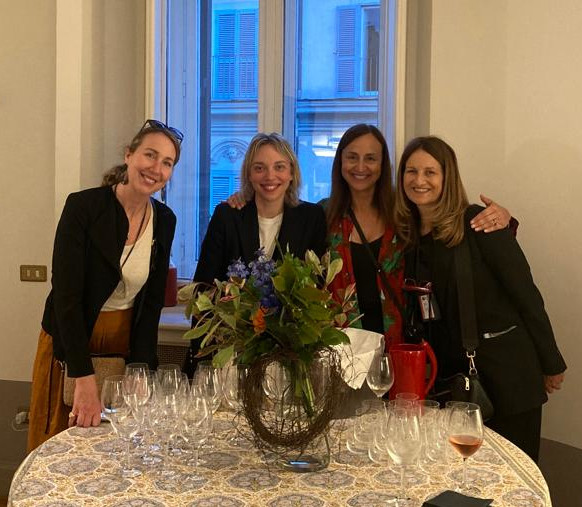 A new narrative for authentic and exclusive events
Our event offered a new narrative in the event industry, bringing together history, gastronomy, and music elements into a single, unforgettable journey. It truly celebrated Roman culture, leaving our guests enchanted and satisfied.
We extend our heartfelt thanks to The Apartment, Feudi di San Gregorio and the entire team for delivering outstanding service and helping us create an exceptional event cherished by all who attended!
Do you want to plan an extraordinary event in Italy, mixing heritage, sustainability and unforgettable experiences? Contact us!