With its thousands of ancient ruins, historic buildings, picturesque piazze, idyllic parks and soothing fountains, Italy is a giant al fresco museum. Among these wonders, there are actual outdoor areas that have been officially designated as open-air museums. In today's blog post we will explore some of these amazing places, which are ideal for groups visiting in occasion of a special event in Italy, such as bleisure trips and family reunions.
Highlight – Sicily's hidden gem: Fiumara d'Arte
Fiumara d'Arte is an open-air museum of sculptures that stretches for kilometers along what was the bed of a seasonal river (fiumara in Italian) near Messina. It offers a unique sight as giant contemporary art sculptures are set against the rolling countryside and the Nebrodi mountain range.
Among the many interesting and striking works of art are the "Window to the sea", which is an 18-meter high frame of a fantastic blue color adorned with small clouds (photo below); and the 30-meter high "Pyramid" set on the edge of a cliff and changing colors with sunrise and sunset (photo above).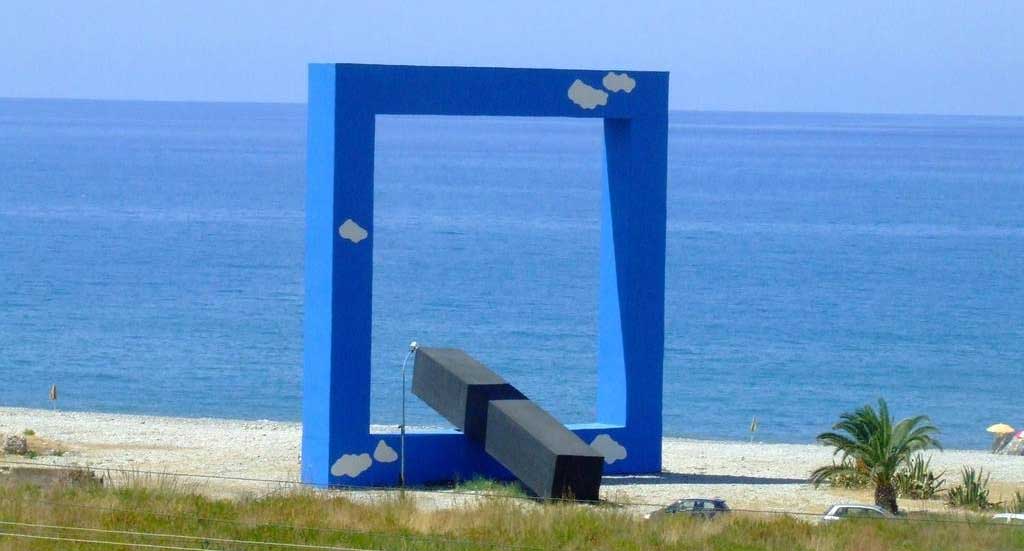 This place is amazing not only for its artistic worth, but also for learning about the history and struggles of the local community. In fact, the park is the creation of Antonio Presti, a local businessman and art collector who has become famous for standing up against the Mafia. Fiumara d'Arte was not a smooth project: for 25 years it faced several problems with local authorities and was subject to suspension. However, Presti's perseverance defeated the Mafia, local corruption and threats, and brought Contemporary Art to Sicily.
Antonio Presti's outdoor project is complemented by a unique museum-hotel called Atelier sul Mare (atelier by the sea) in Castel di Tusa. Some of its rooms and common spaces were decorated by international artists, and the hotel also offers pottery and artistic workshops!
Monsters near Rome: Sacred Woods in Bomarzo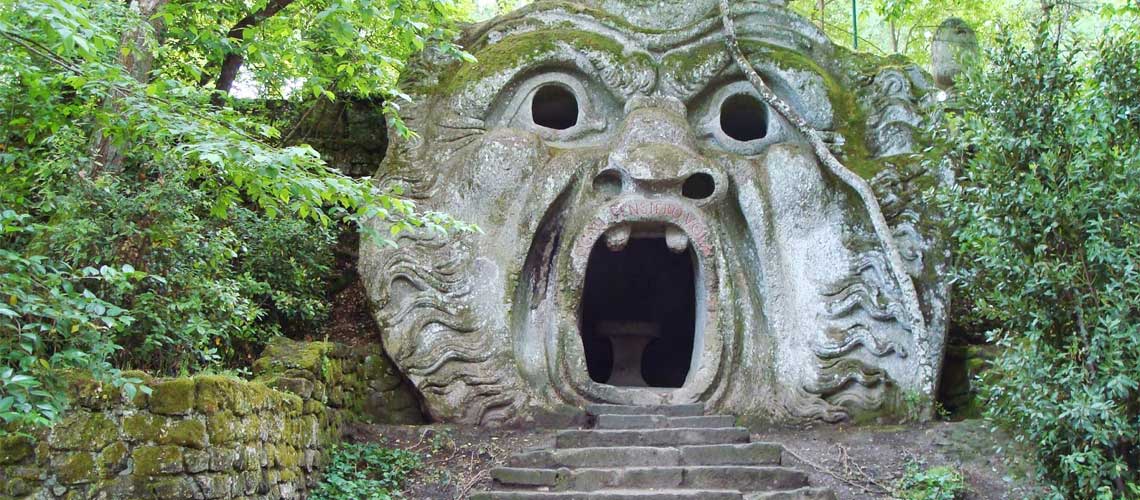 In 1552, Prince Vicino Orsini and architect Pirro Ligorio designed the Sacred Woods – also known as Park of Monsters – in the village of Bomarzo, near Viterbo. It is a Manieristic monumental complex featuring enigmatic figures of monsters, dragons, mythological subjects, exotic animals, a crooked house, a funerary temple, fountains, seats and obelisks with carved mottoes and inscriptions.
The park of Bomarzo was intended not to please, but to astonish. The many monstrous statues appear to be unconnected to any rational plan and appear to have been scattered almost randomly about the area, characteristics that set it apart from traditional artistic gardens from the sixteenth century.
Back to the Bronze Age in Modena: Terramara
The Terramare were Bronze Age villages that sprang up in Emilia Romagna and in the Po valley around the middle of the second millennium B.C. The lodges were often built on platforms supported on poles, and were made with soil and wood.
Studies suggest that they were built by a fairly rich and technologically advanced society that disappeared around 1200 BC due to economic, social, and environmental factors.
Today, Modena's Montale Archaeological Park (23,000 m2) comprises an open-air museum that is a full-sized reconstruction of a part of a Terramara village. It comprises the moat, the embankments with defensive palisades, the gateway to the village, kilns for pottery, and two large dwellings. The interiors are furnished with bric-a-brac, crockery, tools, weapons – perfect copies of the originals.
A medieval gem in Valle d'Aosta: Etroubles
The sunny village of Etroubles is one of Italy's most beautiful hamlets: surrounded by breathtaking mountains, it features old streets, stone houses with beautiful facades, a 15th-century bell tower and fountains with fresh water from Mount Velan. This is the setting of a permanent outdoor art gallery with works of famous artists.
Among the artists are Italian painter and sculptor Salvatore Sebaste, who is one of the major representatives of the art of the Italian Mezzogiorno; sculptors Alberto Gambale and Sergio Zanni; and painters Carlo Brenna and Andrea Granchi. There are also international works of art by Albert Féraud, Guido Magnone, Evelyne Otis Bacchi, Hans Erni, Yves Dana – among others.
An esoteric park in Maremma Tuscany: Tarot Garden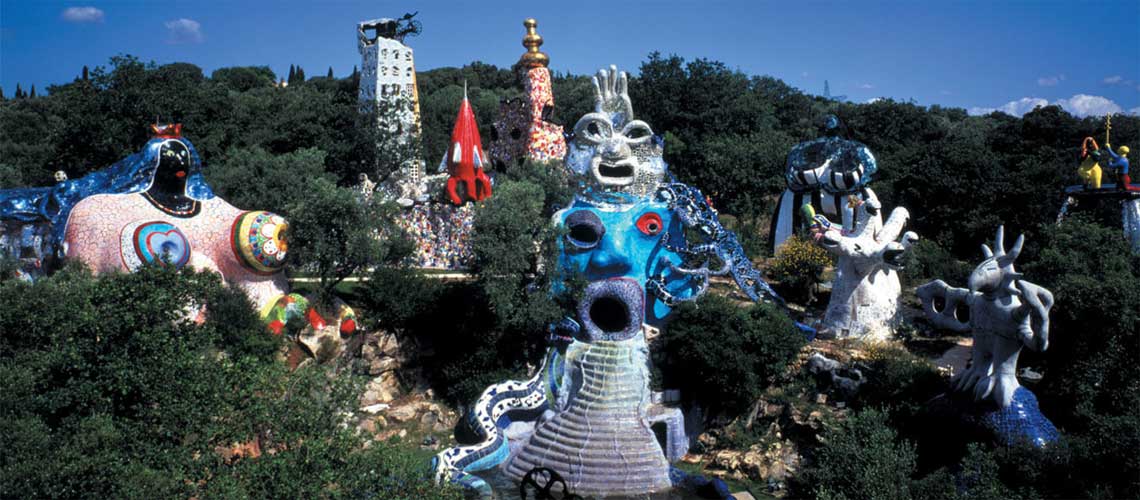 Hidden somewhere in the Mediterranean greenery and the Maremma hills near Capalbio, is a magic world that you do not expect to find in rustic Southern Tuscany. The Giardino dei Tarocchi is an artistic esoteric park featuring gigantic statues that represent the Major Arcana, or trump cards, in the Tarot deck.
It was conceived by French-American artist Niki de Saint Phalle and built between 1979 and 1998. Its construction involved a number of contemporary artists like Rico Weber, Sepp Imhof, Paul Wiedmer, Dok van Winsen and Niki's husband Jean Tinguely. The 22 majestic statues were built with steel and cement covered with glass, mirrors and colored ceramics. Niki's concept was inspired by Antoni Gaudi's Parque Guell in Barcelona and the Bomarzo Monster Park.
An unusual blast in the past in Latina: Piana delle Orme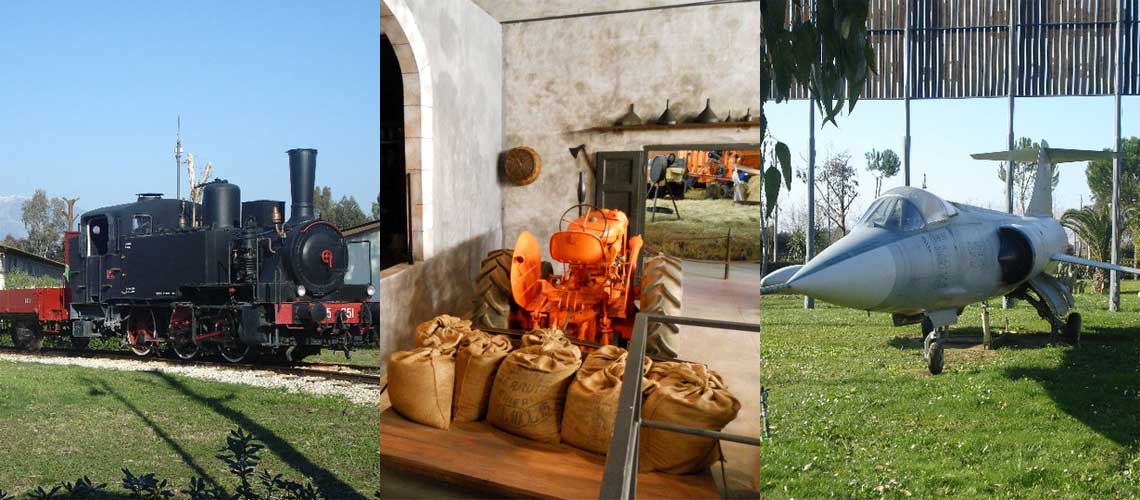 Covering 25.000 m2 of exhibition area, the Piana delle Orme Museum is divided into 11 thematic pavilions, many of which extend outdoors in what once used to be a marshland. Among the covered themes are:
Local Territory: Rural civilization and lifestyle; the reclamation of the Pontine Marshes; the colonization of the Pontine Plain
Second World War: Italy's entry into war; the defeat of El Alamein; the allied conquest of Sicily…
A collection of vintage toys, period furniture, artisan tools, cars, trucks, bicycles, oil mills, wine presses, uniforms, and so much more
This amazing museum is located in a farm estate near Latina (Lazio), which means that your visit can also include a foodie experience with fresh local products.
The contemporary mountain: Arte Sella
Arte Sella is an international outdoor exhibition of contemporary art set up in 1986 in the fields and woods of the Sella Valley (Borgo Valsugana, province of Trento). Arte Sella is both a qualified exhibition of artistic works and, most importantly, an ongoing creative process in which art works can be actually followed as they grow and evolve. The artists are called upon to express a respectful relationship with nature and treat it as a source of inspiration.
The works are usually three-dimensional and created using stones, leaves, branches and tree trunks. Man-made objects, materials and colors are rarely used. All works are placed outdoor and can be admired while enjoying the different types of woods, stones and monumental trees in the surroundings, the artworks are left to decay thus becoming again part of nature's life cycle.
Are you looking for an authentic venue that will entertain your business delegates during your corporate event in Italy? A place that thrills both adults and children alike in occasion of your Italian family reunion? At Italian Special Occasions DMC we have a never-ending basket of hidden gems for all tastes and needs: contact us for bespoke experiences and special events.