"We travel not to escape life, but for life not to escape us." – Anonymous
Traveling with your loved ones, whether family or friends, can be an extremely enriching experience. It can allow you to strengthen relationships, to discover new sensations and new aspects about yourself. While being in good company is certainly important, where, when and how you experience your vacation also make the difference in its memorability.
At Italian Special Occasions DMC we are proud to have developed an innovative way for groups to travel in Italy, by creating and proposing authentic experiences that make the most out of the seasons. Traveling according to the principles of the Seasonality Movement allows you to explore territories and activities in an eco-friendly, more affordable way. Thanks to our insider knowledge, our team can suggest the best region-season combination for a travel experience that not only helps your pockets, but also the local environment and community. Last but not least, the activities that engage you with the locals and with the members of your group, create indelible memories about your Italian vacation!
Are you curious to know some examples? We have selected four regions and will share eco-friendly activities that you can enjoy in each place during off-peak seasons.
Val d'Aosta in Summer: sports & nature
This tiny jewel in northern Italy is known as a paradise for winter sports. But what is it like in the hottest months of the year? It's still paradise! And a refreshing one at that. The cool mountain breezes accompany you as you enjoy the vast array of sports and activities that the territory has to offer.
"But I want to ski in a place like Valle d'Aosta, so I will go in winter!" – we hear some of you think. Well, brace yourselves: instead of going in winter like most tourists do, you can ski in summer! In fact, at 3500m of altitude on the Plateau Rosa glacier is the Breuil-Cervinia, the largest skiable summer domaine in Europe! There are ski slopes for beginners, intermediate and advanced skiers, which makes it great for families or groups of friends with all levels of experience.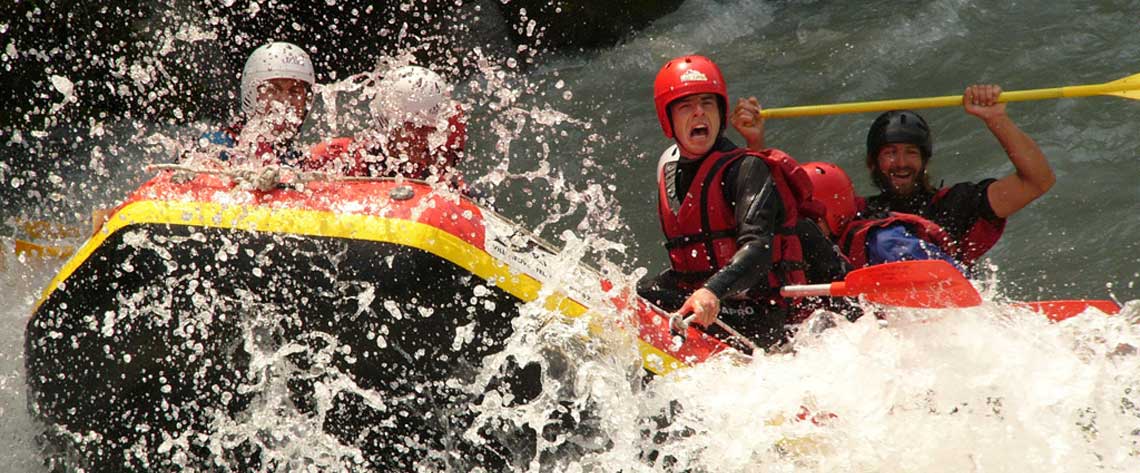 Adrenaline rush! – Both images above from www.lovevda.it
One popular summer activity is Nordic Walking along beautiful paths such as the ones in the Valley of Grauson. It's a gentle way of getting to the heart of the environment, respecting its silence, of finding yourself among pastures, snow-capped peaks, clear streams, and the whistles of marmots. Other summer sports include cycling, golf, kayaking and rock climbing.
But it's not all about physical activity in Valle d'Aosta. When was the last time that you sat down under the night sky and gazed at the clear stars? Expert guides in the different nature parks can accompany you and your loved ones in star-gazing experiences, explaining the different constellations and the ancient myths of astronomy.
If you are traveling with young children, they will surely love certain didactic and interactive experiences that have been specifically designed for them. For example, the "wolf laboratories": stimulating animations, plays and outdoor activities to learn about the return of the wolf in Valle d'Aosta and about sensitive environmental issues.
Piedmont in Autumn: flavors & crafts
What a wonderful time of the year to be in Piedmont: the vines turn from a wonderful lush green to typical autumnal golden browns, oranges and purples… simply an amazing sight.
This is surely a season and region for Foodies. It is still time of vendemmia (or grape harvest), but also of truffle hunting. How would you like to be a Trifulau for one day? Piedmont offers you the possibility of becoming a truffle harvester, joining exciting excursions with local experts in search of the highly prized tartufo. Also, the months of October and November host the famous International Truffle Fair of Alba, devoted not only to this exclusive product but also to regional wine, gourmet food, history and traditions.

Cooking lessons are some of the favorite activities by our Clients, especially when the experience starts in the woods or in the organic vegetable garden, where fresh produce is picked directly from earth; continues in the kitchen, where traditional dishes such as Agnolotti and Bagna Cauda are prepared while listening to stories about their origins; and ends at the table, savoring the culinary creation with some typical wines.
As part of our "Meet the Locals" experiences, you can get to interact with master artisans specialized in traditional activities and who work in unique places full of history. For example, the Fratelli Pio draper's shop in Asti has kept the period interiors and a cast iron shop window under the porticos. In Biella, the Borsalino hat shop will probably seduce you, just as it enchanted Humphrey Bogart, the Blues Brothers and Harrison Ford. While at the Mello shoe factory, you can learn about how locals produced the boots for some members of the K2 expedition in 1953. You can breathe and touch history and traditions everywhere around you.
Apulia in Winter: architecture & folklore
With all that coastline and pristine waters, the heel of Italy is one of the top destinations for summer vacations at the beach. But – apart from the fact that the winter sea has its own inimitable charm – Apulia is a lovely destination for you to visit in the colder months of the year.
You can explore on foot the mysterious ancient streets of The White City (La Città Bianca) – Ostuni. Between its medieval alleys and flight of steps, you will discover fortified towers, courts and palaces. Did you know that Puglia is home to an amazing town called "The Florence of the south"? It's Lecce. The town developed its own artistic style, called Barocco Leccese, characterized for being florid and exuberant, yet compact and neat, with a playful spirit mixing mythological creatures and fantastical figures with floral patterns.

And what about the magical trulli in the Itria Valley? The area is dotted by these characteristic white-and-gray cones, which are in turn immersed in centuries-old olive groves that produce a large amount of olives and quality olive oil. Walking among these ancient and typical Apulian round-stone houses with a conical roof makes you travel back in time! The idyllic landscape is completed by the vineyards that give life to refined white wines like Locorotondo DOC and Martina Franca DOC.
If you are visiting Apulia for Christmas, you will be surprised to know that more than 30 local towns organize the living Nativity Scene representation (Presepe Vivente), often in scenic places that make you feel the magical Christmas atmosphere like never before. If you happen to be visiting for New Year's Eve, then you cannot miss l'Alba dei Popoli (the Sunrise of the Peoples) in Otranto. This is Italy's easternmost city, which means that its inhabitants are the first to see the sunrise of the new year! It's an occurrence with a symbolic value, aimed at celebrating the relationship between Otranto and the other peoples of the Mediterranean, and sealing this bond with the sunlight. Although the event culminates on the 31st of December, there are concerts, cultural meetings and shows throughout the month.
Umbria in Spring: flora, fauna & medieval festivals
Chances are that when you think of Spring, the first image that pops into your mind is a colorful field full of scented flowers. There are few places where you can celebrate the renewal of life and nature in such a fun and unique way than in Castiglione del Lago in Umbria. The Tulip Festival has been celebrated every April since 1956. The event features an opening-day parade with allegorical floats decorated with thousands of colorful tulips by the five local neighborhoods. The streets are enlivened with local street actors playing ancient games in vintage costumes. There is even a Tulip Palio, a reckless race among teams who lift and carry on shoulder a "stretcher" with four poles with the form – of course – of a tulip. Curious? Skip to minute 4.15 in the video below!
For groups with children, staying in a farm during spring can offer a heart-warming experience. Many baby animals are born in this period, and the vegetable gardens and fields around the farms provide a heavenly retreat. Children and adults alike can learn about the delicate relationship between man and nature, witnessing how eco-friendly properties deal with animals, harvests, organic maintenance, and food production. Horse riding is an all-time favorite for families and friends!
Umbria is also known as "the green heart of Italy", a region that is quite unique for the variety of places of high naturalistic interest. Among the most interesting and beautiful nature sights are the Fonti del Clitunno, underground springs that run between Spoleto and Foligno. Their crystal-clear waters reflect the vegetation surrounding the banks, creating intense reflections. In ancient times, it was believed that the God Clitunno lived in these waters. Exploring myths, history and nature in an eco-friendly way, through cycling and trekking, is a soothing and regenerating experience for the body, mind and soul!

Reflections in the springs. – Photo Deblu68
Umbria is the land of amazing medieval festivals, most of which take place in spring, and enchant grownups and children alike. Calendimaggio, for example, takes place in Assisi for three days in May. Ladies and knights sing love serenades and stroll by lovely alleys decorated with flowers, flags and torches, while the town's historic neighborhoods challenge each other in traditional flag waving and crossbow contests. An unusual sight awaits you in Gubbio on the 15th of May, when the Corsa dei Ceri takes place. The statues of St. Ubaldo, St. Giorgio and St. Antonio Abate are placed on three tall, heavy wooden structures, which are fixed on frames which the bearers carry on their shoulders while running wildly through the streets up to the Basilica on Monte Ingino! Gubbio also hosts the Palio della Balestra, a spectacular crossbow competition.
Are you looking for amazing travel experiences for your family and friends?

Contact Italian Special Occasions DMC

for more authentic ideas and seasonal activities!
Salva
Salva
Salva
Salva
Salva
Salva
Salva