The holiday season is approaching. We believe that it's one of the best times for companies to show their employees appreciation after yet another difficult year! Whilst there are safe ways to organise in-person events in the office, many businesses are still unsure whether to plan a Christmas or corporate holiday event in 2021.
Is there an impactful way for managers to entertain and reward workers with virtual holiday team building activities?
Yes, there is!
At Italian Special Occasions DMC & Events we believe that virtual connections will never replace real contact and networking. However, we are delighted to support you with a creative and genuine way to keep the social fabric of your working space intact.
We've designed an authentic virtual holiday team building event that refreshes the bond between your coworkers. The experience will also allow them to interact, learn and have fun even if they are not in the same physical space. The virtual experience also aims to increase the participants' level of interest and loyalty to your company!
How to get your employees to learn, taste and win during your remote team building activity.
Our virtual experience is designed in a typical 'Italian Special Occasions' style. This means that we create the event to meet your company's needs and objectives whilst showcasing Italy's authentic heritage.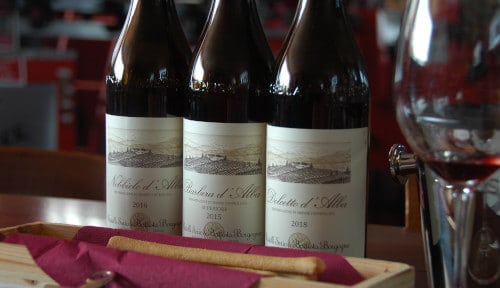 How does it work?
The event is simple!
Before the chosen date of the virtual holiday team building, the participants will receive premium olive oil and wine tasting kits from us.
On the day of the event, they will receive a link to join the virtually designed meeting rooms.
In this virtual space, your employees will meet our experts who are in Italy: a winemaker, an olive oil producer, and our internal coach. The wine and oil experts stream live from their respective winery and oil mill, guiding the participants through the great history, quality, utility and sustainability of their products.
Next, it's time for a guided tasting session with our wine and oil kits!
We are certain that your employees will be mesmerised by the "hands-on, virtual activity" and will pay close attention to all the inspiring information they receive. This will make the next step particularly thrilling! Why? Because they will be divided into teams for a quiz at the end of the interactive session.

3 highlights that make this virtual holiday team building unique
The experience is not limited to the virtual or to the 'usual', standard virtual activities. By receiving the delicious tasting kits, the attendees will experience what it's like to be expert sommeliers and oil tasters! And they will learn little-known facts about Italian food and hidden destinations.
Not only do your employees interact with each other, but they also get to meet and network with Italian experts from wonderful venues. Imagine the delight in viewing the ancient wine cellar and oil mill during the virtual meeting!
Perhaps the most intriguing part is that the thrill does not end with the remote team building activities. The lucky winners of the incentive prize will have the unforgettable opportunity to visit those places from where the wine and olive came!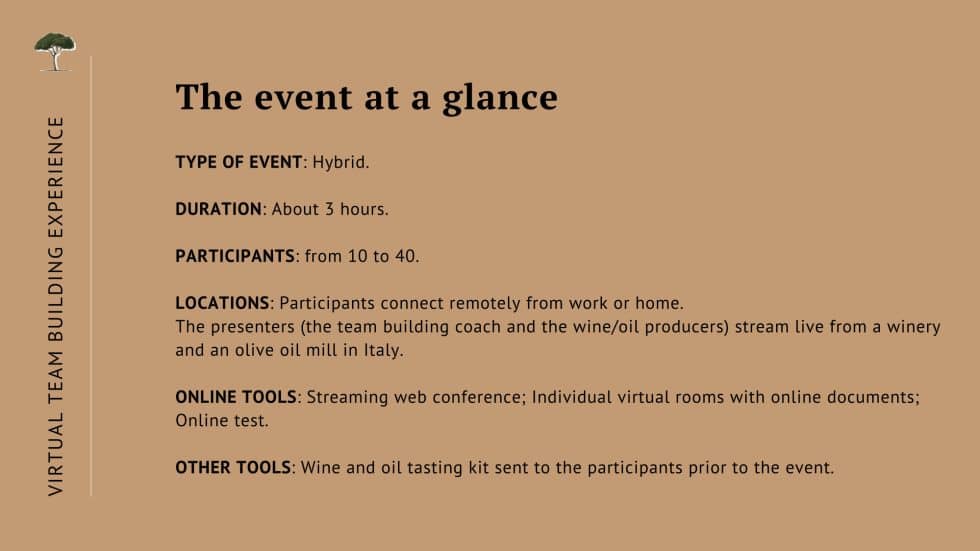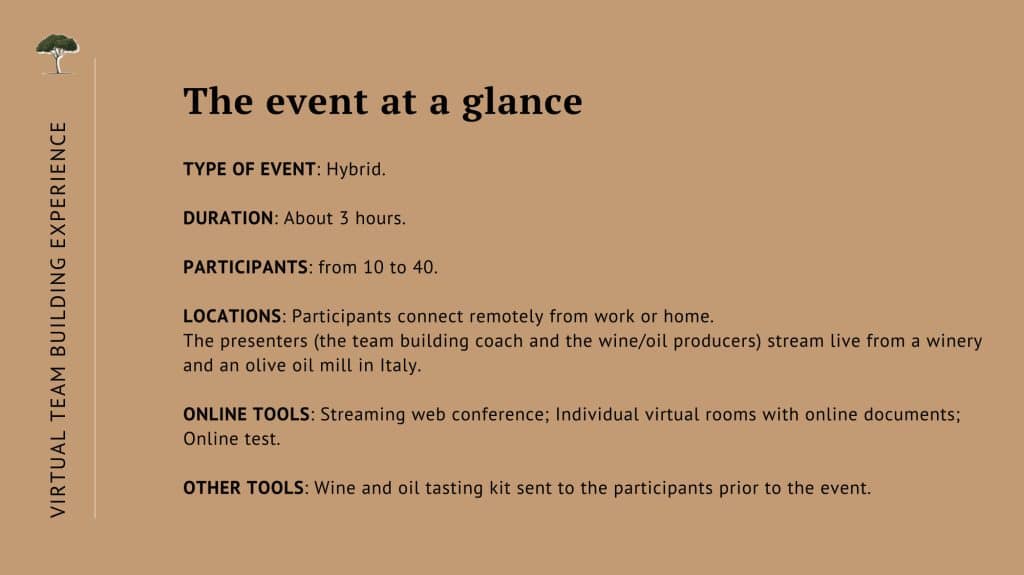 Why should you choose our Christmas virtual team building activities?
At Italian Special Occasions DMC & Events, we create transformative, original and memorable experiences that are tailored to each client. This applies to both in-person and hybrid events!
Our coach will link all the concepts learned throughout the session (sustainability, heritage, quality and wellbeing) with your company or brand. This will help deliver a powerful message to all your employees and strengthen their bond with your company.
Flip through our virtual holiday team building event brochure for more information and feel free to contact us with questions!
We will be delighted to hear your business needs for the holiday season and to prepare your bespoke quotation.
Get in touch with the team today!