We've been saying it for years: Italy is so, so much more than just Rome, Florence and Venice. Let's not forget that Italy holds the highest number of UNESCO World Heritage Sites in the world together with China (each with 55 items on the list as of July 2019). In addition, Italy has 8 elements that are part of the List of the Intangible Cultural Heritage of Humanity, and it also features different literary parks from north to south. This cannot be possibly concentrated in those three usual suspects that most travelers want to tick off their lists or where so many companies want to organize their corporate events.
Italian Special Occasions DMC has been promoting the concept of educated travel and fighting overtourism ever since it was founded. We believe it is necessary to discover Italy off the beaten path, or even famous cities like Rome, Florence and Venice but in an alternative way, uncovering local hidden gems that are rarely taken into consideration in today's way of "fast travel" in art cities.
A practical example is the best way for us to explain what we mean, so a couple of weeks ago we went to Rome to document overtourism.
We booked an early entrance to the Musei Vaticani, which in theory would get us inside the museum before its opening, therefore without having to wait for hours to enter and avoiding the big flows of people inside. Well, we were shocked, because we still got to wait for more than one hour before entering as there were about 1000 more people who bought this "special entrance". Once we were inside, it was not easy to move around and to appreciate all the works of art at a leisurely pace. The Sistine Chapel was full, and we could not admire Michelangelo's masterpiece without being pushed or being urged to get out of the room to let other people inside.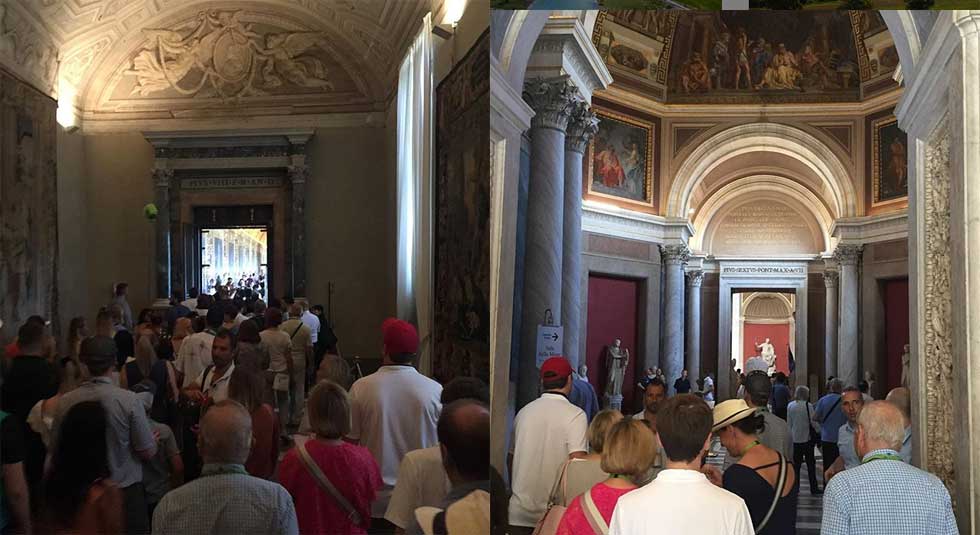 We then went for a tour in the city center: most classic attractions were overcrowded and patrolled by tourist police for unruly behavior. At the Trevi Fountain, for example, hundreds of people were pushing and shoving to get the perfect selfie or photograph of their fellow travel companions. Some would even try to climb in areas of the fountain despite the police blowing their whistle at the slightest misdemeanor.
Of course, every person has the right to take photos and not care about the history of a place, but we believe that agencies – such as DMCs and event planners like ourselves, tour operators, hotel concierges and tourist boards – should do something to encourage people to get curious and learn, to discover new places, to understand the local reality. How? One way is to simply propose alternatives and explain why they are worth visiting! Most people won't visit new places unless they know they exist or are intrigued by them. It is easy to just sell what is sellable, and this is the approach that is most popular. The result is that all excursions are directed to the Colosseum, the Trevi Fountain and the Vatican, even if it's at 1pm in the oppressive summer heat.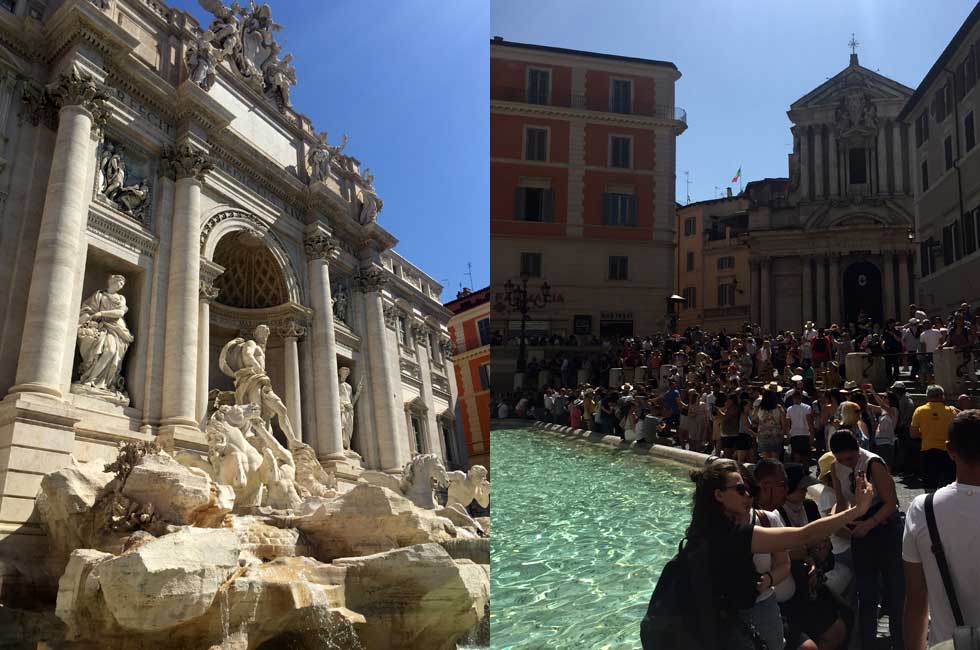 That's why we in the tourism and events' travel industry have a big responsibility to:
• educate people on how to discover new places
• make a change in how traveling and event planning is done
Otherwise, with overtourism we risk destroying the heritage that we have left.
Let's make an example of how Rome should be visited.
To understand this amazing and ancient city, the first sites to be visited should not be the Colosseum or the Vatican, but rather places such as the Basilica di San Clemente, where you can clearly see different parts of history through archeology in its three-tiered complex of buildings. The Domus Aurea, a vast landscaped palace built by Emperor Nero in the 60s A.D., is another surprising place. More amazing archaeological sites are to be found in Ostia Antica and in the Terme di Caracalla (or Thermae Antonianae), one of the largest and best-preserved examples of an ancient spa complex (it dates back to 216 A.D.!).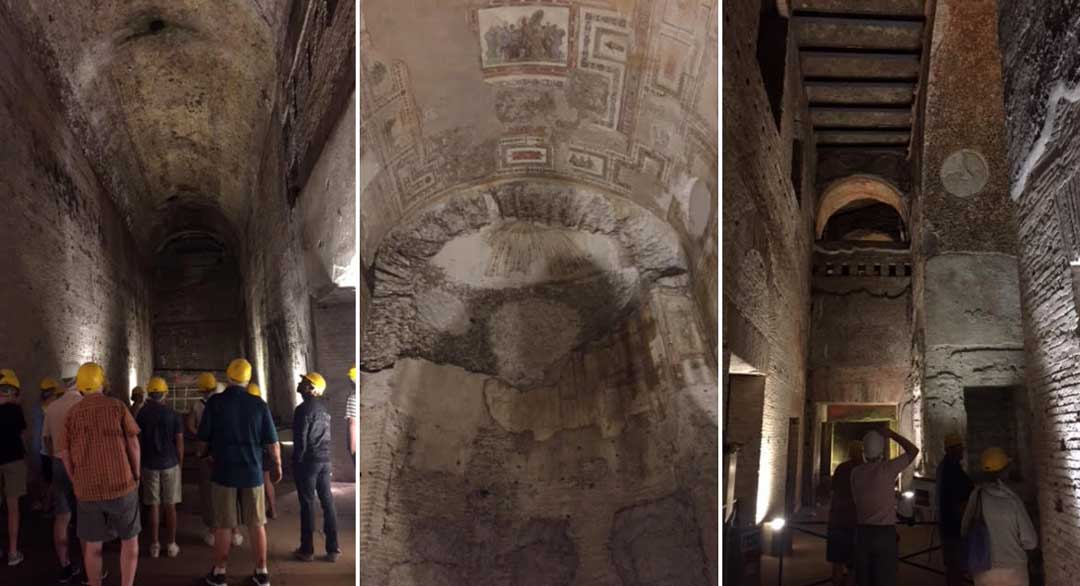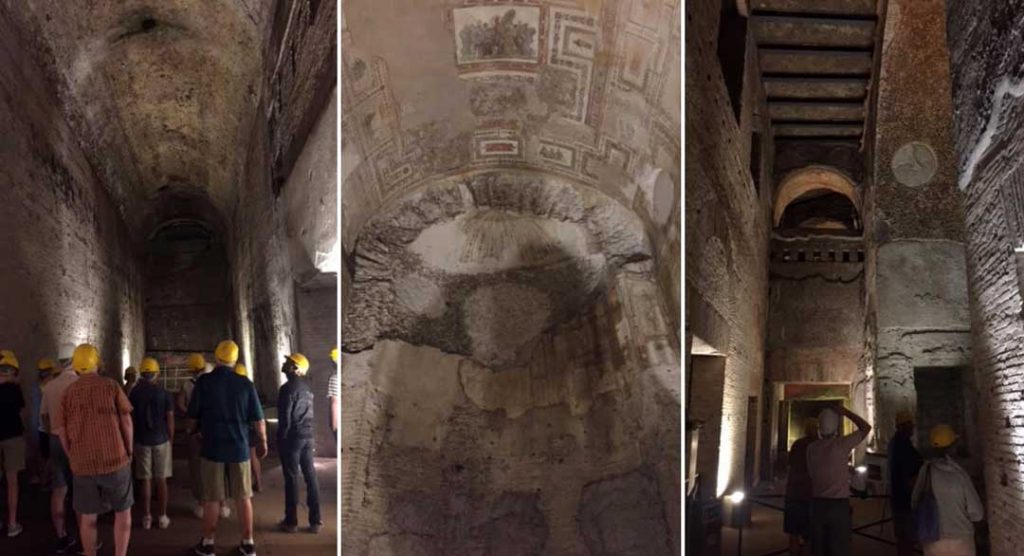 Another fantastic way to explore Rome is through art. Apart from the more renowned Galleria Borghese, have you ever heard of the Galleria Doria Pamphilj? It has an amazing collection of great artists, including Titian, Caravaggio and Raphael. The collection of paintings, furniture and statuary has been assembled since the 16th century by the Doria, Pamphilj, Landi and Aldobrandini families, now united through marriage and descent under the simplified surname Doria Pamphilj. This palazzo tells you the history of families that were important for Rome, so by visiting it you can discover another piece of the city's past.
This is just to give you a small taste and idea of what we mean by visiting Rome off the beaten path. We think you need at least one week to visit Rome, even though you can only do justice to its wonders and long history by staying longer!
With our approach to sustainable and educated travel, we invite our clients and their event participants to go beyond the stereotypical image of Italy. We propose alternative destinations that are just as beautiful and full of history and traditions as the famous venues. Such experiences are enriching for the visitors, whether they are in Italy for business or leisure; they also help to maintain local heritage and traditions; and they support small communities or city neighborhoods, facilitating the distribution of services and income. We hope you will join our movement! If you are interested in embracing this philosophy, have a look at our contest that will award a fantastic prize to the company that creates the most sustainable event in Italy.