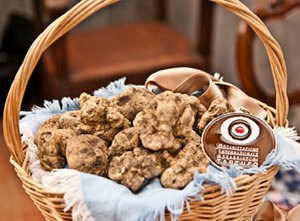 How would you like to be a Trifulau for one day? During fall, many Italian regions offer the possibility of becoming a truffle harvester, organizing exciting excursions in search of the highly prized tartufo! You can find about 8 types of truffle in Italy, but the tartufo bianco (white truffle) is the most sought after and gourmet. It is found most abundantly in the northern region of Piedmont, growing near oaks and willow trees.
Apart from its hidden underground treasure, Piedmont is the hotspot for truffle and foodie lovers for also another reason: the months of October and November host the famous Alba truffle fair, devoted not only to this exclusive products but also to wine, gourmet food, history and traditions.
One of the top attractions of the fair is the Palatartufo (the name being a combination of palate and truffle), i.e. the Alba White Truffle World Market, where visitors will be able to find certified Alba white truffle. For a complete experience, you can also join a truffle tasting course during which an expert in Sensory Analysis from the  International Truffle Tasters Association explains how to choose these highly-prized fungi and how to eat and appreciate them.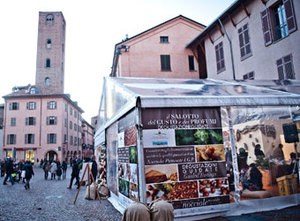 Among the many events organized for foodie and wine lovers, you cannot miss the Langhe e Roero in Piazza (Langhe and Roero on Show), aimed at promoting products that are exclusive or extremely typical of Langa and Roero territory, including one hundred local wines that can be tasted in the Wine Island. Three events are dedicated exclusively to the PGI Piemonte hazelnut paired with Moscato d'Asti DOCG; to chocolate sculptures created by artisan pastry-chefs and paired with local prized grappa; and to PDO Cheeses of Piedmont combined with great wines.
Have a look at the brochure of the Foodie Moments: a journey with the chefs and regional wine shops giving the chance to taste and find out more about Piedmont's premium local produce, its origins and how to cook it.
All of this happens with amazing historic and cultural events that complete the picture and the authentic experience. For example, you can enjoy the shows of the Alba flag-wavers group, which was created in 1969 to bring back those ancient flag games used to brighten up the most important ceremonies between the XII and XVIII centuries. Or the fun Donkey Race (Palio) that takes place on the first Sunday in October, preceded by a grand procession with noblewomen, knights, soldiers and peasants, amidst blasting trumpets, rolling drums and standards.
Why not combine these authentic culinary events with a family and friend reunion in Italy, providing your loved ones with an unforgettable experience? Let Italian Special Occasions DMC organize this for you!
For dates and programs of the Alba Truffle Fair, visit the website. All photos have been taken from the Fiera del Tartufo website.