In Italy, fall is the most magical season of the year when fruits, vegetables and undergrowth produces are still kissed by the sun, providing foodies with a variety of flavors. The warm-colored woods offer fragrant mushrooms, chestnuts and mixed berries; while the fields yield grapes, apples, pumpkins and prickly pears.
With the arrival of the fresher season, one of the most delightful activities one can enjoy is to actually cook traditional dishes: imagine yourself spending some fun, quality time in a rustic kitchen with your family and friends, learning about and getting creative with seasonal products, and finally tasting a nourishing meal with the best local wines at the table.
While you can enjoy amazing seasonal specialties anywhere in Italy, today we are stopping in one of the foodie paradises for excellence, Piedmont, for a mouth-watering journey through its fall flavors.
Autumn Dishes in Piedmont
Even though today they are found all-year round, the traditional Agnolotti used to be a typical fall dish in the past. This classic recipe of Piedmont's cuisine involves small pieces of flattened pasta dough, folded over a filling of roasted meat or vegetables. To be part of the great tradition, try agnolotti al plin, where the "plin" is the "pinch" of something special that the cook adds to give it an extra touch.
One fragrance that you can only find from fall and onwards into winter, is that of garlic and anchovies: it's the Bagna Cauda! This hot dip is typical of the region, and comes with several local variations. Other ingredients include olive oil, butter and – only in some areas of Piedmont – cream or truffles.
Autumn is also when Piedmont, along with other regions in northern Italy, enjoy the Bollito more frequently. This is a classic stew consisting of various cuts of beef and veal, cotechino, and a whole hen or capon that are simmered in an aromatic vegetable broth. You eat this dish in a fondue style, by dipping raw, boiled or roasted seasonal vegetables. It is usually served with salsa verde (also called bagnetto verde), a rustic sauce made of anchovy, parsley, vinegar, capers and garlic.
Another dish that is most appreciated in autumn is the nourishing, classic and elegant Brasato al Barolo: delicious local beef braised in the hearty Barolo red wine.
You can find mushrooms in Piedmont at any time of the year, but fall is undoubtedly the best season to enjoy them in all their variety: porcini, gallinacci, ovuli, chiodini, pinaioli, prataioli, and so forth. Some of these can be eaten raw with salad, seasoned with olive oil and lemon; while most are eaten in a stew with garlic and parsley.
And naturally, fall flavors in Piedmont have one big, valued protagonist – the white truffle – and it deserves a dedicated paragraph on its own!
The White Truffle and the Alba International Fair
The white truffle is a delight that the Piedmontese enjoy particularly on raw meat salads, on tajarin (or the golden, fresh egg-yolk-rich pasta), on fondues, on raw ham and on some types of cheese.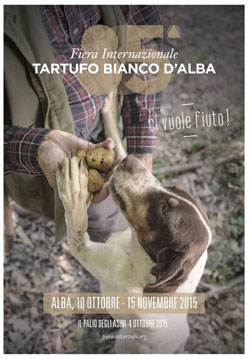 The Piedmontese truffle was considered a prestigious delicacy by the European nobility already by the early 1700s. Composer Gioacchino Rossini referred to it as the "Mozart of all mushrooms". The white truffle became world famous in the early 1900s thanks to the brilliant promotional ideas by restaurateur Giacomo Morra, the first man to process and market the Alba truffle, and creator of the International Truffle Fair of Alba.
Today, the white truffle is found mainly in the Langhe and Montferrat areas of Piedmont and, most famously, in the countryside around the cities of Alba and Asti. It can also be found in the Italian regions of Molise, Abruzzo and Tuscany (in the latter case, only around the hills of San Miniato). Abroad, it can be found in some parts of Croatia, Slovenia and France. However, Italian white truffles are the most valuable on the market.
According to Fest300, which lists the world's best festivals, "there are many truffle festivals in northern and central Italy in the fall harvest season, but the Alba International White Truffle Fair is the mother of them all. And you don't have to shell out big bucks to purchase truffles in order to enjoy the occasion. The pungent, particular smell is everywhere, and it's not hard to find a dish of pasta, risotto or grilled vegetables featuring the revered mushroom. Restaurants do their best to showcase the prized fall find on special menus. And since this is Italy, you'll also find other regional items, such as cheese, cured meats, honey, wine, olive oil, and egg pastas."
This Fiera del Tartufo takes place in the months of October and November. This year, Alba hosts its 85th Edition from 10 October to 15 November 2015. The fair includes an amazing variety of events, not only tied to the culinary world, but also to other aspects of Piedmont's history and heritage. For example, one of the most awaited-for and particular events is the Palio degli Asini (donkey race), which is a mocking race to remember an affront by the citizens of neighboring Asti during medieval times, when they would not let Alba participate in their horse race.
During the event, you have the opportunity to enjoy wine tastings, cooking workshops, truffle-related restaurant menus, cultural events and concerts. There are also didactic labs for children to discover the world of truffles and gastronomy. An invite-only auction of the prized truffle is broadcast around the world: celebrities and important protagonists of the culinary world participate in the auction, and the proceeds are donated to philanthropic and charitable organizations.
What are your favorite Fall Flavors?
What dishes would you look forward to enjoying in Piedmont if you were traveling here? If you are looking for ideas and tips for a foodie experience in Italy, feel free to contact Italian Special Occasions DMC: we have a never-ending basket of authentic activities for gourmands.
PHOTO CREDITS: all images by Fiera Internazionale del Tartufo d'Alba www.fieradeltartufo.org