How cool and refreshing would it be to organize an Italian 'water wedding'? After all, water is the elixir of life, and tying the knot by the beach or on a lake is simply one of the most romantic and panoramic experiences that a couple can live!
Here is a selection of some of our favorite Italian wedding spots by the water!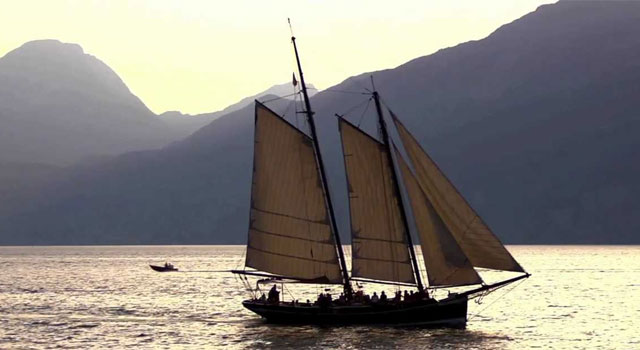 Lake District (Lombardy, Veneto, Trenito Algo Adige)
The Italian Lake district has inspired a generation of poets: the lakes of Garda, Maggiore, Como, Lugano, Iseo, Orta, Varese and Monate are an all-time favorite and perfect location for romantic weddings.
In particular, Lake Garda is a jewel full of history and surprises: Salò and its charming bay, the medieval Scaliger Castle in Malcesine, the breathtaking Sirmione… Everywhere you turn, you find Roman and Longobard ruins, ancient walls, aristocratic villas, all of which give a magical feel to the area.
At Lake Garda you can choose a traditional lakeside wedding at a hotel. One of the local excellences is the Grand Hotel Gardone: its majestic architecture and quality services have attracted visitors since it opened in 1884, including personalities like Winston Churchill, Paul Heyse and Vladimir Nabokov. There is also the exclusive, superior 5-star Lefay Resort & SPA, located on Riviera dei Limoni inside 11 hectares of natural park. For a more 'homely' stay, Villa Fiordaliso is a family-owned hotel with refined and elegant interiors and a fantastic restaurant.
If you would rather think and act outside the box, why not organize your wedding on a boat right on the lake? And not just any boat. For example, you could choose a period sailing ship from the early 1920's, which has survived two world wars and has been restored to its splendor in a stylish way!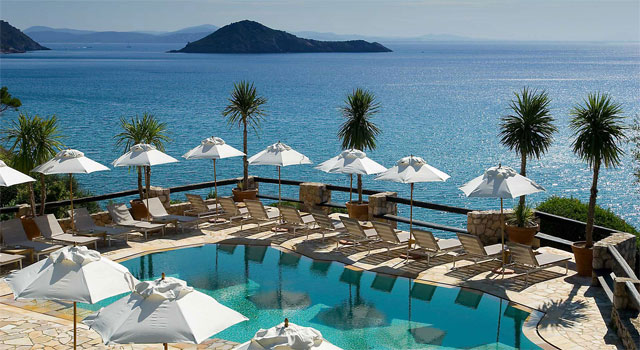 Argentario (Tuscany)
Wild Mediterranean nature, dramatic cliffs and crystal-clear waters: the Argentario offers this scenery for your Italian seaside wedding. The most iconic hotel in the area, Il Pellicano, overlooks a secluded bay near Porto Ercole and is a hangout for many fashionistas and artists. If you are looking for a hip and chic location by the water, this is what you are looking for!
Russian millionaires and Italian TV stars have chosen the Argentario Promontory for their special day, organizing spectacular ceremonies at exclusive villas or in the ancient Spanish forts.
But the Argentario also offers a different panorama. Once an island, this promontory is today connected to the mainland through two 10-km long sand strips that have formed a lagoon. The local fauna includes pink flamingos and rare migratory birds, protected by a WWF Oasis. Inside the lagoon there is a charming little town called Orbetello. Picture your wedding at the local Tuscan-Gothic style Duomo, followed by a small cruise on the lagoon, during which your guests can savor local fish delicacies such as the famous Bottarga!

Venice (Veneto)
From an off-the-beaten-track lagoon in Tuscany, to the most famous one in the world. Venice could not miss our list of Italian water weddings! The city is rich in all its aspects – art, music, culture, food, traditions; and its landscape made of elegant period buildings, bridges and reflections in the canals, simply make it a fairytale wedding location.
Your wedding can take place between the sumptuous Venetian buildings and a special Gondola, embellished with hand-engraved gold decorations. Your gondolier will have the characteristic white and golden uniform that the "Gondolier de Casàda" (private sailors) used to wear when working for their noble masters.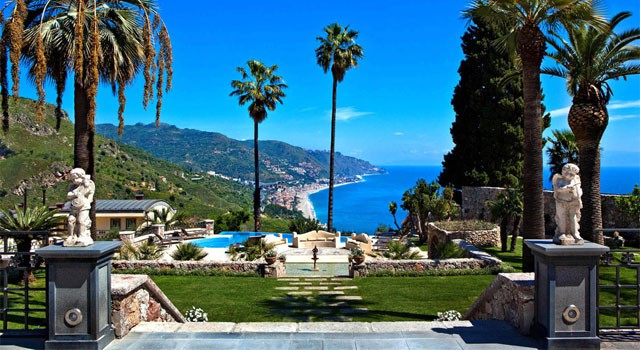 Taormina and Northern Sicily
Simply breathtaking! Taormina features medieval architecture, an ancient Greek soul, Mediterranean vegetation and dramatic sea views. It is the perfect postcard.
To admire all of that from up above, San Domenico Palace offers a fantastic location for your Sicilian wedding. Nestled between the sea and the majestic Mount Etna, this 5-star hotel is set in an ancient Dominican monastery and features an exotic garden overlooking the panorama from the Greek Theater to the volcano. More amazing and dramatic sea views can be admired at the Ashbee Hotel, which oozes history and art: it was built in the early 1900s by famous English architect Charles Robert Ashbee, the most significant representative of the Arts and Crafts movement.
The northern coast of Sicily also offers breathtaking sea locations. For example, Mondello, Scopello and San Vito Lo Capo are surrounded by pristine nature reserves and overlook the exotic Gulfs of Castellamare, Bonagia and Macari. Just a stone throw's away from charming Palermo, the town of Bagheria boasts an amazing villa called Palazzo Villa Rosa. It is set within a historic Baglio (classic Sicilian building where landowners used to live).
To enjoy Sicily from sea, you can have your wedding on a super chic yacht! The number of guests is not a problem: splendid movie-style ships can carry up to 200 passengers, including en-suite cabins and fancy common areas. The warm Sicilian weather allows for this kind of experience to be organized even during winter, complete with water sports for your guests!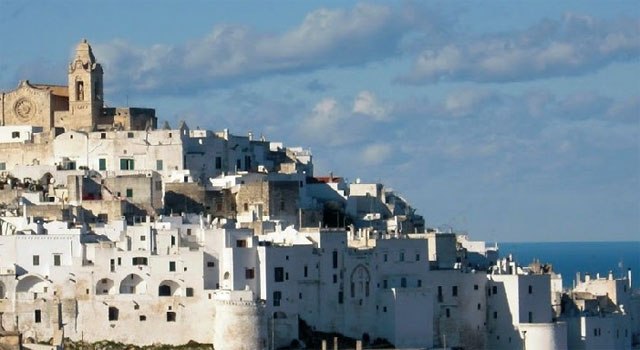 Salento (Apulia)
The beautiful Salento area in southern Apulia made it to the international headlines when pop star Justin Timberlake and actress Jessica Biel tied the knot in one of our favorite wedding locations: Borgo Egnazia. This exclusive retreat features typical whitewashed walls that contrast with the green fairways of the on-site golf course and the intense blue sea just across it.
For a wedding by the water full of history and character, choose Ostuni: this hilltop citadel is regarded as an architectural jewel for its typically white-painted buildings (hence its alternative name "The White Town"), its baroque-style churches and fortified ancient walls. The sea views from up here are mesmerizing!
For a feet-in-the-sand wedding, many stylish beach clubs along the coast provide an exotic, Hawaii-style setting. And if you want something more authentic, more typically Apulian, just a few minutes away from the sea you can celebrate your big day in a traditional Trullo, a conical dry stone hut full of history that will definitely make your wedding a memorable event!
Would you like to plan a wedding in Italy? Do you need any help and ideas in finding the perfect location for your special day? Contact Italian Special Occasions DMC now!
Photo credits:
Siora Veronica, ancient sailboat for weddings on Lake Garda
Pellicano Hotel, wedding at Argentario
Wedding on a gondola, Venice
View from the Ashbee Hotel, Taormina
Wedding in the "White City", Ostuni