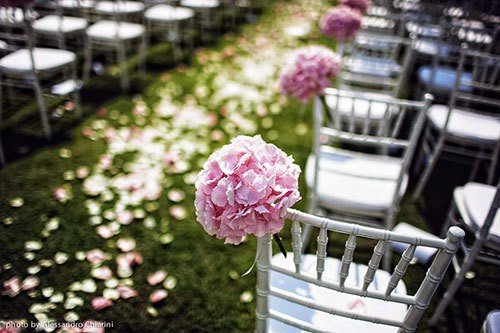 As with planning any destination wedding, having your wedding day in Italy is rarely just planning one day!  Your family and friends will come from far and wide to be with you on your special day, so you will want to have interesting experiences available to them before and after your wedding day.
dditionally, is it likely that you will want to arrive beforehand to have sufficient time to prepare, and afterwards it is likely that you are your new spouse will want to honeymoon in Italy.  For all those reasons plus the travel logistics, having a wedding in Italy does require a bit of extra planning.  That being said, it is sure to be a magical trip that neither you nor your guests will ever forget!
To help you start your planning off on the right foot, here are Our Top 10 Tips for Planning a Wedding in Italy!
1.  Begin by thinking about what kind of experience you want to create.  While Italian weddings can be very formal, it doesn't mean that you and your spouse-to-be have to follow old-fashioned rules if that's not your style.  There are many inventive ways that we can help you to "think outside of the box."  So, if that's something you're looking for, determine your vision and let us help you make it happen!
2.  Consider the timeframe.  How many days will your guests have to stay in Italy?  If you have less than a week (including travel days), you might want to host your wedding reception in a city with good airport access to avoid spending lots of time in the car or on the train.  Rome, Milan (for Lake Como), Catania, Venice, Naples (for the Amalfi Coast), Florence, Pisa and Palermo are all good options.  Now if you and guests can stay a bit longer, you have the time to venture out into Italy's spectacular countryside!  Charming villas, medieval villages, traditional farmhouses and historic castles can all be considered as possible venues in Italy.
3.  Consider the season!  At Italian Special Occasions DMC, we know that incorporating seasonality into your special day will only make for a more authentic, magical experience for your guests traveling to Italy.  Whether you're considering spring, summer, autumn or winter – find out what will be going on precisely then!  Will any festivals be taking place?  What regional, fresh food products can be incorporated into the menu for my wedding?  Which local flowers will be available for my bouquet?
4.  Consider the language.  Italy is known throughout the world for its culture, cuisine, wines, landscapes and history.  However, it is not particularly famed for its efficiency, and navigating the wedding waters in Italian can be challenging if you're not familiar with the Italian language or Italian processes.  That's where we can come in!  It will save you time, money and stress to have Italian Special Occasions DMC show you potential properties, introduce you to local wedding suppliers, negotiate on your behalf, deal with contracts, and sort out any potential problems for you.
5.  Consider lesser-known destinations.  At Italian Special Occasions DMC we organize weddings throughout Italy, and we know that there are many hidden gems often missed by the everyday visitor.  Italian regions like Puglia, Sicily and Campania are especially beautiful, and very affordable pricing can be negotiated there.  And even more popular destinations in Italy, such as the regions of Tuscany, Lazio and Veneto all have many wonderfully charming properties that are very much "off the beaten path."  So, unless you're especially set on Venice, Rome or Florence, keep an open mind and let us tell you more about lesser-known areas of Italy.  Natural beauty, competitive rates and authenticity are just a few of the benefits of considering elsewhere!
6.  Determine your budget.    Once you have a solid idea of this, it will help you to determine the time of year and suitable regions in Italy to consider for your wedding.  Once you know what you can spend, you can proceed planning your wedding in Italy without worrying about overspending.  And even if your budget is on the meager side, don't despair!  For example, hosting your wedding at a venue that can also accommodate your guests for several days, prepare meals, host wine tastings and assist with sightseeing activities (such as a villa), can save a lot of money.  And as we said, having your wedding in low season in a lesser-known area of Italy can also cut down on the cost.  And if your budget it on the higher end, you are fortunate to be able to provide lots of wonderful activities and local experiences for your family and friends traveling to Italy for your wedding!
7.  Consider the logistics.  While it is not difficult to get around Italy, you do need to consider the logistics involved when planning a wedding in Italy.  How close will your wedding location be to an international airport?  Will it take place in a city that has train access, is walkable or has good public transport?  If not, will your guests be comfortable renting cars for their stay (such as in a countryside villa)?  Many are – and even prefer it.  It's just best to think of how your guests will get around during their stay in Italy.
8.  Consider your guests' accommodations.  Italy is full of interesting charming properties, but you'll need to narrow in on the kind of experience you want to create.  Do you want elegant, formal, luxurious, authentic, traditional, modern, stylish, cozy or rustic?  This will help us know whether we should show you fashionable 5*star hotels in Rome or Milan, Tuscan farmhouses – or private, rustic villas with swimming pools.  We can do all of these – and more!
9.  Consider alternative activities that your guests can do.  Your family and friends are traveling all the way to Italy for your wedding.  Witnessing your special day is likely their major vacation of the year.  That being said, even if you're not footing the bill, you'll most likely want to make suggestions of exciting, local activities that your guests may choose to do before and after the wedding day.  Activities that our wedding guests commonly do in Italy include wine tastings, cooking classes, cheese tasting, sightseeing tours and pottery classes.  And little touches – like arranging for a private coach to take all your guests to a beautiful beach – are what your guests are going to remember and appreciate.
10.  Consider staying on in Italy for your honeymoon.  If you're traveling all the way to Italy, stay awhile!  It's hard to top Italian in terms of romanticism.  In addition to planning your wedding in Italy, at Italian Special Occasions DMC we can also help you create an utterly romantic, unforgettable honeymoon in Italy!