The town of Putignano, near Bari in Apulia, is currently celebrating the 620th edition of its historic Carnival. It is not only the oldest but also the longest event of the kind in Italy: it starts the day after Christmas and ends around Ash Wednesday.
The Carnival of Putignano has taken place annually since 1394, year during which the Knights of Saint John transferred the relics of St. Stephen from Monopoli to Putignano in an effort to protect them from Saracen attacks. The local farmers greeted the arrival of the religious relics by joining the procession, followed by a joyous feast with improvised sketches on stage.
These performances were the early ancestors of today's Propaggini, the event that marks the beginning of the Carnival on December 26th: local citizens take turns on the stage to recite verses and satirical songs describing the situations that marked the year that is about to end, often highlighting errors and injustices perpetrated by politicians.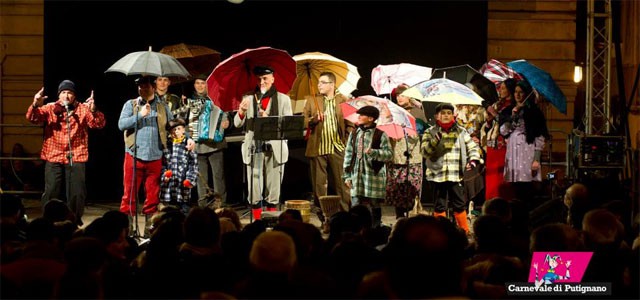 Only during the Fascist era did the Carnival become a major event with large floats that showcased to Italy and the world the craftsmanship of local woodworkers and artists.
This year's Carnival pays homage to the Italian Romantic composer Giuseppe Verdi, in occasion of the 200th year since his birth. The different papier-mâché floats in Putignano represent and celebrate some of his most famous masterpieces, like La Travagliata, L'Aida dinastia, Rigoletto and Va pensiero.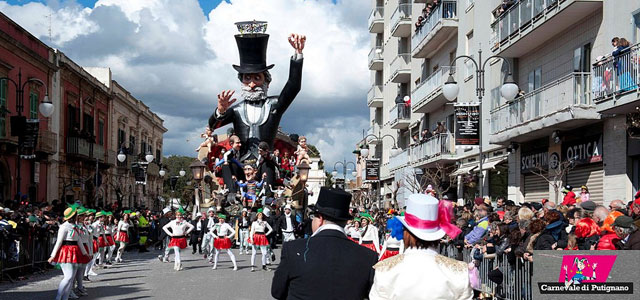 Three parades have already taken place in February and March, while the final event will take place on Sunday the 9th of March, during which one allegorical float will be proclaimed as the winner of the 620th edition.
Apart from the main parades, this period of the year also features some extremely entertaining events that take place on every Thursday. During "I Giovedì", the locals make fun of different social groups, dressing up and participating in sketches that transmit an irreverent satire that mixes the sacred with the profane. Each Thursday is dedicated to a different target, for example: married women, cuckolded husbands, priests, nuns, widows and so on!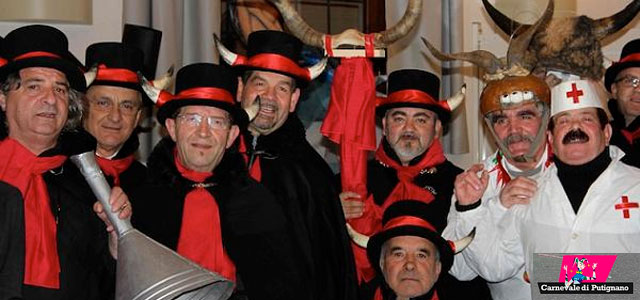 But if you think that the Carnival of Putignano stops here, you are wrong… In fact, since 2006 it also has a summer edition! It usually takes place in August and lasts a couple of days. So, if you ever visit Bari and the surroundings, you might end up in the middle of an amusing parade!
If you need proof, enjoy the colourful of this video!