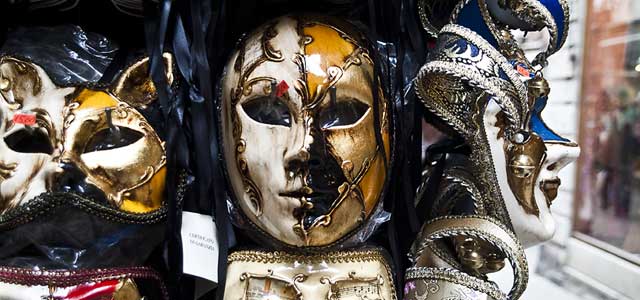 Masks are the symbol of the beautiful city of Venice, and their handcraftsmanship is deeply rooted in local history. Even wearing them is part of the tradition, especially when the time for the world-famous Carnival arrives! But in the past, masks were used on many different occasions, usually as a way of hiding the wearer's identity and social status, and allowing him or her to act more freely with other members of society. The first documented sources mentioning the use of masks in Venice date as far back as the 13th century.
Did you know what you can actually take mask-making courses in Venice? Imagine yourself and your friends or relatives creating your own masks under the expert guidance of a local artisan in a characteristic workshop, and learning everything about this centuries-old craft and its history!
This year's Carnival will take place from the 15th of February to the 4th of March 2014. Why not take advantage of this unique event and enjoy an authentic experience with your loved ones?
Contact Italian Special Occasions DMC for your customized quote, including accommodation with amazing canal views and more fun group activities like traveling in the typical gondola and visiting Murano's glass making workshops and Burano's school of lacemaking.
In the meantime, here is a video by WikiVenice featuring a skilled artisan in her own workshop. She explains the differences among the different Venetian masks (such as bauta and the plague doctor), and explains how to create them… enjoy!