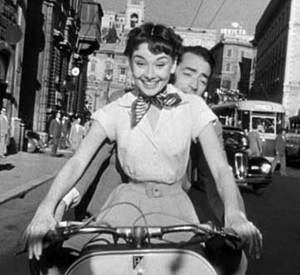 Have you ever watched Hollywood's movie Roman Holiday (1953)? If you have, and even if you have not, you probably associate it with the iconic image of Audrey Hepburn and Gregory Peck exploring the Italian Capital while riding a Vespa.
The Vespa is an Italian brand of scooter, although – as its motto says and as its cult followers confirm – the Vespa is "not just a scooter, [it is] a way of life". Since their inception in 1946, these scooters have been known for their painted, pressed steel unibody, a single structural unit comprising a cowling for the engine, a flat floorboard that protects feet and legs, and a front fairing that blocks the wind.
The Vespa was conceived by Enrico Piaggio, who was the son of the founder of Piaggio, an Italian company that was initially involved in the production of locomotives (late 1880s) and aircraft (World Wars). Following WWII, Enrico decided to leave the aeronautical field in order to address Italy's urgent need for a modern and affordable mode of transportation for the masses.
The success was exponential: Piaggio sold some 2,500 Vespas in 1947, 20,000 in 1949, and over 60,000 in 1950. The unique and funky look also conquered Hollywood: John Wayne, Marlon Brando and Dean Martin are only some of the actors that owned or used the scooter following the Roman Holiday movie, resulting in one million sales worldwide by 1956! Vespa clubs opened across the world, and the scooters came to symbolize freedom and imagination.
Nowadays, the Vespa is still popular not only because of its compact size that makes it a great utilitarian vehicle in large urban areas, but also because of the sub-cultural following in northern America, Japan and some parts of Europe, where it is used as a recreational vintage vehicle.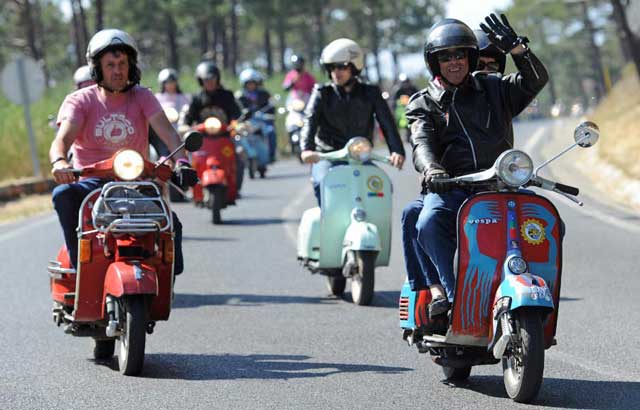 Vespa fans can visit the Piaggio Museum in Pontedera (near Pisa, Tuscany), where the Piaggio Headquarters are located. The museum occupies 3,000 square meters of what used to be the company tool shop, and was designed by architect Andrea Bruno with the aim of preserving the historic memory of the important Italian company. The scooters on display are the most beautiful and the rarest of their kind, such as a model personally customized by Salvador Dalí in 1962.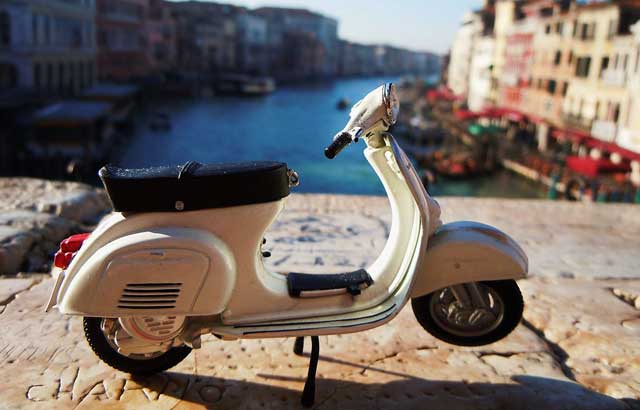 If you are traveling to Italy with a group of friends, and are looking for a funky and unique way to explore the local landscapes, culture and lifestyle… a tour on a vintage Vespa is just the perfect way to do it! Get to savor freedom, sightseeing and time as the Italians do! To inspire you further, have a look at this vintage Vespa commercial from some decades ago…
OK, some things have changed and you will have to wear a helmet nowadays… but do not worry, we at Italian Special Occasions DMC will be more than happy to find some cool retro helmets for you and your group of friends!
Contact us now to organize your special friend reunion in Italy, be it on Vespa scooters (by the way – the name means wasp in Italian!), vintage Fiat 500s or on fancy Ferrari cars!
Photo credits:
Movie Poster of Roman Holiday
Vespa tour for friends – image from stamptoscana.it
Vespa on the Grand Canal, Venice – image by SteGrifo27