As Italy reopens its borders to international travel, we are ready to organise Meetings, Incentives, Conferences, and Events in complete safety at Italian Special Occasions DMC. We have always sustained that Italy is a top destination for MICE, and we are convinced that this fact will stand out more than ever in 2021. This year, Italy will be the creative hub for corporate and leisure events with an eye for the environment, sustainability, quality, and smaller numbers. How do we know this?
Besides all the innovative event formats we work with (more on this later on) – which contribute to making Italy a great MICE destination, we asked event professionals to answer a survey about the challenges they are facing during Covid-19 and what they think of Italy as an event destination.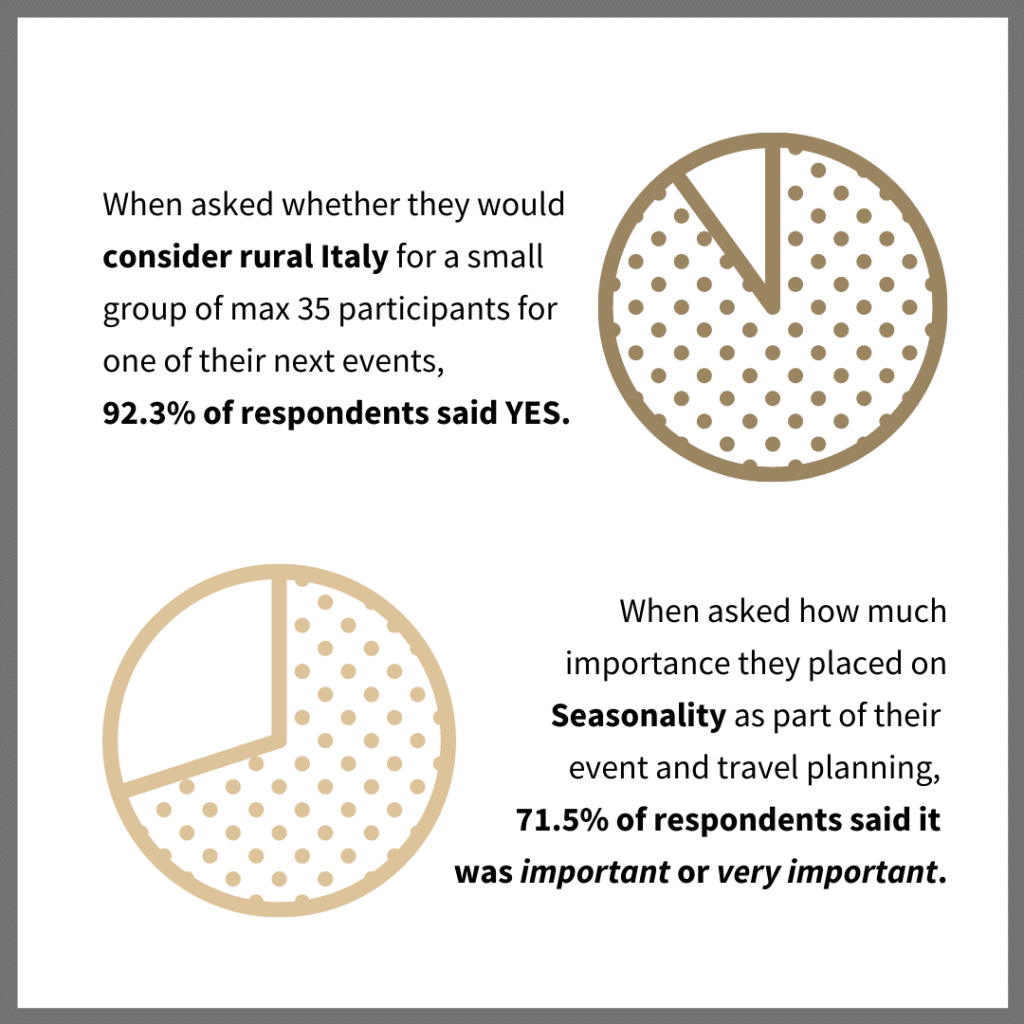 Seasonality is the battle horse of Italian Special Occasions DMC. When applying this concept, you choose a country or destination based on the best season in terms of sustainability, and you only choose activities that are typical of that season.
Finally, as a DMC, we know all that Italy can offer, but we don't know what people are looking for in Italy. We might have an idea but cannot be sure, especially after the pandemic. So, we decided to ask a straightforward question: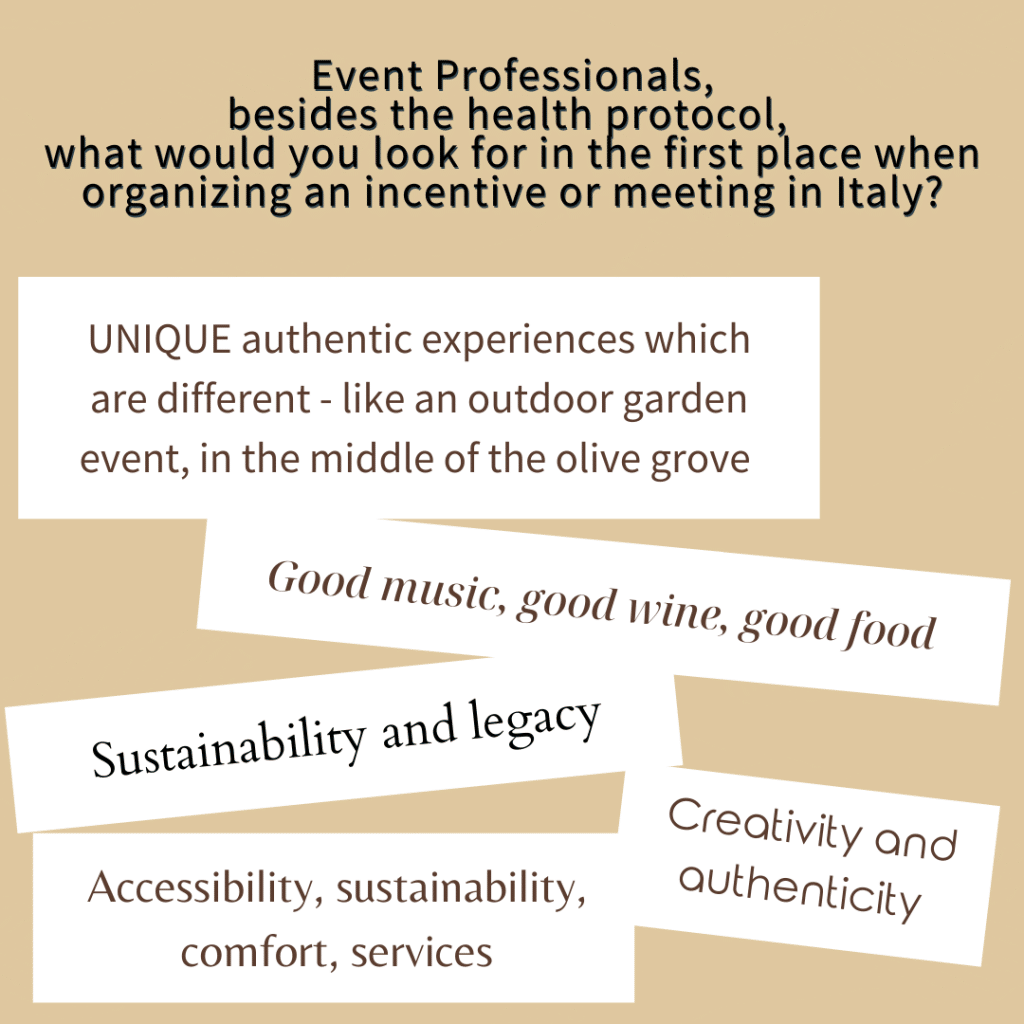 These answers show that many international event professionals see Italy as the ideal place to organise a small-sized event in total safety while incorporating authenticity, quality and sustainability.
Another thing that was clear from our survey is that event profs are more willing to try new event formats in Italy, from the hybrid ones to the unconference. The latter seems of particular interest, and we couldn't agree more! The un-conference creates a dynamic and interactive event even though participants are divided into small groups and in different places. For more on this, see the kick-off event we planned and executed in Rome for Nuxeo, the company that had chosen Italy for its very first unconference ever and defined it "a big hit".
MICE destination spotlight: Abruzzo
Italy is full of amazing destinations off the beaten path that are great for MICE. But we decided to choose one as an example: the little-known region of Abruzzo. Here, event participants can discover beautiful, surprising places while attending their incentives and small meetings outdoors or in museums.
The result of this combination is that they will feel no stress, but will rediscover the pleasure of slow travel and of slow living while being more efficient and inspired at work.
What's the secret?
It's all about planning an event with the right balance between corporate events and quality activities in the free time. These experiences take place in nature or involve culture or crafts skills, all aspects that allow us to better focus and appreciate what surrounds us. Italian Special Occasions DMC & Events has a handpicked selection of activities that revolve around the concept of wellness, something that we believe all companies should have at heart for their employees or clients.
Here are some examples of authentic activities that make Abruzzo a top MICE destination.
Discover how a "borgo fantasma" (an abandoned village) was transformed by a visionary entrepreneur who decided to invest in a project for the conservation of the local heritage. By visiting the hidden gem of Santo Stefano di Sessanio and speaking with the locals, event attendees are guaranteed to be inspired and to have a new vision of how challenges can be overcome.
Hop on a Canadian canoe and paddle in the turquoise waters of the Tirino, Italy's cleanest river. This is an evocative and exciting journey among the luxuriant vegetation with centuries-old white willows, black poplars, and marsh reeds. The beauty and the sounds of uncontaminated nature have the power to regenerate us and to make us reconsider our relationship with Mother Earth.
The traditional recipes of Abruzzo's people, who lived for generations (and often still live) on agriculture and pastoralism, are characterised by the simplicity of the ingredients and delicious and authentic flavours. A cooking lesson with a local chef will allow participants to have fun while putting their culinary skills to the test. But it will also allow them to apply this approach of simplicity and quality to their career, and generally to their lives.
Go on a trek up to the Castle of Rocca Calascio, which is the highest stronghold in the Apennines. But not only that: it was listed by National Geographic as one of the 15 most beautiful fortresses in the world. The sunset you will experience here is something sensational, unforgettable… with views across the peaks of the Gran Sasso and Majella, the plateau of Campo Imperatore, and the Sirente-Velino Nature Park.
Here are some more reasons why you should visit Abruzzo, whether it's for business or leisure reasons!
We are looking forward to welcoming you and being your extra hand for your Corporate or Special Occasion in Italy!
We are happy to offer you a free consultation on your next corporate event or special occasion in Italy. You can reach us via email , phone +39 0564 813 473 or WhatsApp +39 329 769 2116.