We have recently wrapped up another successful event for a company that embraced our philosophy in all its aspects and happily contributed to make the occasion sustainable. The company we are talking about is Nuxeo, developer of the leading Content Services Platform that is reinventing enterprise content management (ECM) and digital asset management (DAM). Founded in 2008, Nuxeo is based in New York with offices across the United States, Europe and Asia.
The Client's Request
We were initially contacted by Rebecca, the Office Manager in London. She explained how her company wanted to kick off 2019 with an event in Rome, so our founder Laura proceeded to introduce her to our philosophy and the principles with which we structure our events, such as seasonality and embracing local culture.
Rebecca's request was simple but well thought out. The Company wanted to avoid hotel chains and wished to accommodate its international employees in an independent hotel, strategically located where they could walk around, discover Rome and its culture. There would be different meetings, but the most important one had to be held in a location where Rome could really be felt by the participants. Finally, Rebecca explained that during their free time they wanted to enjoy activities that combined the idea of culture and fun. "We would really like something authentic and away from the masses and crowded areas".
Our Reaction
We were very pleased with the originality of this request, because it is unusual for a company to focus its attention on the culture of the city where the event is taking place. So, we started to work on it together. Nuxeo chose an excellent period, February, which is off season in Rome. This means that it is not crowded, and you can really enjoy the city in the most authentic way.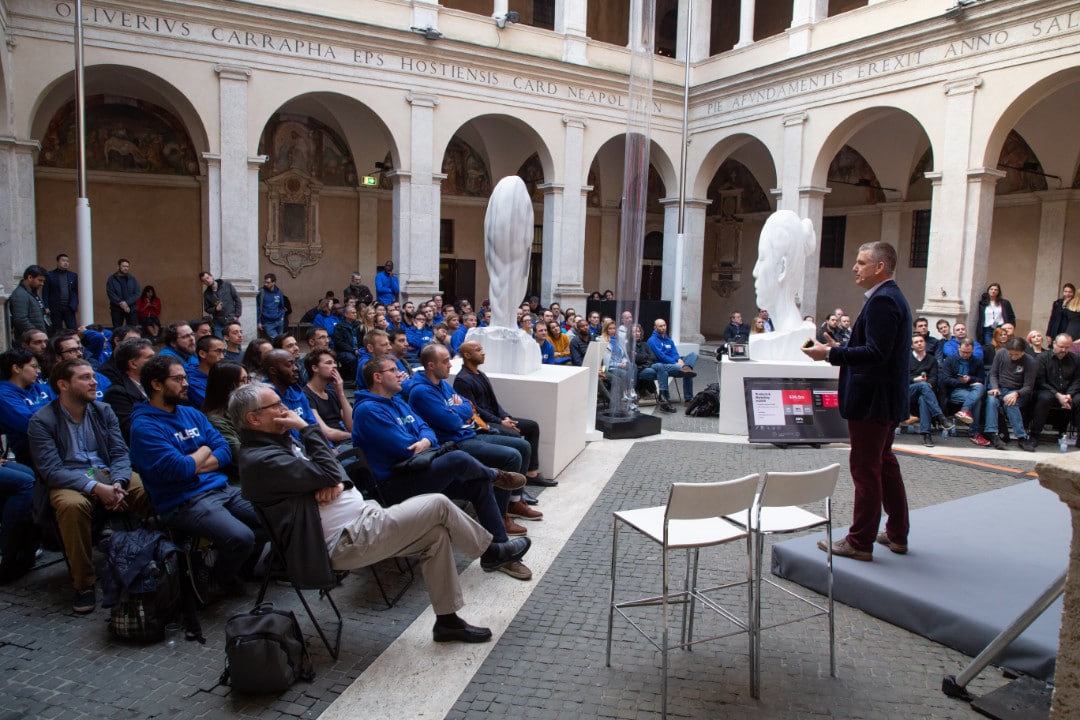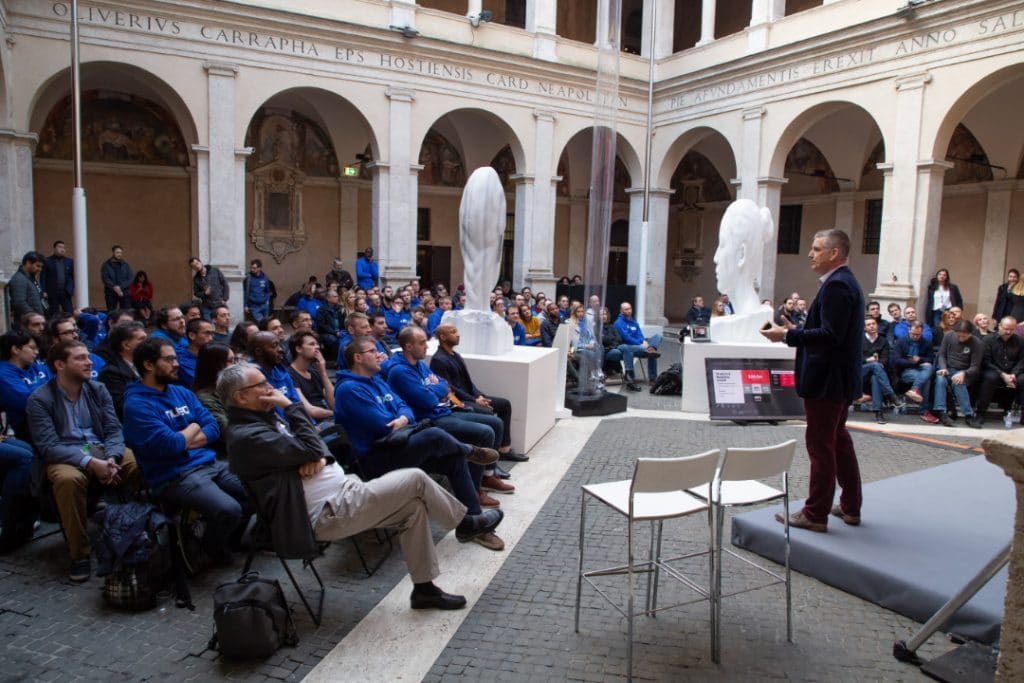 Selecting the Venues
The first thing we worked on was finding a Hotel where to accommodate 130 people and a Venue where to have keynote presentations. Not an easy task! After an exhaustive search, we proposed a series of venues and invited Rebecca to Rome to see them for herself, and to evaluate the logistical aspects and dynamics behind our proposals.
We had her sleep in the hotel that we considered most suitable for the event, Hotel Ripa, an unconventional and modern property located in one of the liveliest areas of Rome, Trastevere. Laura let Rebecca discover various areas of Rome and showed her different hotels and venues.
Our top venue selections for Nuxeo were two museums: one was the old and iconic Chiostro del Bramante, while the other was the modern MAXXI Museum. The latter would match the company's image of innovation, while the former would match their genius in the software industry, as architect Donato Bramante introduced Renaissance architecture to Milan and the High Renaissance style to Rome.
What did the Client choose? Even though the MAXXI was very appreciated, Nuxeo decided to go for Chiostro del Bramante, as it is a unique venue where you can really breathe Rome.
With regards to the dining part, we booked our selection of restaurants and typical trattorie where the team could enjoy authentic Roman food, not tourist menus. For the farewell dinner, Nuxeo wanted something simple but nice. We found the perfect venue in the historic Antica Pesa in the middle of Trastevere!
Getting Creative with Leisure Activities
We decided to discard time-consuming and 'usual' activities like visiting the Colosseum and the Vatican, so we created ad hoc activities instead. We proposed bicycle excursions and food tours in areas such as Testaccio, Trastevere and the city center. We also organized a tour for who those who had never been to Rome, with a small Van that would take them to discover the main sights in a short amount of time. In between, we added some history and tradition by having participants visit an artisan's bottega (workshop) in Trastevere.
For us at Italian Special Occasions DMC, it was the first time that a company didn't ask necessarily for the Colosseum or the Vatican, but was rather more interested in the hidden aspects of Rome… bless them!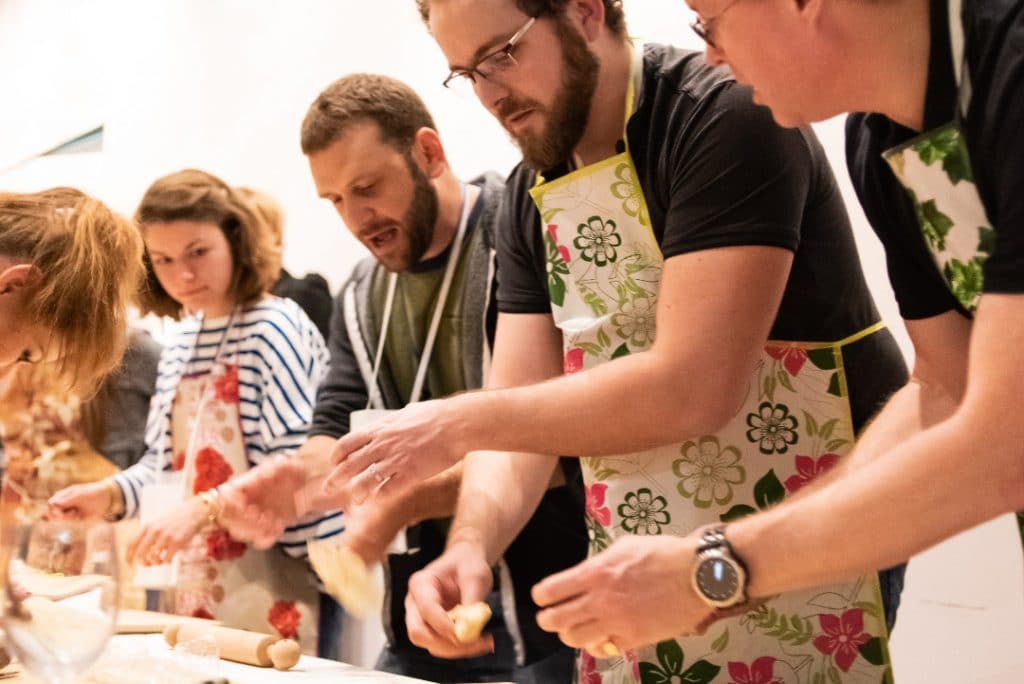 Structuring the Team Building
Our internal partner Noemí Freixes started to work with London Office Manager Rebecca and Director of Digital Julie, to create a team building experience based on the local culture, both as an ice breaker and to improve the essence as a team.
Prior to starting any brainstorming on the activities that we could do, we devoted our time to talking to the client, to make sure we understood their needs and expectations. We listened to their requests and asked as many questions as we needed so to comprehend all details of their organization and unique context.
Once we understood Nuxeo's needs, we teamed up and started to design the best personalized activities for the company. It is important for us to stress how positive it was to work with Nuxeo's team because they were really open to our ideas, and at the same time they shared their thoughts with us, so teamwork was great.
The client asked us to organize an activity that would allow the employees to talk to one another, relax, reconnect and enjoy their time together. Most employees would fly in that morning and some of them had not seen each other for a while. At the same time, Nuxeo wanted the opportunity to strengthen the team spirit of the employees, to help them interact with each other and meet new colleagues.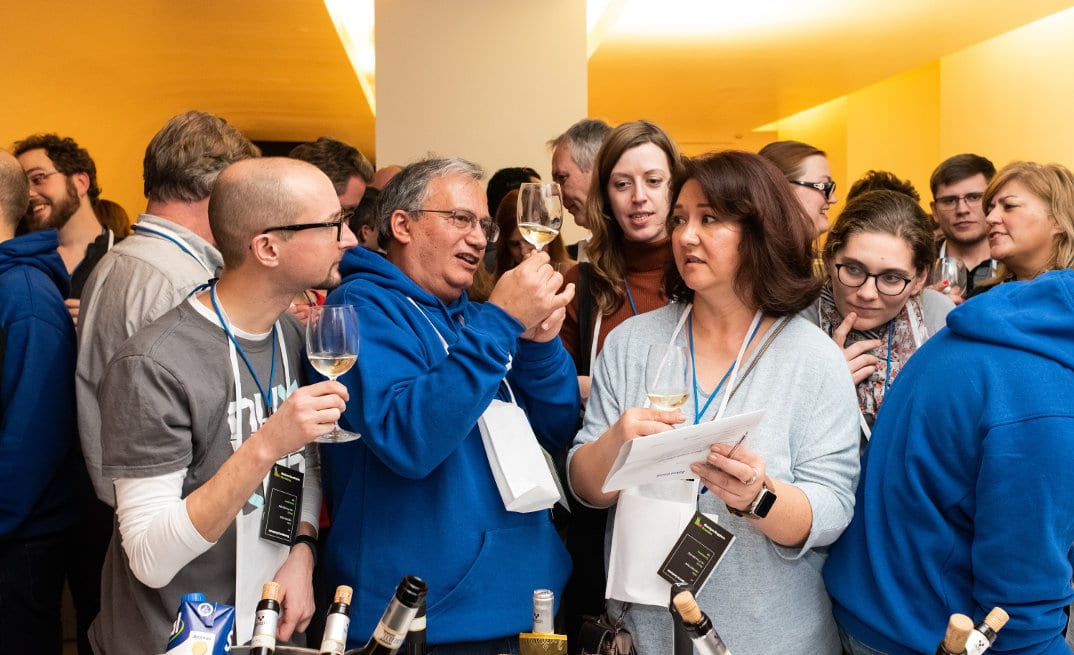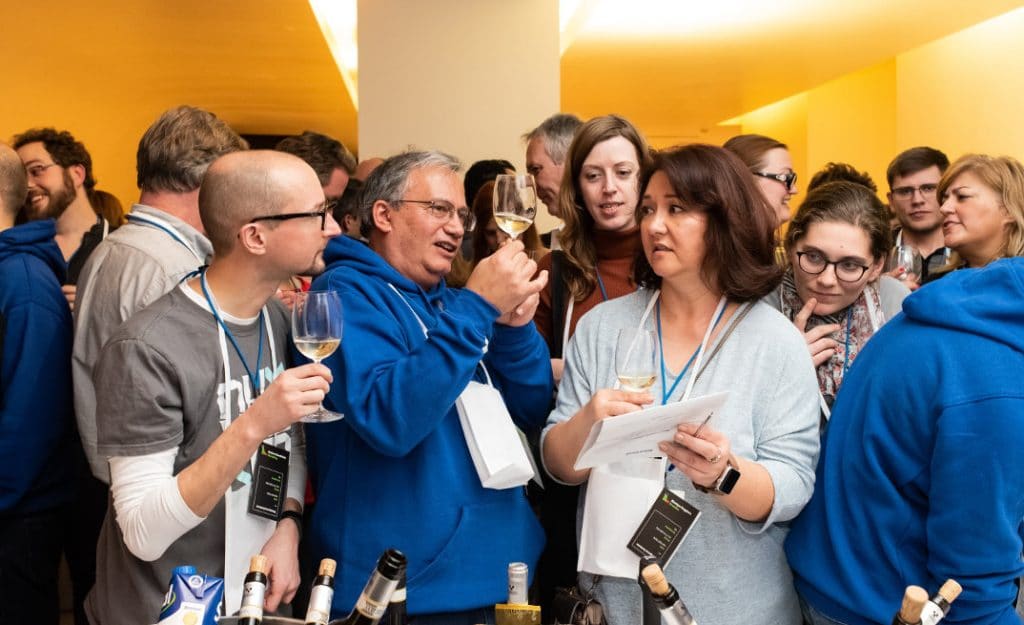 So, taking all these inputs into consideration, plus the compromise of having to plan team activities with a local print, we ended up designing an APERITEAM. This activity saw participants grouped in 13 different teams, 10 people per team. Each group was named after one of the famous ingredients used in Italian cuisine, such as parmesan & vinegar, porcini & rice, prosecco & olives… Each team had a challenge: to enjoy the food and drinks they would find in the 6 different stations around the room and, at the same time, answer the questions and perform the challenges they would find in a booklet we gave them. Each activity found in the booklet was awarded with points. The team that ended with most points would be the winning team and would, of course, receive a special prize. The booklet had different challenges:
"Italian food & wine" had questions to be answered by making a tasting route of food and wine specialties through the stations. It included questions on food products, how they should be cooked, anecdotes… Best of all, participants would become Italian chefs for a while and had to make some handmade pasta. Not only there was a chef in each station, but there was also a sommelier who was running the activity together with our coach Noemí.
"Meeting our colleagues" included questions and challenges for which participants had to interact and collaborate with colleagues from other teams. For instance, they had to welcome a newcomer to the company in the funniest and most creative possible way, and even take some team pictures with a Polaroid. This helped employees to bond with each other.
"The Nuxeo team" helped to energize everybody for the upcoming days, strengthening the sense of belonging to Nuxeo. The key here was to think about the company as a unique team. One of the activities in particular had an amazing result. Employees had to answer questions by using colorful strings to connect dots, and at the end the information was placed in the panel so that, as a global result, it created a big "X" (as the letter in NuXeo). The outcome was so nice that they decided to ship it to their offices so it would remind them of the team spirit they experienced while performing this teambuilding activity.
At the end we announced the winning team, which then shared publicly what they thought was the key to succeeding and winning the final prize. The group then went for dinner, where they could enjoy the delicious pasta that they had cooked earlier at the food stations!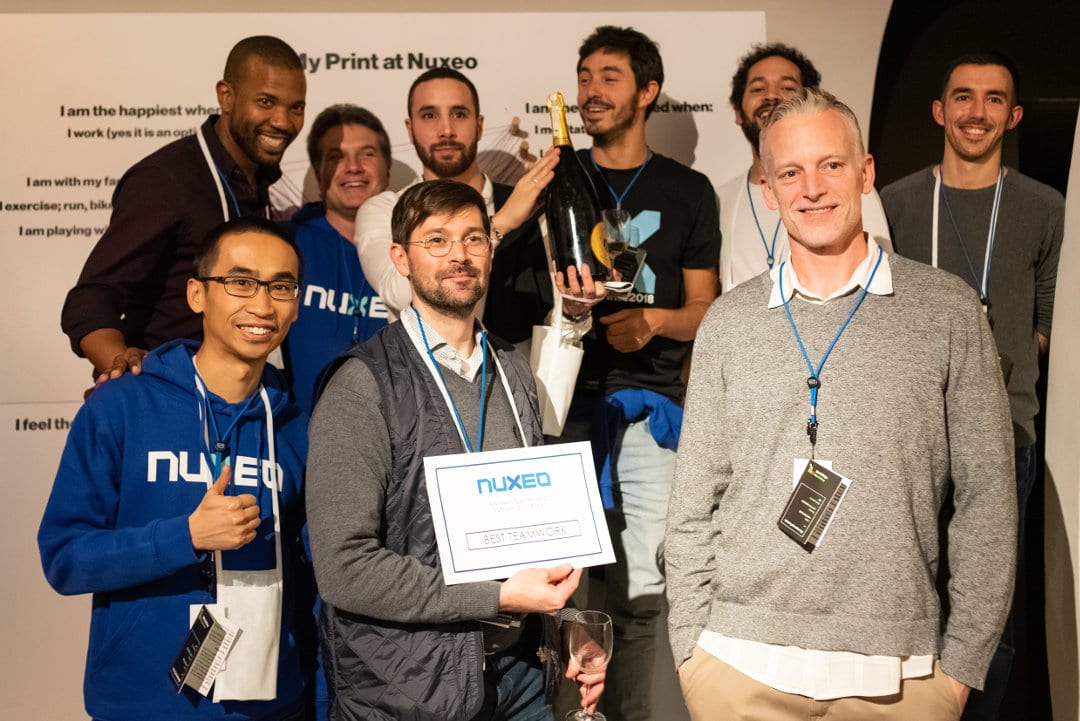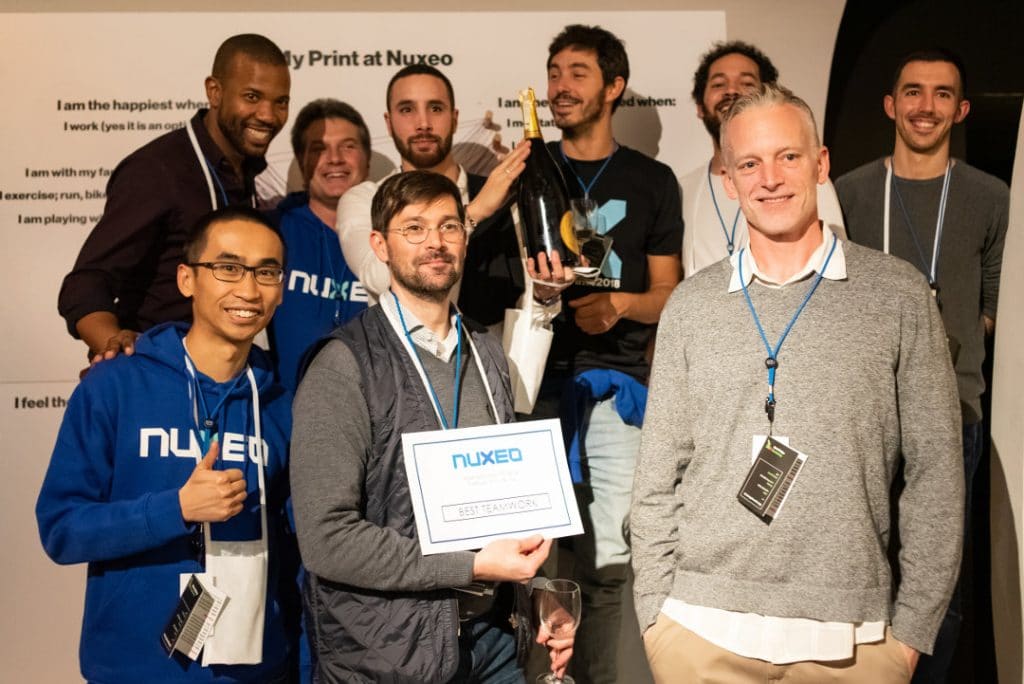 The first day was marked by a warm welcome to Rome, a great atmosphere, good food and positive team spirit, all of which set the tone for the upcoming days. Nuxeo and Italian Special Occasions DMC were on the same page when it came to structuring the team building: we both wanted a formative part in addition to the leisure part, recognizing that it is the best tool to reward employees and let them feel part of the company.
Unconferencing the Meetings
Nuxeo is a quite young and very innovative company, so it was no surprise to us that they chose the Unconference as format for their meeting sessions. What it is? It is an open-space conference, a participant-driven meeting that favors peer to peer learning, discussion and collaboration.
With its flexibility and unconventional structure, Hotel Ripa was the perfect venue for the unconference and we organized a very practical event. Everyone was walking around the room, jumping from one session to another depending on what they wanted to learn, discuss or listen to.
We really appreciated Nuxeo's choice with regards to the materials used during the event: this company is very conscious about the environment, and produced a very small booklet with the agenda, without wasting too much plastic and paper.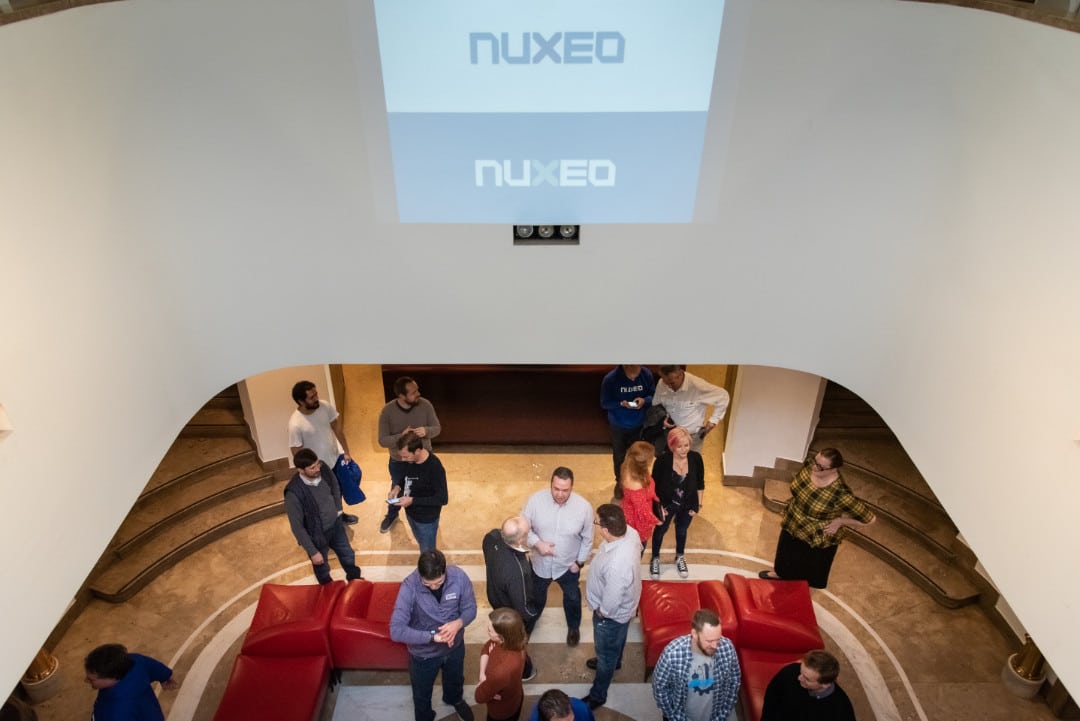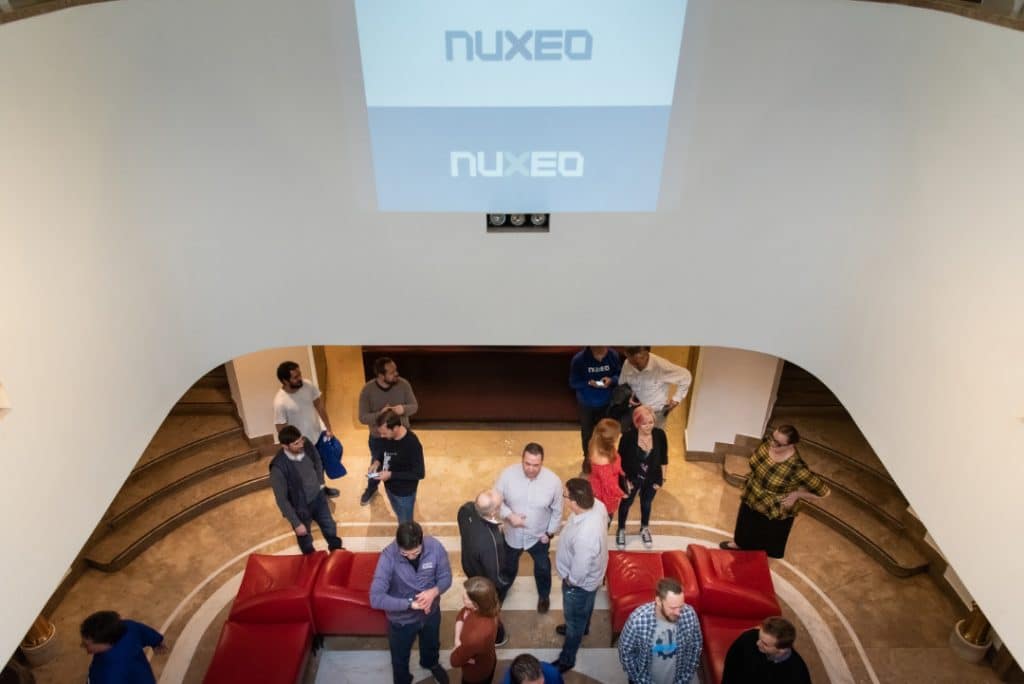 Wrapping up
Our Team was very happy to read the following note from Nuxeo:
"Hope you are well and have had the opportunity to get some rest post-event – we have had so much positive feedback! I want to thank you and your team again for all your help, we could not have had such an amazing event without you."
We thank Nuxeo not only for choosing Italian Special Occasions as their DMC and Event Organizer in Italy, but also for being so culture- and environment-oriented and for following all our tips. For example, Rome has a big problem that you should always take into consideration when organizing an event: traffic. It is a nightmare, but if you plan transfers at the right time, you can see a fantastic, empty Rome. Nuxeo followed our suggestion and at 8:20 in the morning we were at Piazza Navona with their team… it was empty, magical, and everyone really appreciated it.
For us as a DMC, it hasn't always been easy to tell or convince a company that it is a very bad choice to organize an incentive in the Amalfi Coast in July or a corporate event in Venice in August. But luckily, we are starting to find companies that want to make a change and embrace seasonality & culture, such as Nuxeo. We were impressed by their young employees, their interest in culture, their punctuality and by how happy they were to be in and discover Rome. They were living the kick-off event in a different way, and most importantly they were proud to be part of Nuxeo.
Change in Events' Travel in worth a prize: contest alert!
As a sustainable company that wants to drive a change in organizing events and travel in Italy, at Italian Special Occasions we want to make our client companies contribute to this revolution. That is why we created a contest: we will award a fantastic prize to the company that dares to surprise their team or their client in the most innovative and sustainable way. Nuxeo is second on the list!
We will share the rules, conditions and prize in our next newsletter in March. If you would like to sign up and receive our quarterly newsletter, please join our mailing list here.