If you think that "La Dolce Vita" is a thing of the past… you have never had the chance to enjoy a glamorous experience in Italy! After all, the country has been an A-lister favorite since the 1950s.
Just to mention a few stars that have chosen Italy for special occasions in the recent past: Kim Kardashian and Kanye West who tied the knot in Florence; Justin Timberlake and Jessica Biel who instead chose Apulia; George Clooney who bought a villa on Lake Como; Italian family vacations for divas such as Beyonce or maestros like Steven Spielberg; and an endless list of VIPs that attend the Fashion Weeks of Milan and Florence, among other high-end events.
Would you like to capture the timeless charm of the Mediterranean gem like a star? Here are some tips and ideas for a sensorial experience oozing with old-world glamour between fashion, exquisite gastronomy, art, warm hospitality and mesmerizing locations in northern and southern Italy.
Romantic Verona
The hometown of Romeo and Juliet treasures the best of all worlds. It may come as a surprise to some, but it is actually a small capital of shopping. Strolling between the majestic arena and the Duomo, you encounter lovely streets with fashionable places – from perfume boutiques to vintage stores, from artisan workshops to luxury outlets with distinguished brands.
Among our favorite spots is Perlini Ceramic Art, where you can not only admire and buy the classy creations by Anna Grazia, but also join her in pottery workshops for beginners and medium-expert artisan wannabes (and – for couples who have seen a certain movie from the 1980s – this is quite a romantic activity for you to enjoy together!).
If you are in Verona strictly for fashion shopping, pop into Hidden Forest Market: you will find collections mixing a simple yet sophisticated look, with selected fabrics and great attention to detail.
After touching and feeling the textures of handcrafts and quality textiles, it is time to mesmerize your eyes with a full-immersion in the art treasures of Verona. We will go beyond the obvious historic and artistic sights of the city, and suggest to you an innovative art gallery.
The Achille Forti Gallery of Modern Art features a collection of some 1.400 works of art, of which 1.100 date from the early nineteenth century to halfway through the twentieth, and a further 300 are works of contemporary art. Achille Forti was a botanist from a family that was both extremely rich and yet had a great sense of social responsibility. He collected highly prestigious works, and brought together the specifics of local art from Veneto and the more refined art of the rest of Italy.
What about Verona's gastronomic scene? There is something for all tastes. But for the more refined palates that are eager to try something new and exciting, we have two gourmet recommendations. The trendy ConFusion Restaurant offers a superb fusion of Italian classics and Japanese dishes. The small tables for couples on the first-floor terrace are perfect for a romantic dinner! Otherwise, for a more traditional approach to Italian cuisine, enjoy the flavors and panoramic views at Ponte Pietra Restaurant, located on the Stone Bridge dating back to over 2.000 years ago!
Posh Turin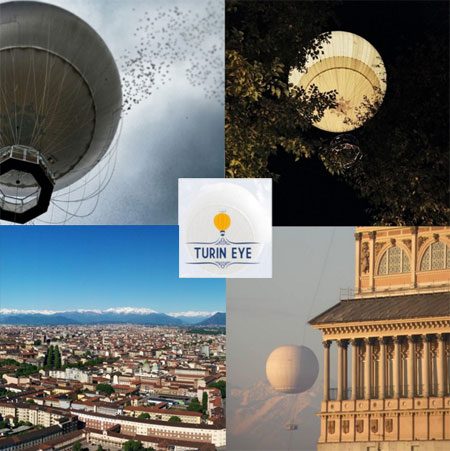 With its chic Parisien style, Turin is a great option for a glamorous Italian experience.
What if you suddenly find yourself in another time, in another era? There's a place in Turin where you can feel the fragrance of the great '20s pouring out from a drawer. Les Coquettes is one of our favorite shopping spots, a treasure trove of vintage art and furnishings!
If you are looking for a chance to enrich your wardrobe, visit Bagni Paloma, a shop of elegance located in a former 100 square meter garage. The white walls and bright lights create a relaxing atmosphere that is pleasant for shopping, but you can simply sit on the comfy couches, sip some tea at ease and enjoy the beauty of the shop.
Turin is a splendid city that delights your eyes as you walk around. But can you imagine how grand and surprising it is from the sky? Hop on the HiFlyer balloon to admire the panoramic sights from 150 meters of altitude. You can even enjoy a stylish aperitivo al fresco on board.
Once you have seen Turin from the sky, it is only fair that you explore its heart and history from the complete opposite… from its underground tunnels! Turin was, at one time, a fortified city: Duke Emanuele Filiberto started building the Citadel in 1564. Today, you can explore this pentagonal fortification, its tunnels (Gallerie di Contromina), its history and heroes, in the Pietro Micca Civic Museum. Venturing into the underground tunnels feels a bit like being granted access to a secret spot, hidden from the world.
Finally, our foodie recommendation in Turin is the perfect symbol of our era, mixing multitasking and passion. Pai Bikery is a bicycle coffee shop run by 3 friends who share the passion for good food and classic bikes. This place features not only a bicycle workshop, but also a kitchen where Arianna prepares delicious organic food and homemade drinks. Here you will find a friendly and unique atmosphere, and chances are that you will end up exploring Turin on a vintage bicycle in great company!
Soulful Naples
Campania's capital city conquers your heart thanks to its multifaceted soul: it fuses tradition with innovation, and features retro boutiques as well as avant-garde concept stores.
Two of such places are located in the exclusive Chiaia neighborhood, which is also home to many fashion houses and is a center for luxury trade. Officine Napoli is not only a stylish shop, it almost feels like an exhibition space where you can appreciate the presentation of tastefully selected items – from clothing to shoes, from unusually positioned photo frames to the vintage Vespa. Nearby, the concept store by Roberta Bacarelli celebrates the "MADE IN ITALY" values and traditions. Each item in her collection is a unique piece resulting from careful research and artisanship, alternating retro and contemporary styles in a luxurious sartorial flavor.
You can feel and witness the interesting combination of past, present and future pretty much all around Naples, but especially in some amazing art galleries – such as MADRE (Museo d'Arte Contemporanea Donnaregina). Palazzo Donnaregina – an ancient building that is an outstanding example of historical stratification – hosts 7,200 m2 of exhibition space, with site-specific installations, as well as works from the permanent collection and temporary exhibitions.
If you are interested in local artists from Campania, and in how local meets global contemporary art, then you should not miss Intragallery. This original space was created to shorten the gap between Naples and the great cultural movements around the world.
Now, close your eyes and think of Naples for a moment… chances are that you thought of its local delicious pizza! While we also recommend experiencing a destination like most locals do, during your glamorous visit in Naples you have to stop by Pizzaria La Notizia 94, and try its gourmet pizza. The restaurant's modern design is the first thing that strikes you when you enter: it reminds you of one of those elegant and refined delicatessen found in many European cities, revisited in a fresh way.
The feast of colors, including the red dome of the oven created by artisan Stefano Ferrara, joins the delights of flavors. Traditional pizze are accompanied by new combinations of ingredients and aromas: the menu features a list of unusual, creative and equally unforgettable options. You can first put your imagination to the test, and then savor the perfect balance between innovation and tradition.
Fashionable Venues for a Glamorous Italian Experience
Apart from the fashion, art and food bonanza, finding trendy and authentic accommodation is key to living your glam journey to the fullest. If you need any help, we at Italian Special Occasions DMC have an exclusive collection of hand-picked venues, and we are always on the lookout for amazing new entries.
We are also specialists in Italian Destination Weddings, Family Reunions and Corporate Events – all of which can be conceived around the theme of Fashion and Glamour, creating an unforgettable experience for you and your guests! Need inspiration and assistance? Contact us now