The list of traditional festivals in Apulia, Italy's heel, is never ending. Nonetheless, we have selected 10 among the most interesting folklore festivals. (PS: Stay tuned for the top 10 Apulia Foodie Festivals, coming soon on the blog)… Enjoy!
Carnevale di Putignano
– Dating back to 1394, this is not only one of the oldest carnivals but also one of the longest in the world, lasting for up to 2 months (depending on when Easter falls)! It is famous for its artisan-crafted papier-mâché  allegorical loats.
Cavalcata di Sant'Oronzo – Ostuni, also dubbed "the white town" for its white buildings and walls, celebrates its patron saint from the 24th to the 27th of August. The festival includes a kightly, costumed procession on horseback.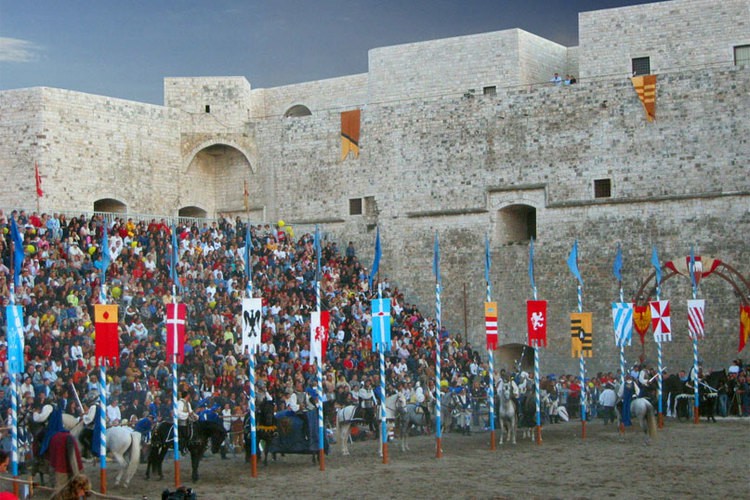 Disfida di Barletta – This folk festival commemorates the historical challenge between Italian and French horsemen that took place in Barletta on February 13th 1503. Every year, the town transforms itself with rich decorations, colorful costumes, local handicrafts and a battle which crowns only one winner.
Alberobello Folk Festival – During the first weekend of August, Italian and international folk groups gather in this picturesque town, playing live music in the unique backdrop with the typical 'trulli'  stone huts with conical roofs!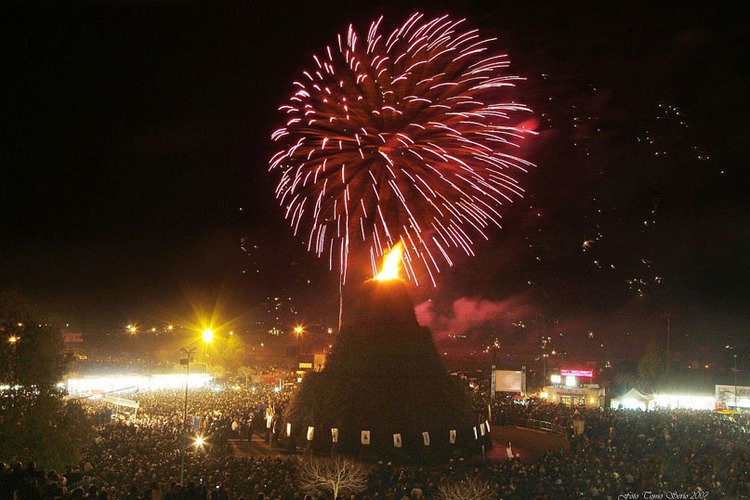 La Focara – On the 16th of January the town of Novoli (Lecce) lights an enormous bonfire to celebrate St. Antonio Abate. Visitors can dine and drink around the fire and when it dies out, most take a handful of ashes home for some good luck.
Processione delle Fracchie – This curious celebration features the 'fracchie', enormous cones artfully assembled with bundles of sticks from cedar and chestnut trees. They are piled on small wagons, lit on fire and raced around the town of San Marco in Lamis (Foggia) on Good Friday.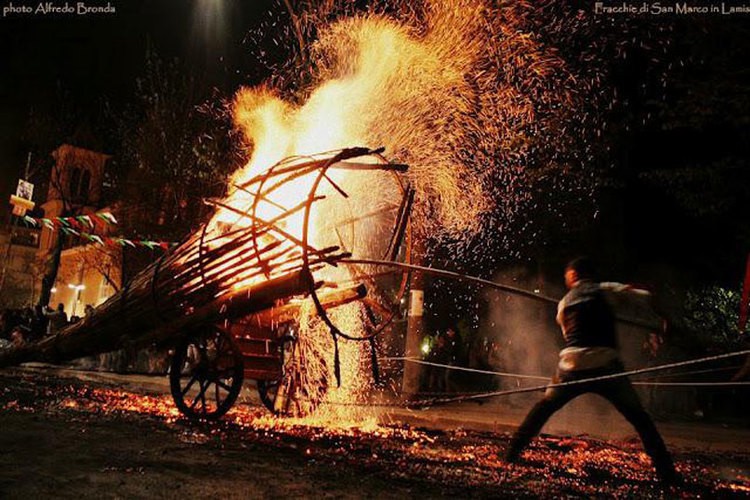 Festa di S. Rocco – This saint is celebrated in different towns across Apulia on the 16th of August. But one particular event is the one that takes place in Locorotondo, where the street festival ends with a large firework display over the Itria Valley.
Festa di San Valentino – In the small town of Vico del Gargano (Foggia), on the 14th of February townsfolk celebrate the Patron Saint Valentine by decorating his statue and the church with local oranges and bay leaves.
Sagra della Pizza Rustica – Apart from delicious rustic pizza and grilled lamb served during the event, this September festival features folkloric and religious performances to celebrate Padre Pio, who began his work as a pastor here, in the town of San Salvatore di Manfredonia (Bari).
La Festa del Mare – The Festival of the Sea is dedicated to St. Andrew, whose statue is brought onto the sea on a motor boat and followed by other traditional boats. The town of Manfredonia and smaller surrounding villages are decorated with colors and special lights, and host fireworks, traditional markets and local wine & food tastings.
Photo credits:
Putignano Carnival – photo from urbanpost.it
Barletta Challenge – photo from prolocobarletta.it
La Focara – photo from sagreinpuglia.it
Fracchie – photo by Alfredo Bronda