We've been following closely the wonderful #EventWell17 campaign launched in the UK to promote wellbeing in the events industry. According to the EventWell website "in the UK stress accounts for 45% of lost work days and over 1.3 million people have suffered from workplace stress".
This statement can be supported by a business case published by The World Health Organisation "why develop a healthy workplace framework". Unhealthy and unsafe workplace leads to work related stress. As a result, work related stress has negative side effects on mental and physical illness. As a consequence, that will lead to increased costs to the business with decreased productivity and lower customer satisfaction. In the worst case scenario it will lead to business failure.
Event wellbeing
Given that event planning was cited the fifth most stressful job of 2016, it's important that now the industry takes a proactive approach to raise awareness among all event stakeholders. Furthermore, the industry should come together to share best practice and experience about how to educate about and implement wellbeing. We are proud to take part in this campaign and contribute to this important cause.
At Italian Special Occasions DMC we also see a trend towards wellness, and want to share tips with you how to boost delegates' productivity with healthier and more active events. Here are some of the key aspects we integrate into the event programme.
Improve concentration with yoga or meditation
Organisers want to ensure that their delegates stay focused and concentrated throughout the day.
To achieve this, we will recommend integrating a yoga session into the conference programme. Yoga has many benefits, physical, mental and spiritual and it's eay to make it part of the programme and make everyone involved. In fact, according to a study by the University of Illinois, 20 minutes of yoga can improve brain function.
Another great benefit of yoga is being able to practice outdoors. If the event is held at a beautiful location such as Monte Argentario in Maremma, Tuscany, for example, delegates will be able to feel the positive energy of the beautiful surroundings and come in direct contact with the nature.
Meditation can be a good alternative to yoga, too. It improves concentration, focus and can reduce stress level and anxiety.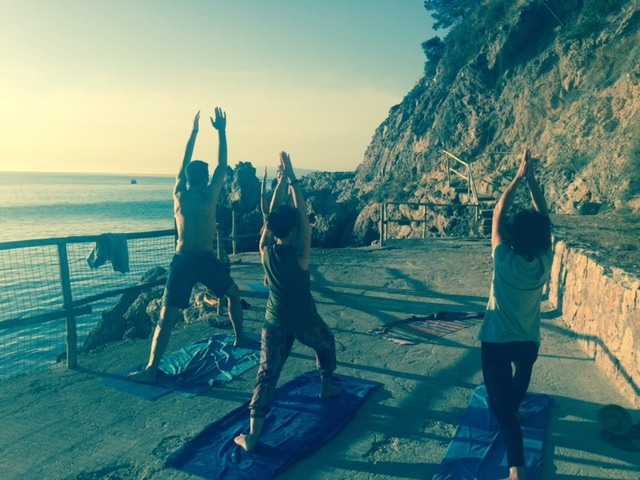 Strengthen relationships between team members
Harmonious work place also contributes to employee wellbeing so it's important to strengthen and nurture relationships during the event. Ensure that enough networking breaks are offered and provide space for interaction. Here you can use either technology, such as apps, or you can go old school against any gadgets, encourage delegates to turn off their devises and just speak to each other!
Let us give you few ideas for activities in Italy to increase attendee interaction:
Visit a local farm
In most parts of Italy you can visit a local farm. This sensorial activity offers the delegates to have a unique experience outside the business environments. We'll take them to experience an authentic way of living in an organic farm, taste the local produce and learn about the different cultivation methods. This activity has a great networking element and encourages the delegates to learn about values, vision and mission of a company in a different environment. As a result of being outdoors away from the hustle and bustle of the city life, employees will be able to strengthen their soft skills such as teamwork, problem solving, communication and decision making.
Dine with locals
Dining with locals is another favourite activity. It can be offered in different Italian regions for small groups. It's very simple – attendees dine with locals at their homes for a wonderful and enriching and authentic experience. Not only they will taste some of the most delicious foods of their lives, but will also listen to their stories and learn about their daily lifestyle.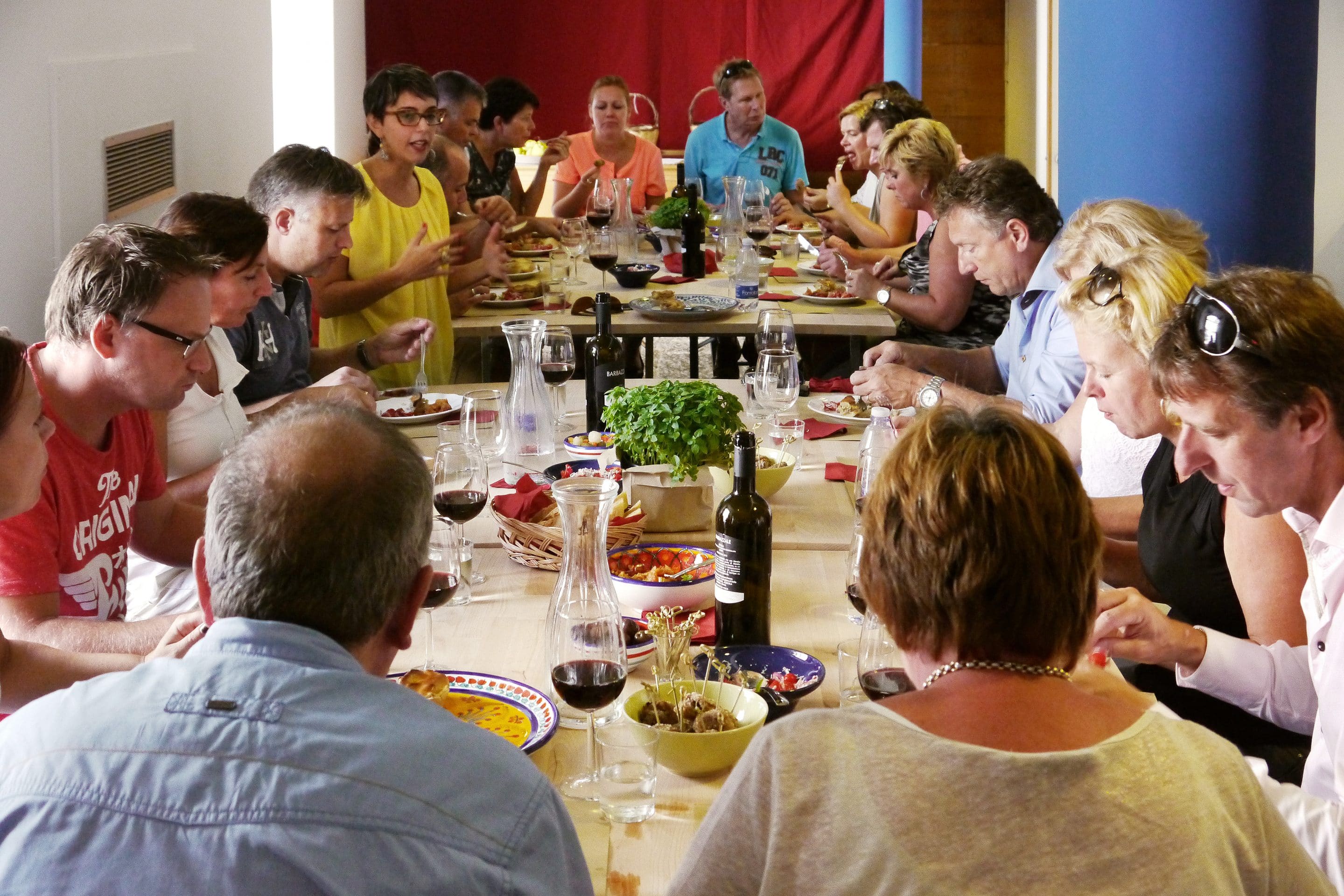 Fishing
Fishing is a popular activity, too, especially for senior management and offered only in some parts of Italy. For example in Maremma, Tuscany. Fishing can strengthen and bond relationships between team members. In the regions where local community highly relies on the fishing industry, local communities preserve this ancient trade. We can take small groups on participants, 2 – 4 per boat to fish with the local fisherman. This is one of the activities that requires full concentration, decision making, communication and collaboration with other team members, so needless to say no technology for few hours! Sometime the fisherman can't say a word in English and knows only the local dialect!
Writing retreat
There are also plenty networking ideas for indoors events. Most important is that organisers constantly mix the delegates so they meet and interact with new team members. One of our favourites for indoors is a Writing Retreat. This activity is designed for creative teams to boost their imagination and let new ideas flow. A mentor will join each room or table and spend some time (can be as short or as long as you wish it to be!) with the group to develop new concepts and guide their creative process.
Where to host events in Italy for the best wellness experience?
Nature and outdoor activities make people feel good so organising events in natural surrounding will help organisers achieve this objective. We picked three regions that we think will be the best option for corporate events with strong wellness element.
Maremma (Tuscany) and Sicily
These two regions are similar in their climate in a way that you can host events during autumn and winter. The weather is warm enough to integrate outdoor wellness activities for groups.
In autumn, the group can participate in the harvest in Tuscany and Sicily and incorporate sensorial activities that will be fun and interactive. When it gets a bit warmer in Tuscany, your group can discover the land from a paddle. That's a slow and nice team activity to enjoy the landscape, chat with a colleague and have a different perspective.
In November and December the Cedros trees flourish in Sicily and it's one of the most beautiful times of the year to visit the region. We can also take the delegates to visit a local "azienda", participate in the harvest and see the process.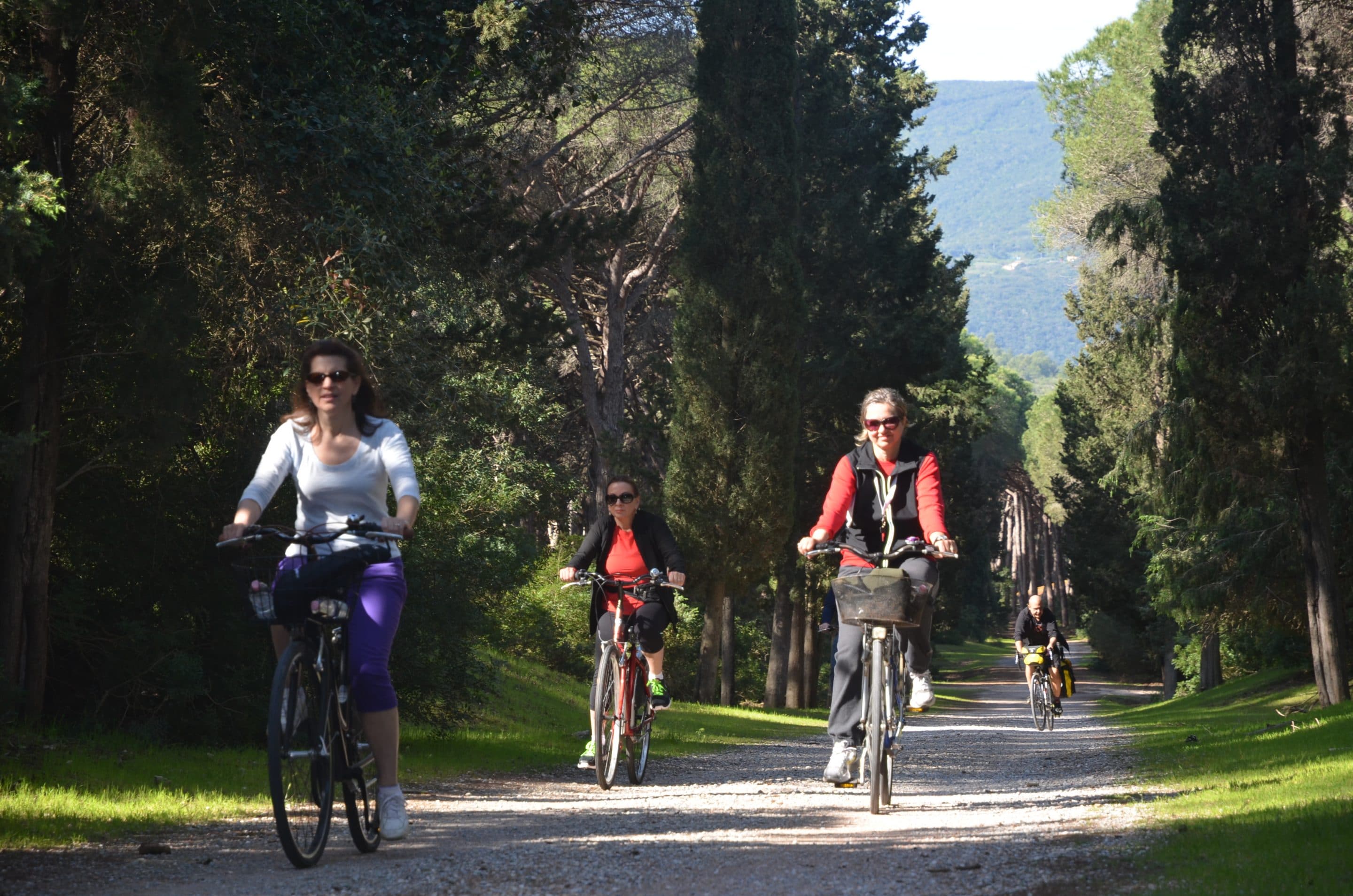 Umbria
And don't let us start talking about Umbria, another wonderful region we can highly recommend for wellbeing and mindfulness. It lives on the shadow of Tuscany, so a bit off the beaten path, but very beautiful with unique properties and options for incentive activities. From yoga to scenic journeys to truffle hunting or cooking classes, it offers authentic activities and experiences.
With the increasing demand for wellness and wellbeing at the workplace, we want to support our clients to deliver events that boost delegates' productivity. By integrating wellness elements, such as healthier food options, fresh air and outdoor activity, light exercises in a wonderful surrounding that nurtures and inspires, we want to ensure that delegates came back empowered and motivated. No matter how small or big the event is, make a wellness element your priority.
Below we collected few resources about wellbeing at the workplace for further reading:
13 ways companies kill creativity – avoid the pitfall of killing creativity at the workplace. Not only it's bad for the company in the long run, but also demoralising for employee wellbeing. This article outlines how senior management can encourage and foster a healthier workplace.
Read article here.
Why wellbeing works for business – more companies, big and small, start recognising the importance of wellbeing in the workplace. From weekly yoga sessions, free healthy breakfasts to reward for cycling or walking to work, more and more initiatives are created for employees to be physically and emotionally healthy. This articles outlines how companies can contribute to healthier work environment with examples.
Read article here.
Wellness in the workplace: how health initiatives can boost staff productivity – working long hours and failing to take time out for exercise and relaxation can put employees at risk of high stress levels, which in turn affects productivity and lost work days. This further leads to stress, depression or anxiety. Regular exercise and a balanced diet are key to maintain a balanced work life balance and contribute to employee wellbeing. This article presents how to offer balanced wellbeing initiatives at the workplace.
Read article here.