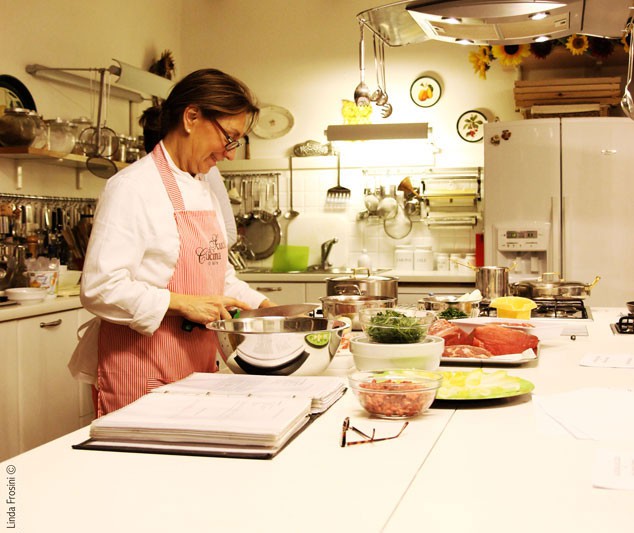 Today we have the pleasure of sharing an interview with Lella Cesari Ciampoli, owner of Siena's first school of international cuisine, which she founded in 1996. The mission of her culinary institution is to maintain the tradition of Sienese and Tuscan cooking and recipes.
Lella teaches Italian, Tuscan and Medieval Cuisine, as well as pastry-making, natural leavening dough preparation, and health and nutrition. She is an expert and researcher of antique recipes of Tuscan and Medieval Cuisine.
At Italian Special Occasions DMC, we had the opportunity to chat with Lella about her school and passion.
You are an authority and an expert researcher of antique recipes. In particular, how did you become so passionate about medieval cuisine?
Learning and knowing about where we came from helps us to understand where we are and where we will go. The same applies to cuisine: understanding how food was treated and what we ate in the past centuries, helps us understand the evolution of taste and how to deal with food. From the 'garum' (a fermented fish sauce used in Roman times) to the medieval 'camelina' (a popular sauce in the 1400s) to today's tomato ketchup, we have come a long way.
The Scuola di Cucina di Lella offers an impressive variety of courses: for baby chefs, newlyweds, for singles, quick summer cuisine, homemade bread, pastry, the use of left-overs, vegetarian menus, seasonal cuisine, gluten-free dishes, cake design… What is the most requested course by foreigners and what does it involve?
"Tuscan Cuisine" is the most requested cooking lesson by foreign visitors. Usually I hold intensive lessons that go from 2 to 4 hours, depending on the number of participants. They learn about regional cuisine and the Menù Tipico Toscano (a traditional meal from starter to dessert), and create recipes using only fresh local products. At the end of the lesson, dinner or lunch is served with what was prepared during the course, and the meal is accompanied by excellent wines.
What makes your school different from others? What do you try to transmit to your students?
I have the presumption of wanting to transmit to my pupils the passion, the knowledge, the respect for traditions, the pleasure of cooking for the ones you love, for the family. The importance of food in the relations between people is such that, for example, it is at the table where business deals are concluded, where new sentiments come to life, where we share our stories.

What ingredients do you prefer to use in your recipes?
The products that I use the most are seasonal vegetables, garlic (which I cook in a way that is digestible to all… it is a small secret of mine…), extra virgin olive oil (EVO) from the Sienese territory or from Tuscany, red Chianina meat, Cinta Senese pork, local poultry and lambs.
What dish do you think that best represents the culinary tradition from Siena?
Certainly the Pappa al Pomodoro (Tuscan soup) and the traditional sweet pastry like the ricciarelli and the panforte di Siena.
When you go to the restaurant, what is your favorite dish and why?
I rarely go to the restaurant, and I do not have preferences because I love everything! But when I do go, I always ask for recommendations from the Chefs – who are usually old friends of mine – or tips from the members of the Siena Chefs Association, of which I am part as president of the Lady Chefs.
On TripAdvisor, the profile of the "Scuola di Cucina di Lella" has been collecting many positive comments and your rating is 'excellent'. What was the nicest compliment you received from a person who participated in your cooking course?
The recurring and gratifying compliment is that the meals that my students cook and then eat at my school are the best that they have tried all over Italy. Also, the cooking lessons are considered as a proper gastronomic course and remain impressed as one of the best memories of their Italian trip.
For more on Lella, visit her website scuoladicucinadilella.net
Lella's authentic cooking lessons are great for bringing the family closer together, and for fun friend reunions in Italy. If you would like to combine this and other culinary experiences with more unique activities in Tuscany or across Italy for a special occasion, contact us now!