Welcome back to our seasonal feature dedicated to Christmas Corporate Events in Italy: this is the third and last chapter of the initiative, aimed at companies that want to celebrate the end of the year with a unique experience abroad.
At Italian Special Occasions DMC, we have some creative proposals for an unforgettable Christmas corporate gathering in Italy. We started with innovative ideas for winter retreats in Central Italy, followed by Southern Italy, and today we move to the regions of the North.
Our twist? Suggesting places that are off the beaten track, where your clients or employees can enjoy creative activities both indoors and outdoors, away from the hustle and bustle of metropolitan areas. Even though northern Italy is a popular winter destination, and some of its locations – particularly ski resorts – are the protagonists of mass tourism, there are hidden gems that are worth visiting during this time of the year.
For example, did you know that the Dolomites are home to one of Italy's wild canyons? Reminiscent of faraway worlds, the Brent de l'Art are canyons that are characteristic of the Belluno Valley, carved in the rock by the Ardo River. The name "Brent" comes from the dialect expression "Brentana"', which indicates the flood of a stream after heavy rains, while" Art" is the local name of the stream flowing into these gorges. Even though they are relatively small ravines, the Brent de l'Art are some of the most enchanting natural features of Northern Italy thanks to the unique shape and composition of the geological strata, and to the characteristic red, white and teal colors. "Canyoning" excursions can be organized here: expert Alpine guides can lead your group in the exploration of the gorge, covered in ice stalactites that give them a magical look!
Another nature adventure that groups can experience in the Dolomites, even by less "adventurous" or sporty participants, is dog sledding – one of the most original and ancient ways to enjoy the mountains! At the end of an active day in the highlands, and – especially – after months of busy work and stressing daily routine, your clients or employees will look forward to some relaxing and therapeutic treatments. At Terme delle Dolomiti, a thermal spa with special waters rich in minerals and curative properties, they will enjoy the rest and restoration their bodies deserve against the cozy natural scenery of Valgrande. Finally, Christmas markets in the Dolomites are a definite must. The booths are set in decorated wooden houses exhibiting handicrafts, specialties and unusual gifts. And if the peaks of the Dolomites are covered with a blanket of snow, the atmosphere becomes even more magical!
"Once upon a time, there was a princess in a castle…" The princess is no longer there today, but fairytale castles are still all over Italy, even more so in Piedmont! The region is dotted with striking, well-preserved castles, often surrounded by beautiful gardens where your group can enjoy for painting workshops, gardening lessons or yoga.
One of our off-the-beaten path gems is Castello del Roccolo, located on a small hill near the village of Busca. Built in 1831 by Marquis Roberto Tapparelli d'Azeglio as a vacation retreat, it owes its name to the "roccolo", or nets used to trap birds in the past. The building features Neo-Gothic and Romanesque styles that harmoniously blend with Moresque arches, Ghibelline ornamentation, rose windows, and floral decorations. It is surrounded by a park of 500,000 square meters with Classic descending terraces as well as Romantic-style falls and scenic walkways. Can you imagine your Christmas corporate conference in an ancient castle that has hosted illustrious figures such as poet Silvio Pellico, King Umberto I and Queen Margherita? It would be something prestigious and unique!
The province of Cuneo is also ideal for gastronomic travel. Important wines, significant cultivations, quality farming, excellent products and characteristic recipes, all contribute to making it a land of great farming and cultural traditions. In occasion of your winter corporate retreat, your guests can join local Chefs in cooking lessons to learn about typical Christmas dishes, such as Bue Bollito di Carrù o Moncalvo, or Piedmonte-syle boiled ox served with local green and red sauces. They may also join truffle or mushroom-hunting expeditions, and learn about wine tasting in the idyllic vineyards of the Langhe.
If you'd rather leave the countryside or the mountains to be mesmerized by the charming winter sea, we recommend the Italian Riviera in Liguria. Winter allows you to explore it at your own pace, without the frenzy that cannot be avoided in summer.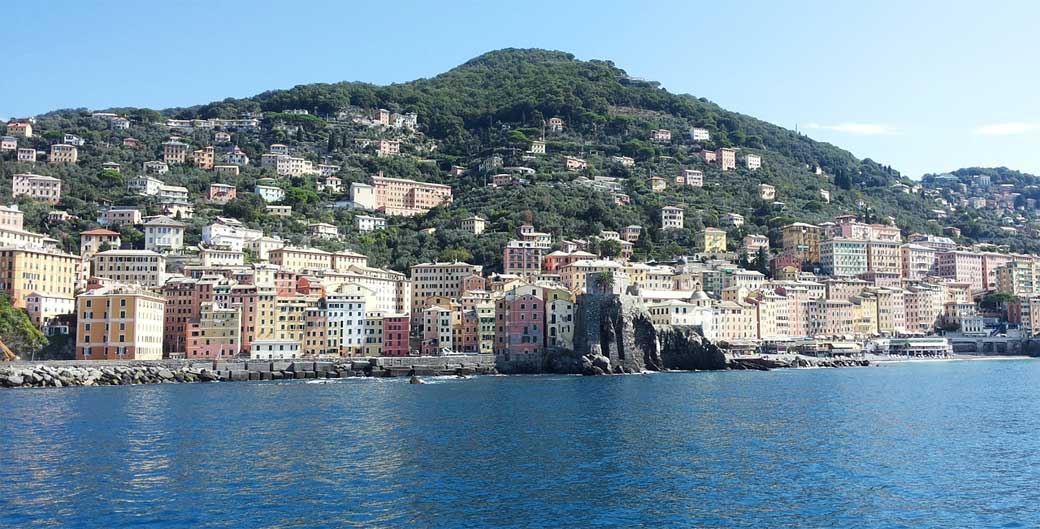 One of the most exquisite borghi, or hamlets, is Camogli. It is a typical seaside village characterized by highly-stacked and vivaciously-painted houses set in a magnificent natural setting. Following your group's visit to the local Marine Museum, which encloses 300 years of maritime history, a fun and challenging scavenger's hunt can be organized around the harbor and beaches of Camogli!
When visiting the Italian Riviera in December, you should not miss the striking Nativity Scene in Manarola (Cinque Terre), which comes to life thanks to 15.000 lights! This presepe entered the Guinness World Record in 2007 as the world's largest nativity scene, and is created by retired railroad worker Mario Andreoli. The nativity scene started with just one cross in 1961, when Mario's father asked him to re-create an ancient pilgrim's cross that used to stand in the middle of the family vineyard in the past. Slowly, Christmas after Christmas, Mario enriched his creation with new figures and characters. Today, the nativity scene has more than 250 characters scattered all over a terraced hill overlooking Manarola. If this is not unique enough, this delightful work of art is also eco-friendly! In fact, it is built exclusively with recycled materials and powered by a photovoltaic system in the spirit of sustainability of the Cinque Terre National Park, where Manarola is located.
We have mentioned just a few of the activities and venues that could be the perfect choices for your Christmas corporate event in Northern Italy. At Italian Special Occasions DMC, we would be delighted to share even more options and locations, and to create a customized proposal for your company. 

Contact us now!
Salva