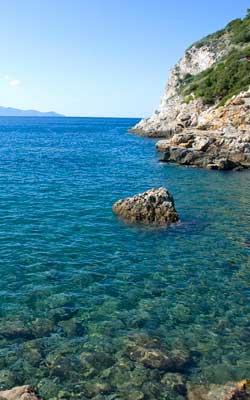 For your next vacation to Italy, are you seeking an area that is rich in cultural heritage, natural beauty and interesting history – but also somewhat off the beaten path and not overrun with tourist buses, large crowds and long lines while sightseeing?
If so, consider spending your next holiday in Italy's Maremma, a spectacular area that runs along the Mediterranean Coast and includes territory in both the provinces of Tuscany and Lazio, which gives you a good variety of airport options; you can fly into either of Rome's two main airports (Fiumicino or Ciampino), Pisa or Florence.  From any of those, using trail, a rental car or a combination of both – and you are set to begin discovering this beautiful, calming area at your own pace.
You'll also have a good selection of interesting hotel accommodation options, whether you're looking for villas, farmhouses, modern hotels, apartments or historic properties (like castles & palaces).
As far as sightseeing goes, there is so much to see and enjoy in the Maremma that it's a bit difficult for us to narrow down our favorites!  That being said, here are our Top Ten Recommendations to try to include during your holiday in Italy's Maremma area!
Relax on the stunning beaches of Monte Argentario – After all, you're on vacation right?  And if you're going to work on your tan or go for a swim, why not make it in one of the crystal-clear, turquoise beaches of Italy's Mediterranean Coast?  The ones located on the peninsula of Monte Argentario are about as good as it gets!  If you plan on spending the majority of your time in the areas beaches, consider basing yourself in Porto Santo Stefano, Porte Ercole or nearby
Orbetello.
Enjoy golf & the spa at the Argentario Golf Club – While many don't automatically think of Italy as a golfing destination, it really has come into its own over the past five years or so.  Envision playing a day of golf with your closest mates with sunny skies and sea views – followed by a delicious Italian meal with fantastic local wines.  And if some members of your party / family are into golf while others aren't – many of the area's golf resorts also house incredible spas.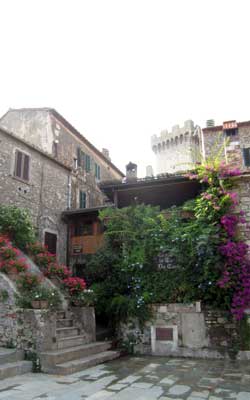 Cycle in the Parco della Maremma – While traveling, many of us need nature to help us unwind and disconnect.  This protected area is a real treasure.  It's a great place to cycle and hike, and the park is also home to some pretty interesting historical attractions.
Visit the historic city of Capalbio – This ancient town is home to some pretty great medieval architecture.  As it truly transports you back in time, it's a great place to check out for history fans – and we can guarantee that it won't be overrun with tourist groups.
Go wine tasting! – While other areas (denominations) have garnered more attention, this area of Tuscany is really up and coming.  More and more Maremma Toscana wines in the area are being recognized as nothing short of excellent. One to definitely check out during your visit is Morellino di Scansano DOCG.  That being said – wine tasting can be a formal business, but it can also be a fun, learning experience for you and your family.  You don't have to arrive as an expert!  And if you're not interested in visiting a wine estate, you can often sample the local vintages in neighborhood restaurants.  Just ask your waiter which wines are locally-produced.
Explore Grosseto, the largest city in this region – This medieval city is another great place for history and architecture fans to check out!  In the Middle Ages, Grosseto was strategically an important city in the area, and today – you can still see its superb medieval walls, bastions, palaces and churches.
Photograph Pitigliano's postcard-like panorama – A daytrip to Pitigliano would surely be a highlight of any trip to Italy.  The city's dramatic, raised location atop of the area's famed, extremely porous tufa rock is nothing if not remarkable.  The city's origins date back to the ancient Etruscans, and inside one can still visit fantastic medieval and Renaissance architecture.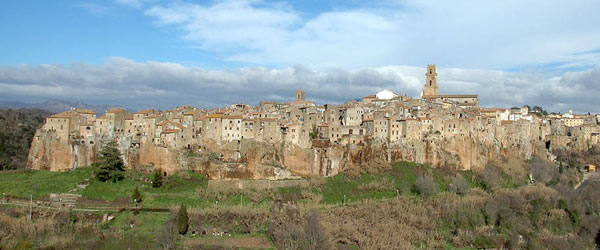 Visit the ancient, Etruscan site in Vetulonia – Again, this part of Tuscany is reknown for its Etruscan roots; it fact many frequently call this stretch of the Mediterranean "The Etruscan Coast."  As with many ancient Italy cities,  etulonia's history is extremely multi-layered, but you can still see ancient walls, cemeteries and tombs that date back to the Etruscans.
Unwind in the Thermal Springs of Saturnia – And after your exciting sightseeing, we suggest enjoying some of the natural relaxation the area has to offer!  People have been enjoying this area's thermal springs since Antiquity, and the temperature of the water is on average around 37.5 degrees Celsius (99.5 degrees Fahrenheit).  So consider squeezing in a visit to Saturnia during your stay in the Maremma to soak in the sulfurous springs' waterfalls.  Why, it's even good for your health!
Check out the spectacular medieval village of Sorano – As with Pitigliano, the nearby hilltop town of Sorano was also constructed amongst the characteristic tufa rock of this area.  If you're going to travel east from the coast to visit Pitligiano, it's worth combining it with a visit to either Sorano or even Sovana.  All three towns are incredibly beautiful and truly unique to the area.
Now we hope that you have enjoyed our tips for what to see when visiting this wonderful area of Italy!  If you're interested in visiting this wonderful, unique area with family members, friends or colleagues, feel free to contact us.  We'd be happy to answer questions, make suggestions, or help your group plan a corporate event, destination wedding, culinary tour or family reunion.  Ciao!