Seasonality allows you to enjoy a number of authentic and unforgettable activities, and we at Italian Special Occasions DMC have decided to create a unique suggestion for spring, conceived particularly for those of you who love golf, culture and wine.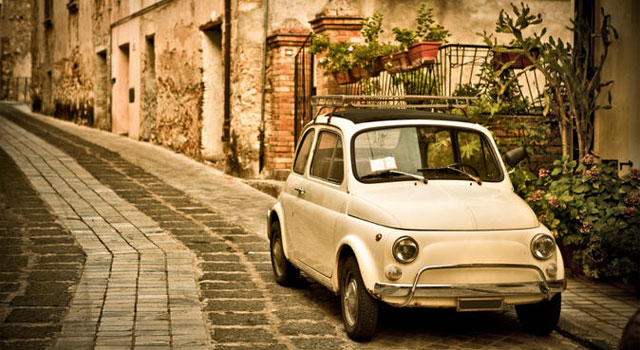 Tuscany is the region of choice, and for you to get around we thought to offer something different and fun: you will explore the so-called "Places of the Spirit" in a vintage Fiat 500! Just picture yourself and your friends playing golf, tasting delicious wines and visiting one of the most charming and beautiful landscapes in the world in a funky old car!
GOLF
We have chosen a prestigious golf course designed by renowned golf architect Robert Trent Jones Jr.: the 18-hole Royal Golf La Bagnaia covers an area of 130 hectares of wooded hills and relaxing landscapes. It is a typical example of Inland Links, similar to the breezy Scottish Highlands, and features beautiful lakes and a majestic Club House with panoramic views of the golf course and the towers of Siena.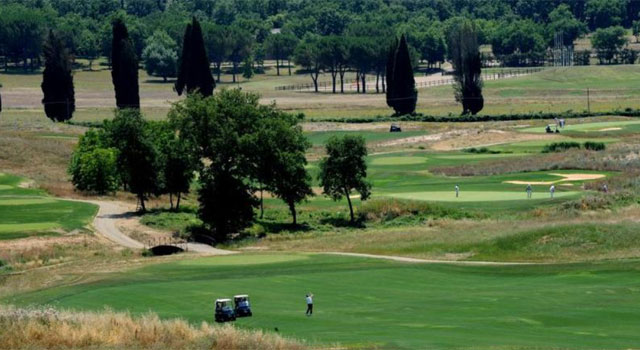 Our partner IGolfTuscany can customize your golf experience based on your game level, skills and wishes. Apart from playing on the idyllic golf course, you can enjoy lessons for beginners or high-level golf clinics with European tour professionals, or sign up for a local competition: perhaps you could end up winning some quality Tuscan wines or some other fancy prizes!
CULTURE & SIGHTSEEING ITINERARY
The Places of the Spirit are the awe-inspiring areas of Val Di Chiana, Val D'Orcia and Crete Senesi. Here is our recommended itinerary to be explored in the classic Italian Fiat 500 cars:
Cortona: The ancient Curtun – as it was called by the Etruscans – dominates the Valdichiana from a panoramic hilltop. Mainly medieval architecture and steep narrow streets characterize the village.
Chiusi: This was one of the most powerful cities in the Etruscan League, and it is also famous for the "Labyrinth of Porsenna", a network of underground passages from the 6th century BC.
Abbadia San Salvatore: It is a perfect example of mountain castle, with Gothic and Renaissance houses whose dark gray color comes from the Volcanic rock of which they are built.
San Quirico D'Orcia: Located along the Via Francigena, this medieval village welcomed thousands of pilgrims traveling to Rome, with numerous facilities for assisting the needy.
Pienza: Planned by Pope Pius II and designed by Florentine architect Bernardo Rossellino, pupil of Leon Battista Alberti, Pieza was coinceived as  the 'ideal city' dreamed of by Humanism.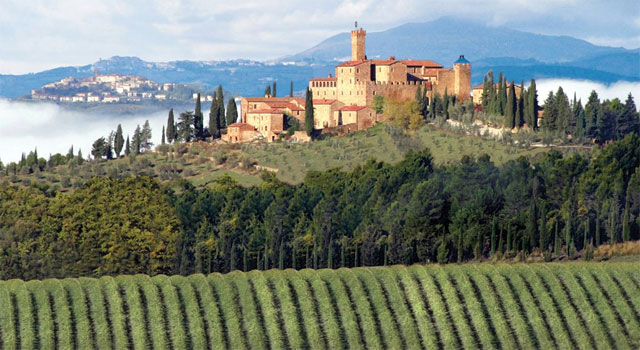 Montepulciano: It retains a Medieval soul beneath the Renaissance face conferred by the Medici's illustrious architects. Among its jewels is the Church of San Biagio, a solemn building in travertine.
Montalcino: The protagonists here are the Brunello wine, the massive pentagonal fortress called Rocca, and the Romanesque Abbey of Sant'Antonio.
Buonconvento:  Its historic center is a work of art made up of 'chiassi', narrow streets running under arches and little squares. It hosts the important Museum of Sacred Art of Val d'Arbia.
Murlo: This tiny Medieval shell contains two squares and a street encircled by ancient walls. The local Civic Museum displays the findings of the nearby archeological area of Poggio Civitate.
Monte Oliveto Maggiore: Immersed in a park of cypresses and protected by deep gullies, this 14th-century abbey hosts the monastic order of the Olivetans. Its cloister features beautiful frescoes.
Asciano: This medieval town is the main center of the jagged Crete Senesi, and features the Romanesque Collegiate of Sant'Agata and the Museum of Religious Art.
Lucignano: A great example of Medieval urban planning, the elliptical-shaped Lucignano dominates the Val di Chiana. It hosts the Tree of life, a highly original 14th century reliquary over two meters high.
WINE
All along this itinerary we will point you to the best wineries of the area, including family owned and eco-friendly places where you will be able to taste top quality wines, including the legendary Brunello! The wine tour also allows you to savor authentic local dishes and explore the beautiful Tuscan vineyards.
OUR TREASURE TROVE
Bagno Vignoni – spa & wellness: Visit the lovely village of Bagno Vignoni (literally Vignoni Bath), whose age-old vocation as spa is already indicated by its name. The main square here is a rectangular pool 49 meters long and 29 wide with hot springs whose therapeutic quality has been renowned since antiquity. The pool is surrounded by ancient buildings, including a loggia with the little chapel dedicated to St Catherine of Siena, and the striking travertine palace erected by Bernardo Rossellini for Pope Pius II. The town is a UNESCO World Heritage Site.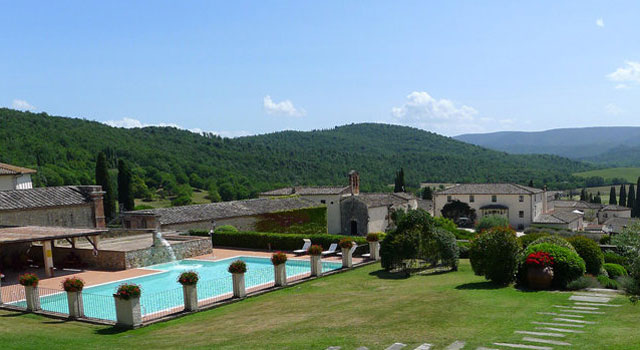 La Bagnaia Resort – accommodation: Enjoy a 4-night stay in the unique and charming La Bagnaia, a 5-star hotel housed in an ancient medieval hamlet near Murlo. If you would like to see to believe how precious this place is, we will let the images talk by themselves. Have a look at this short movie by Cinzia TH Torrini, which documents the dreams and philosophy of Marisa Monti Riffeser, owner of La Bagnaia.
Dreaming about a vintage tour of Tuscany? Contact Italian Special Occasions DMC for a customized quote!