Sicilian cuisine is an expression of the culinary art that has developed in the island since ancient times, closely tied to Sicily's historic, religious and cultural traditions and facts. The local gastronomic culture shows clear signs of the different peoples that inhabited the area throughout the centuries, with the addition of new tastes and new dishes that have been handed down from one generation to the next.
Complex and articulated, Sicily's is often considered as the most rich and 'visual' cuisine in Italy. The list of regional dishes is quite long, counting at least 80 different delicacies, but we have a Top 10 chart of the most iconic and irresistible dishes that you must try at least once in your life!
Arancini: These characteristic stuffed rice balls are coated with breadcrumbs and fried. Although the fillings can vary, arancini (also called arancine) are usually filled with meat sauce, tomato sauce, mozzarella and/or peas. The shape is usually round, although in eastern Sicily it is more conical.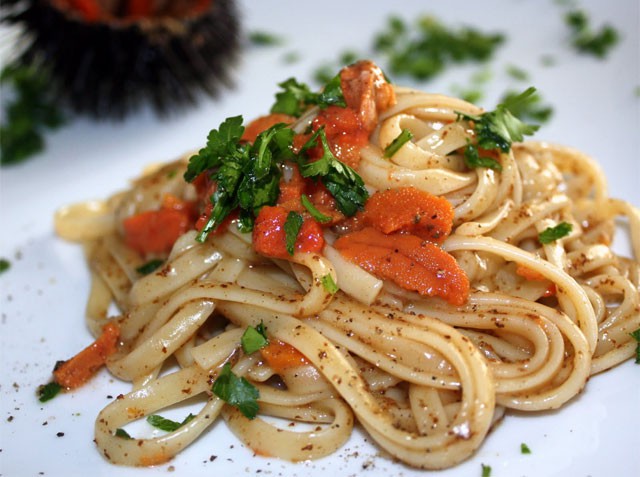 Bavette with sea urchin: "A dish as easy to prepare as hard to forget especially for sea lovers" -foodie writer Giuliana Cardillo. The bavette pasta (a narrower version of tagliatelle) and the ingredients of the recipe allow you to taste the sea and the simple but rich flavors of the Mediterranean cuisine. The dish is prepared with sea urchins, garlic, parsley, extra virgin olive oil and red pepper.
Le Sarde a Beccafico: This is a classic piatto povero, or poor-man's dish, that transmits the perfect mix between sea and land. Baked sardine rolls are filled with pine nuts, breadcrumbs, raisins, and drizzled with orange or lemon juice. An interesting note about the origins of the name, according to tradition: in the past, rich Sicilians used to have a similar dish made with the beccafico bird; but since poor people could not afford such birds, they created their own version with the cheaper sardines.
Cartocciata Catanese: This is a delicious deli that is typical from Catania and the area around Mount Etna. It is similar to a calzone, usually stuffed with mozzarella and tomato sauce, and additional ingredients of your choice like ham, fried aubergine, wurstel…
Panelle: The panelle are triangular pancakes made with chickpea flour, and apparently they have been around since the Middle Ages! They are a popular street food in Palermo and are often eaten between bread or on a roll, like a sandwich. (For more on Sicilian street food, have a look at "Street cuisine in Sicily: traditional dishes from the island")
Parmigiana di Melanzane: Even though the origins are contended by Sicily, Apulia and Calabria, this dish is typical from southern Italy and Sicilians can surely offer you an irresistible dish! The ingredients of this delicious veggie bake are: aubergines, onions, Parmigiano reggiano, caciocavallo cheese, tomatoes and basil.
And now… the desserts!
Granita con panna e brioche con il tuppo: What a combination this is! A fruity 'granita' slush topped with cream, served with a peculiar pastry with the 'tuppo' (Sicilian word for chignon or toupet). A summer must!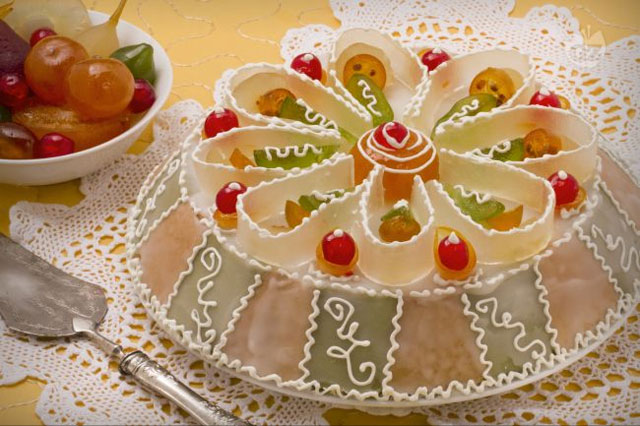 Cassata Siciliana: This dessert is typical of the areas of Palermo and Messina, and consists of a round spongy cake with fruit juices or liqueur, with layers of ricotta cheese, candied peel and chocolate or vanilla filling. It is covered with a shell of marzipan, pink and green pastel colored icing, and decorative designs. The curvy and "heavy" decoration is clearly influenced by the baroque style of the 1600's which is well represented in Sicily!
Pastry with almond dough: The "Pasticcini con pasta di mandorle" are not just regular cookies made of almond dough. The secret to their particular taste and consistency is in the candied orange peel that is added as a cream.
Cannolo con la ricotta: This is probably the best-known Sicilian pastry, and some will say that we have saved the best for last! Cannoli consist of tube-shaped shells of fried pastry dough, filled with a sweet, creamy filling usually containing ricotta. They range in size from "cannulicchi", no bigger than a finger, to the fist-sized proportions typically foundin Piana degli Albanesi (south of Palermo).
Beyond taste: farm visit, market tour & cooking class
The best way to appreciate not only the flavors of Sicilian gastronomy, but to understand the secrets and traditions behind the local dishes, is to witness what happens 'backstage' from the farm to the table.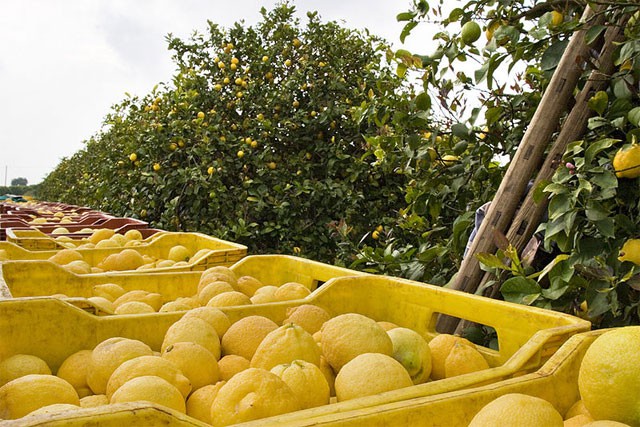 You can visit beautiful organic farms that produce bio-food such as vegetables, fruits and DOP Valdemone extra virgin olive oil (for more on the subject read "Wine, castles and organic farms off the beaten track in Sicily"). And you can also witness how fishermen use traditional techniques to catch fish in the sea.
Where do these fresh products go next? In the picturesque and colorful markets around Sicily! This is where you can get the ingredients for your culinary creation under the expert guidance of a Sicilian chef, who will help you to carefully select the best products, and perhaps teach you some market bargaining techniques too!
Finally, it is time to do the "hard" work and get busy in the kitchen. The Chef will share some secrets of the trade with you, enlightening you on how to make the perfect dough, get that 'tuppo' right on your brioche, how to fry food and still get a light and healthy meal, even how to garnish a plate for maximum visual impact.
This is an unforgettable "A to Z foodie experience" that any food lover must experience at least once, whether in Sicily or elsewhere in Italy!
Are you organizing a foodie event in Italy? Or are you looking for inspiration and creative ideas for a gourmet trip with your family and friends? Contact Italian Special Occasions DMC now for your customized quotation
Photo credits:
Bavette with sea urchin, image from mondopalermo.it
Sicilian cassata cake, image from giallozafferano.it
Organic lemons' harvest, image from siciliafan.it