Christmas in Italy? It's all about family and food! Family gatherings are the most important aspect: no matter where they are scattered around the world, families reunite around the table (a tavola).
During this festive period, people have bought their Christmas presents and food in crowded shops. The home has been decorated according to each family's traditional habits, with the common goal of having a warm, bright and cozy atmosphere. The children are expected to be happy and well behaved. Around the table or the fireplace, in the heat of gratitude for being together, family members share stories – whether myths, jokes, memories of the 'good old times'…
While relatives gather around the joyous and delicious table from north to south, there is no particular dish that represents this Festivity all across the boot. Rather, each region has its own traditional Christmas dishes: the cuisine reflects the characteristics and flavors of the local environment.
Traditional meals
Italians traditionally celebrate this beloved holiday with three meals: Vigilia di Natale (Christmas Eve), pranzo di Natale (Christmas lunch), and pranzo di Santo Stefano (lunch on the 26th of December).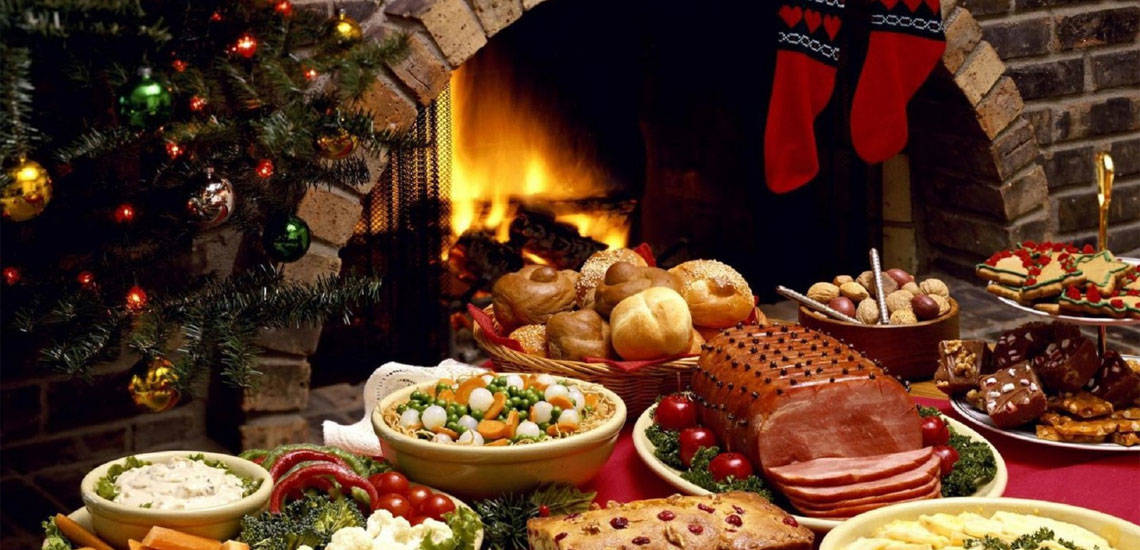 Christmas Eve dinner traditionally precedes the Midnight Mass. In some regions, the Mass is often followed by hot chocolate at home with cookies or a slice of panettone. Something that is common across most Italian regions, is that this dinner is typically light and serves no meat, but rather dishes based on pasta, fish and vegetables.
If you have ever spent Christmas day with an Italian family, then you know that lunch on this special occasion can last around… 4 hours! It is a true feast for all the senses – delicious, aromatic meals awaken your nose and taste buds; the beautiful table and décor entertain your eyes; the cheers and embraces between family and friends lighten up the senses of sound and touch. A variety of antipasti, first dishes, main courses (often meat based) and desserts are presented throughout this family ritual.
On the 26th December, Italians celebrate Santo Stefano with a lunch that is less sumptuous but still important and delicious. For this meal, more distant relatives and friends are often invited. If there are no new guests but just returning participants, it's customary that leftovers will be joyfully eaten.
10 Regional Christmas dishes
For this culinary journey we will "travel" through 10 of Italy's regions, identifying one typical festive recipe for each. Mind you: each of Italy's 20 regions can have numerous historic Christmas dishes and a whole book could be written on this topic! However, we hope that the plates we have chosen will give you an idea of the variety, fantasy and richness of Italian regional cuisine!
Up in cozy Valle d'Aosta, the Gallic influence is quite clear in the region's hearty cooking – even in a typical Christmas dish such as the Carbonata Valdostana con Polenta. This rich stew features thin strips of beef macerated in red wine, minced onion, a variety of aromatic herbs and spices. It is served piping hot over freshly made polenta.
In Piedmont, you do not want to miss out on the tajarin with bacon and smoked goose breast. Tajarin is an egg-yolk-rich pasta with a golden color, originally from the area between Langhe, Roero and Monferrato.
Have a sweet tooth? Head over to Friuli Venezia Giulia and try the gubana, a cake of sweet leavened dough, heavy with a filling of dried fruits and nuts. This is one example of traditional Christmas holiday food with deep-seated cultural roots tied to neighboring Slovenia. The name derives from the Slavic word guba, meaning "fold". In 1409, gubana was one of the 72 courses served during a dinner held by the city of Cividale in honor of visiting Pope Gregory XII.
Moving toward central Italy, abbacchio al forno is a must on Christmas day for those living in the region of Lazio. The dish consists of roast lamb braised with garlic, rosemary, thyme and served with crunchy yet soft baked potatoes.
On the opposite coast, the Marche region proposes its own lasagna called Vincisgrassi, featuring minced beef, sausages, ground chicken and cured ham. Mushroom lovers can have this delicacy added to the list of ingredients. According to local myth, this curious name was chosen to honor Austrian General von Windisch-Graetz, who ordered the dish after fighting against Napoleon's siege in Ancona in 1799.
For dessert we visit Emilia Romagna: the Panone di Natale di Bologna is a rich cake with quince and fig jelly, honey, dark chocolate, candied citron, almonds and raisins.
We proceed south and reach Italy's heel, Apulia. Here the ancient pastoral traditions of the Murgia Plateau have endowed us with dishes such as the cutturidd, a stew with lamb and local herbs prepared in a particular terracotta pan.
A variant of the cutturidd is among the Christmas dishes enjoyed in neighboring Basilicata. But locals also love fish and will cook specialties like Baccalà lesso con peperoni cruschi, or boiled codfish with sun-dried bell peppers.
Fish-based dishes are not to be missed in Calabria, where a favorite choice is pesce stocco di Cittanova con la 'ghiotta. The meal consists of local stockfish covered in a 'ghiotta sauce, made with olive oil, onion, tomatoes, olives, capers and raisins. What makes this dish extra special? The stockfish from Cittanova is immersed in the spring waters of the Zomaro Plateau within the Aspromonte National Park, and as a result enjoys a unique and delicate flavor.
Finally, our 10th dish goes to one of the islands, Sardinia. The Culurgiones de casu guarantee an explosion of flavors in your palate. These are homemade ravioli stuffed with fresh pecorino sheep cheese, chard, nutmeg and saffron, seasoned with tomato sauce and grated pecorino.
Which of these typical Christmas dishes entice you the most? Have you ever tasted any of them? Share below!
Are you thinking about gathering your loved ones in Italy for a special, unforgettable family reunion? If you need any help, tips and expert knowledge on how to organize such a festive event in an authentic way, contact Italian Special Occasions DMC.