November is the fall month that we at Italian Special Occasions DMC have dedicated to tasting the foodie world across Italy. After visiting Sicily in the south ("Experience Sicily between oranges and unique properties") and Tuscany in the center ("Gustatus: the wild taste and spirit of Maremma Tuscany"), we moved towards the north of the boot to explore the Karst Plateau between Trieste in Italy's region of Friuli Venezia Giulia, and the neighboring country of Slovenia.
Our Fam trip led us to surprising flavors, traditions and sights in an off-the-beaten-track area that embodies the spirit and colors of autumn like few other places in Italy.
Where and what is the Karst Plateau?
First things first with a bit of geography! The Karst Plateau is a limestone region extending across the border of southwestern Slovenia and northeastern Italy. It lies between the Gulf of Trieste in Italy and the Vipava Valley and the Brkini Hills in Slovenia.
Forests cover only one-third of the Karst, providing spectacular autumn foliage sights nestled among vineyards and rugged hills. The Karst Plaetau is famous for its caves, which include the Vilenica Cave (the oldest tourist cave in Europe) and the Škocjan Caves (a UNESCO World Heritage Site) in Slovenia, and Grotta Gigante in Italy (the largest show cave in the world).
The western edge of the Karst Plateau also marks the traditional ethnic border between Italians and Slovenes. This is a culturally fascinating place, featuring stunning hilltop stone villages, excellent cuisine and a dramatic history that was deeply affected by the world wars.
Trieste, Italy's quiet and delicious corner
"With a convoluted history of serial conquest, culminating in a century-long tug-of-war between Italy and Austria, a melting-pot population, a street plan that ranges from serenely rational to bewilderingly crooked and steep, and a forbidding limestone plateau crowding it down to the waterfront, Trieste is like a modernist novel — complex, layered, ambiguous. It makes you dig for significance. But don't worry, the story has a happy ending: the patient visitor will go away well satisfied (and wonderfully well fed), rewarded by an experience unavailable to those looking for a quick and easy foreign fix." (Adam Begley – New York Times 2011)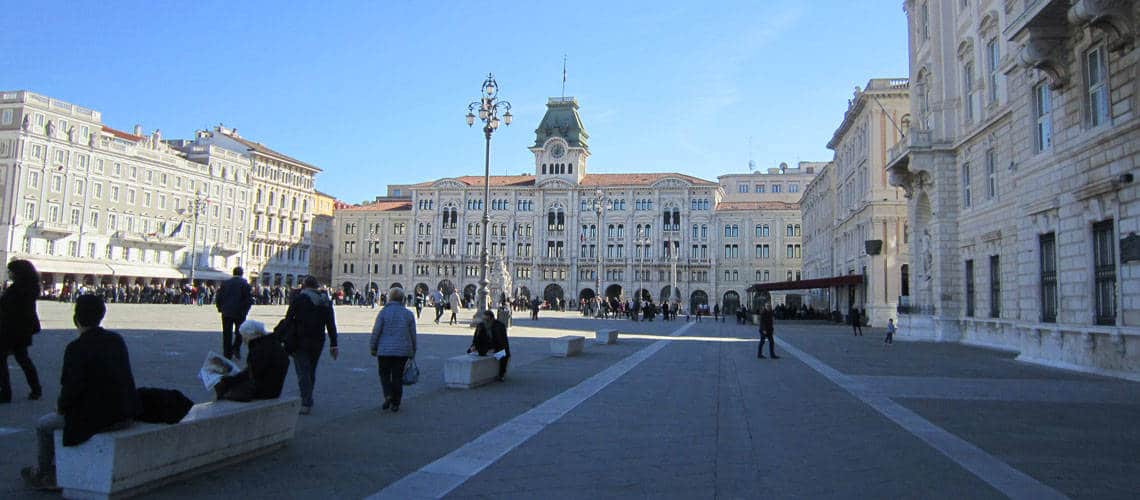 Trieste's iconic central square is Piazza dell'Unità d'Italia: strolling here, like in other parts of this historic city, makes you feel as if you were in Austria, yet in Italy, yet – as historian and travel writer Jan Morris put it – in a city being "nowhere" (Trieste and the Meaning of Nowhere, 2001). The cosmopolitan atmosphere and attractive architecture turned 20th-century Trieste into a bustling cosmopolitan city frequented by artists and philosophers such as James Joyce, Italo Svevo and Sigmund Freud.
You can breathe that same ambiance today. The town is dotted with beautiful museums of all sorts, from places to remember tragic events, to artistic and cultural galleries, to unusual initiatives like the Bora and Wind Museum! And, unless the unforgiving bora is battering the coast, locals do not miss a chance to meet and enjoy an aperitivo or a meal at trendy bars and restaurants. If you have been in other Italian cities, you might notice how fun yet placid and orderly the "hustle and bustle" of Trieste is!
Thanks an insider's tip, our first gourmet experience in town took place at a typical Austro-Hungarian pastry shop dating back to 1836! La Bomboniera is a place where time seems to stand still, featuring Art Nouveau décor that has remained intact for more than a century. We tasted typical Trieste desserts based on Austro-Hungarian tradition, like the Rigo Jansci and Sacher cakes. Early November is also the time for seasonal almond cookies called "fave dei morti", in honor of All Souls' Day. What makes these delicacies so special? All products are baked in the original wood-fired oven, something that few places in the world can brag about!
After satisfying our sweet tooth, it was time for a walk in the pedestrianized streets of the Borgo Teresiano, featuring symmetrical city blocks with elegant and flamboyant architecture alternating Austrian elements, neo-Classical façades and Baroque-style décor. Our exploratory wanderings took us to the panoramic Castle of San Giusto and the adjacent Cathedral; to the seaside promenade known as Le Rive; and to the 19th-century Castello di Miramare with landscaped gardens overlooking the sea. We even felt like children again by enjoying a leisure ride on the Opicina Tramway, an unusual hybrid tram and funicular railway connecting Piazza Oberdan in Trieste with the village of Opicina in the hills above. It was a slow, panoramic ride that allowed us to admire the autumn landscape, the majestic bay and the ancient houses from a unique point of view.
Around every corner, we were tempted with restaurants, cafés and even by pop-up stands or food exhibits. For example, we stumbled across a small chocolate festival with handmade creations of all sorts (have a look at the photos to get the idea). We also could not resist some coffee tasting at the Trieste Coffee Festival. Did you know that almost 30% of all green coffee imported into Italy passes through Trieste? The city is the most important coffee port in the Mediterranean and a hub for the coffee industry as well.
As hinted before, the multicultural atmosphere in Trieste is reflected in the cuisine, where influences from Veneto, Austria, Hungary and Slovenia come together. We had the pleasure of eating in a variety of typical restaurants, but one that stood out among all was the century-old Vecio Buffet Marascutti. It distinguishes itself not only for the traditional flavors and smells of local cuisine, but also for the welcoming staff that led it to be awarded with the "Italian Hospitality" prize.
Our favorite dishes were the potato gnocchi with goulash stew (bread dumplings were available too), the traditional "Jota" bean and sauerkraut soup, and the crèn-crusted ham. We were delighted to see how the waiter grated and sprinkled the fresh crèn (horseradish) right in front of us at the table, after slicing the ham at the evocative counter framed by wines, beers and historic black-and-white photographs of the Buffet.
Between castles and farms in Slovenia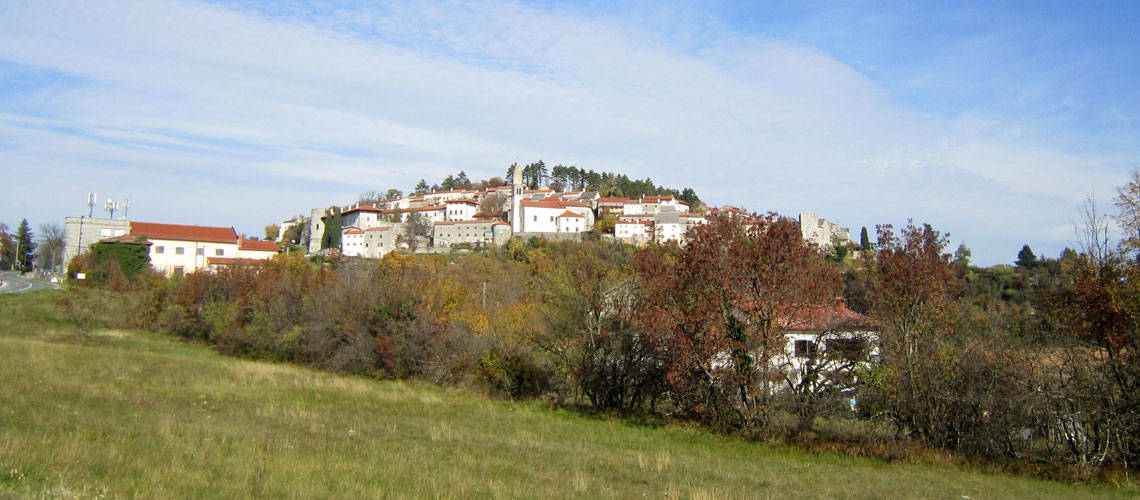 Trieste is right next to western Slovenia, and we took advantage of this proximity to explore the Karst Plateau across the border. We were immediately mesmerized by the colors of autumn and of the Karst's natural landscape and ancient "manmade-scape": red vines contrasted with the yellow and brown hills, dotted by tiny stone villages, hilltop hamlets with high walls, and farms.
Štanjel was the highlight of our adventure: inhabited since prehistoric times, it is one of the oldest settlements in the Karst Plateau. The ancient village center overlooks the Vipava Valley, and is embraced by the 17th-century fortification that was built to defend locals from Ottoman raids. This tiny area treasures gems like the medieval Castle of Štanjel, a permanent exhibition of the works of Karst painter Lojze Spacal, the 15th-century parish church with a lemon-shaped tower, and the beautiful Ferrari Garden. Architect Max Fabiani designed this park in the 1920s at the request of physician Enrico Ferrari from Trieste.
As foodies, we could not wait to have a first-hand experience of the Osmica (or osmizza in Italian and osmice in English), a two-hundred-year-old-tradition of the Karst region! For eight days, farmers obtain the permission to sell their surplus wine, home-made cured pršut ham and other dried meats without paying tax – a tradition that was launched in the 18th century by Austrian empress Maria-Theresa. The word osmica comes from the Slovene word for eight, osem.
How do you find an osmica? Quite "easy": while traveling through the winding streets and intimate villages, keep an eye out for a bouquet of ivy hanging from crossroads signs. There is usually also a smaller arrow-shaped sign with a village name scribbled on top of it, along with the reassuring word 'osmica'. Find and follow the ivy branches until you reach the farm that is hosting the event! Of course, in the 21st century you also have the quicker option of finding the closest osmica online. But we went for the traditional way!
It did not take us long to spot a branch at an intersection pointing towards Grahovo Brdo, and we reached a small village with stone houses. After a short stroll under the warm November sun, our treasure hunt was rewarded when we found the host farm, immersed between ancient houses and colorful vineyards. We sat at a rustic wooden table and enjoyed a sociable event full of fun with both locals and a few foreign visitors. The farmers served us their specialties: Karst prosciutto, the "Peasant's dish" (sausage, roast pork, pork ribs with sour cabagge), jota soup and štruklji (dumplings filled with ricotta or walnuts). Of course, the excellent indigenous wine called Teran – the true essence of the red soil of the Karst – accompanied everything.
These intimate food celebrations are held throughout the year in rotating farms across Slovenia and even around Trieste's countryside. Some farms also organize larger dancing feasts, with musicians and singers providing a fantastic atmosphere to the already authentic osmica.
We thoroughly enjoyed our Fam trip in the Karst plateau, and definitely recommend it to any discerning traveler looking for a little-known destination full of history, strong flavors and a distinctive local character – socially, environmentally and culturally. These are also the winning ingredients for an authentic and unforgettable special occasion in one of Italy's most surprising corners. Need help and inspiration is organizing such a creative event? Contact us now!