More and more organizations, businesses and individuals are interested in being socially responsible. An event is the perfect way for you to launch a corporate social responsibility (CSR) initiative or to incorporate practices that benefit the local society, economy and ecosystem. How can you apply CSR to an event? At Italian Special Occasions DMC, we are happy to share some tips and ideas based on one of our latest events.
Venue and location are two factors that should be taken into consideration when planning an event with CSR at its heart. Our event took place in Feudo San Pietro, a beautiful building from the 1400s located in Milazzo, Sicily. Hosting an event in a historic venue can help fund the careful works that are needed to restore or maintain its ancient features and lush gardens. In addition, choosing a location that is off the beaten path, such as the Messinese territory in north-eastern Sicily, can help the local community while avoiding overcrowding the most requested event destinations.
We wanted Feudo San Pietro to open its doors to the public for the first time with a unique event that would focus on the emotional intelligence of the attendees. Wellness and CSR are evermore present in the minds of people, and at Italian Special Occasions DMC we know that our clients and their delegates are trying to incorporate these aspects in their own lives. So, we made sure that mindfulness would play a role in our event to make it unforgettable. How? By involving all senses through yoga, organic food and music.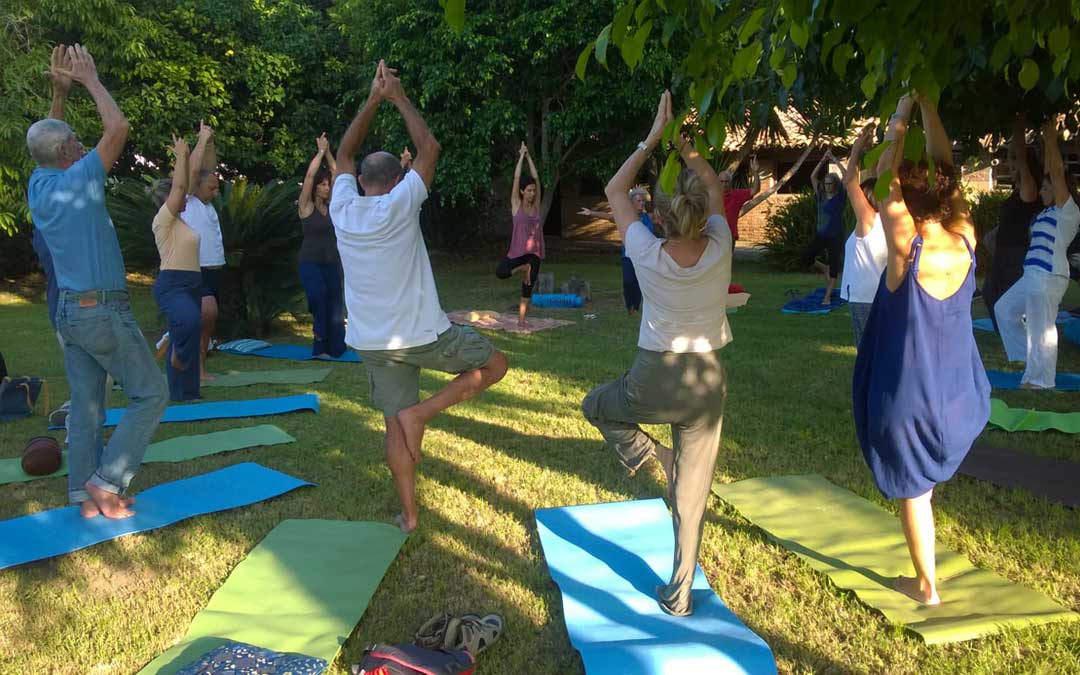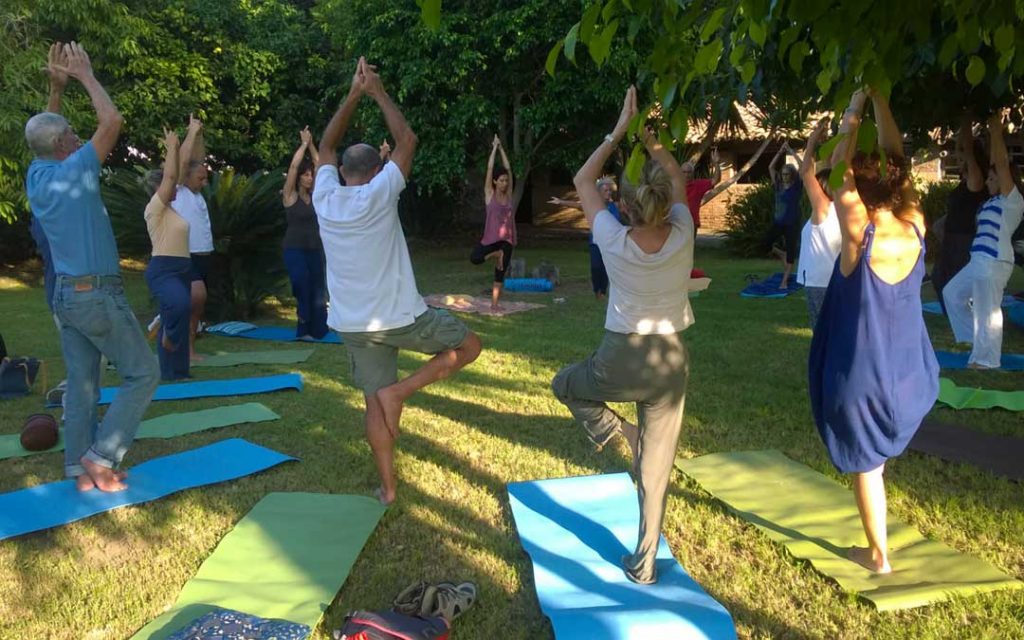 The event was called "Yoga, AperiBio & Musica d'Autore". It started with a yoga session in the gardens of Feudo San Pietro. Participants were given the chance to focus on themselves, their body and mind, and also on the scents and sounds of nature. Depending on your event objectives, the yoga session can be integrated with a learning coach to guide attendees on networking and other skills.
Next, participants immersed themselves in a foodie experience over a healthy aperitivo, featuring genuine products and drinks from ViviamoBIO, the first organic supermarket in Milazzo. The owners of this innovative business, Veronica and Saverio, entertained the public with recipes and tips about healthy eating in a Sicilian context. The "AperiBIO" allowed participants to interact with the locals and (indirectly) to support local businesses, to learn more about wellbeing and to appreciate the concept of slow food.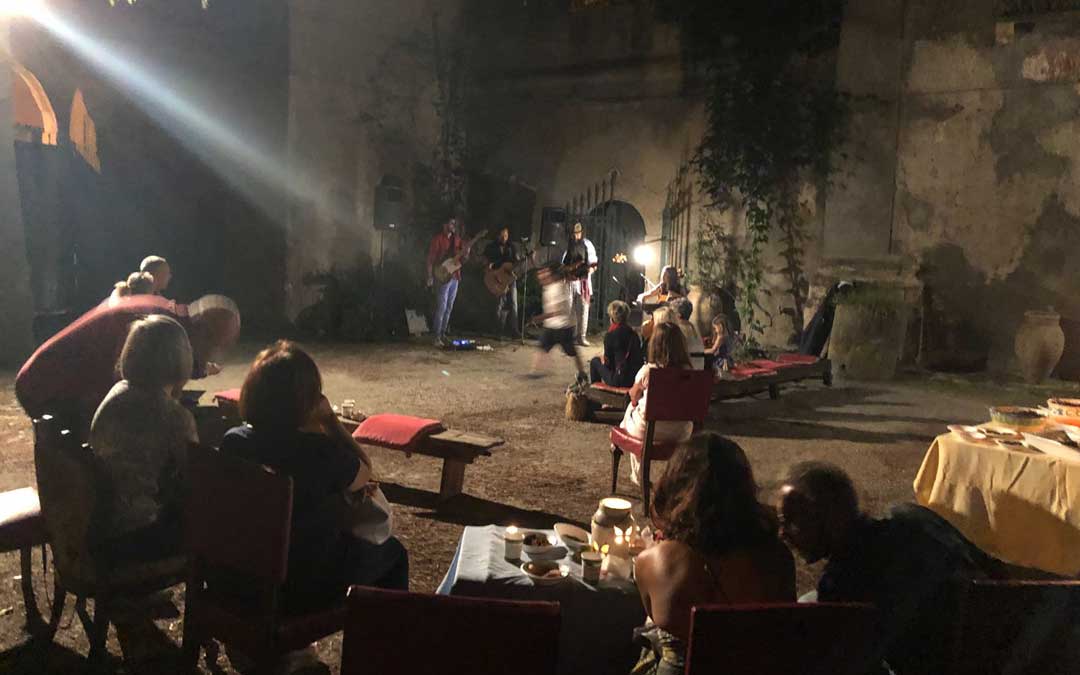 Additional sensory experiences were added to the aperitivo when Disorient Express started playing live music in the courtyard of Feudo San Pietro. The group took the participants on a Mediterranean musical journey, from gypsy folk music to ska with Sicilian undercurrents. The band is formed by eclectic songwriters and musicians hailing from Sicily and Ireland: Fabrizio Schepis (vocals and acoustic guitar), Piero la Mancusa (bass guitar), Giuseppe Alan Lisa (lead guitar), Claudio Paci (percussion) and Bronagh Slevin (cello).
We love to involve local artists to create unique atmospheres in our events. Another idea for your event is to involve Italian artisans in branding your venue with personalized décor and artwork. This way, you will support local talents and your event will shine in terms of CSR.
Finally, during our event at Feudo San Pietro, participants also had the chance to meet and speak with the owners of the venue, including Vittoria Notarbartolo Di Villarosa, who is one of the protagonists of our "Ladies of #sicilyoffthebeatenpath" article. The event was conceived for a limited number of attendees, in order to better transmit the unique experience of meeting people and interacting with them over a glass of organic wine; and to respect and better enjoy the ancient spaces of Feudo San Pietro, where time seems to stand still.
Contact us if you want to bring Corporate Social Responsibility to your event in Italy. We will tailor a unique occasion to fulfill your business objectives, make the most out of the local destination in a sustainable way, and blend experiences for the wellbeing of your delegates.