Here are some tips to inspire you with original venues and activities for you to consider for your next Italian event – whether it is a wedding, corporate meeting, family & friends' reunion, or foodie event.
The content is taken from our "Fall Newsletter": we love sharing our knowledge about Italy, and have decided to send out only four newsletters per year with highly curated content: if you sign up, you will get tips on the best period-region combination for the upcoming season. Click here to sign up
Our recommended winter destination is southern Italy. Why?
"…While much of Europe marches to an increasingly homogenized beat, this raffish corner of the continent dances to its owns own hypnotic tune". As the travel guide for excellence – Lonely Planet – puts it, there is something unique and authentic about southern Italy. Here, winter is not associated with a "grey" color, but rather with sun, warmth and joy.
Southern Italy is a fantastic option not only for "ordinary" days in November, December, January and February – but also for those special times of the year marked by Christmas and New Year's Eve. An ever-growing number of families are now choosing to spend these longed-for-festivities with relatives and friends in a homely atmosphere abroad.
UPCOMING SEASON: WINTER
Our top destination picks: Basilicata, Puglia, Campania

Basilicata
Top Sense: Taste
This often forgotten region treasures a rich cuisine, vibrant traditions and a contemporary art scene. From stepping into the rupestrian buildings that take you back to the Paleolithic Ages, to comparing the styles of Byzantine, Angevin, Norman-Swabian and Romanesque architecture, to admiring permanent exhibitions by internationally recognized artists – Basilicata offers a captivating atmosphere. And its rustic cuisine will have your taste buds dancing to the rhythm of local tarantella.
Treasure Trove
Thought to be one of the world's oldest towns, Matera boasts hundreds of ancient caves and rock churches steeped in history, offering the most extensive example of their kind in the Mediterranean. The fascinating "Sassi" district is a UNESCO World Heritage Site and the town has been chosen as the 2019 European Capital of Culture.
Maratea is known as the 'Cannes' of Southern Italy: it is an exclusive, hidden retreat with chic residences and a stunning harbour. Perched on a hilltop, the town offers a charming unspoilt scenery ranging from idyllic sea views, to wooded hillsides, to majestic mountains. The local territory hides gems like the Cave of Wonders, with some amazing stalactite and stalagmite formations.
During the Middle Ages, Melfi became the Norman Capital of Southern Italy. The spectacular scenery of this medieval village is not to be missed, with its splendid cathedral, the impressive castle featuring 10 towers, and the winding Norman city walls (the only one of its kind in Southern Italy). After exploring the rich cultural heritage of Melfi, you can enjoy a delightful stroll along the volcanic shores of the Monticchio Lakes.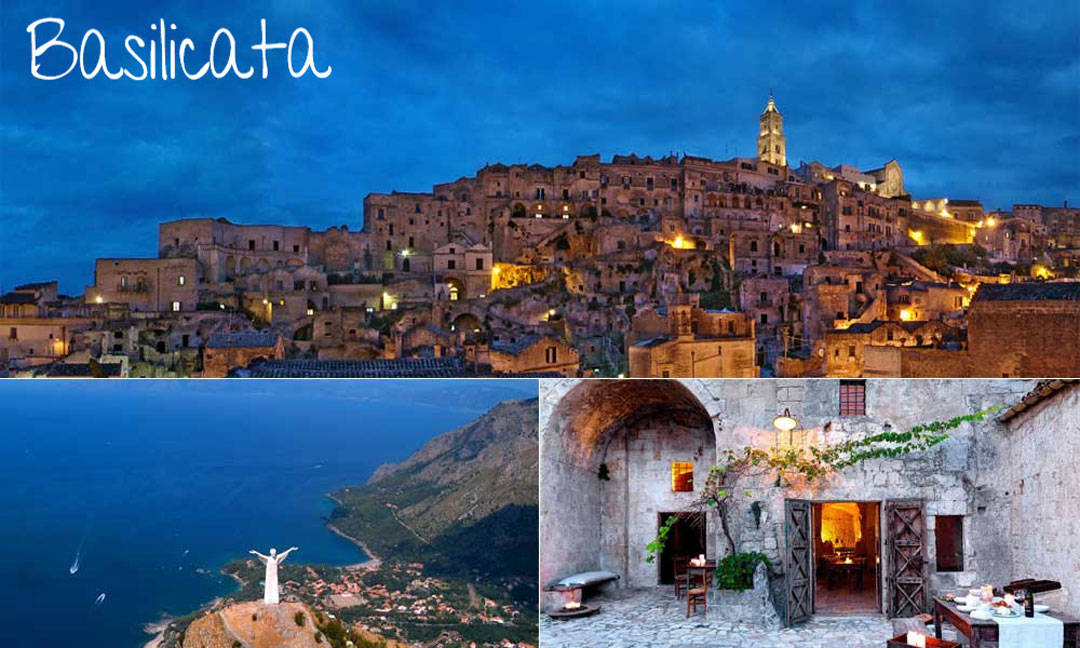 Recommended Occasion: Foodie Trip & Family Reunion
Basilicata proposes a delicious regional cuisine influenced by its colorful history, and made of rustic ingredients from the sea and from the fertile volcanic soil. One of the greatest wines of Southern Italy, Aglianico del Vulture (DOC), is produced here.
If you are you planning a special Family/Friends Reunion abroad for Christmas or New Year's Eve, Basilicata's cuisine and amazing historic heritage make it the ideal destination for an inspiring and enriching occasion. Where else could you enjoy nine dishes on Christmas Eve? That's right: in Basilicata this tradition is used to symbolise the popular belief that Mary knocked on nine doors while seeking shelter to give birth.
Perfect Venues
"Its magical gardens; the family gathering in the magnificent salon; celebrations, intimate teas or evenings of films. It is a painted palace, with frescos on its ceilings and walls, palatial rooms with countless details… and when the children are there, delight is everywhere". This is how Francis Ford Coppola describes Palazzo Margherita, an ancient palace that he bought in 2004, turning it into a magnificent venue and boutique hotel in the town of Bernalda.
For those looking for something more unusual, Sextantio Le Grotte Della Civita offers accommodation in a breath-taking setting. The design rooms, which integrate local materials and contemporary amenities, are located in ancient cave dwellings that have preserved their architecture and local aesthetic. Located in Matera, this venue offers guests a new take on authenticity.

Puglia
Top Sense: Touch
Everyone at Italian Special Occasions DMC loves Puglia, but just a bit less in July and August, when mass tourism disturbs all of our Five Senses and does not allow Slow Travel to be experienced. While Apulia is a fantastic region in any off-peak season – suspended among nature, history, tradition, flavors and spirituality – it is particularly charming during winter: the weather is beautiful, temperatures are still relatively warm, the air is clean and there is space for everyone! Apulia has a unique texture of its own: touch the knotted bark of centuries-old olive trees, the surface of buildings in local Lecce limestone, and the artisan creations in leather, wood and terracotta.
Treasure Trove
Martina Franca has one of the loveliest historic centers anywhere: a memorable maze of winding alleys, where whitewashed simplicity sits side by side with baroque extravagance. The town is built on a hill in the green Valle d'Itria, dotted with traditional trulli. The area produces the white Martina Franca DOC wine, which can be made in a still or sparkling Spumante style.
Contrasting with the blue and green backdrop of the sea and the olive groves, Ostuni is a true jewel that will leave you awe-struck. Known as La Città Bianca (the white town), it sits on a hilltop featuring whitewashed houses, ancient Aragonese walls and different staircases and arches.
Did you know that Puglia is home to an amazing town called "The Florence of the south"? It's Lecce. A period of prosperity in the 17th century led to the construction of grand buildings with the fashionable Baroque style and using the soft local limestone. The town developed its own artistic style, called Barocco Leccese, characterized for being florid and exuberant, yet compact and neat, with a playful spirit mixing mythological creatures and fantastical figures with floral patterns.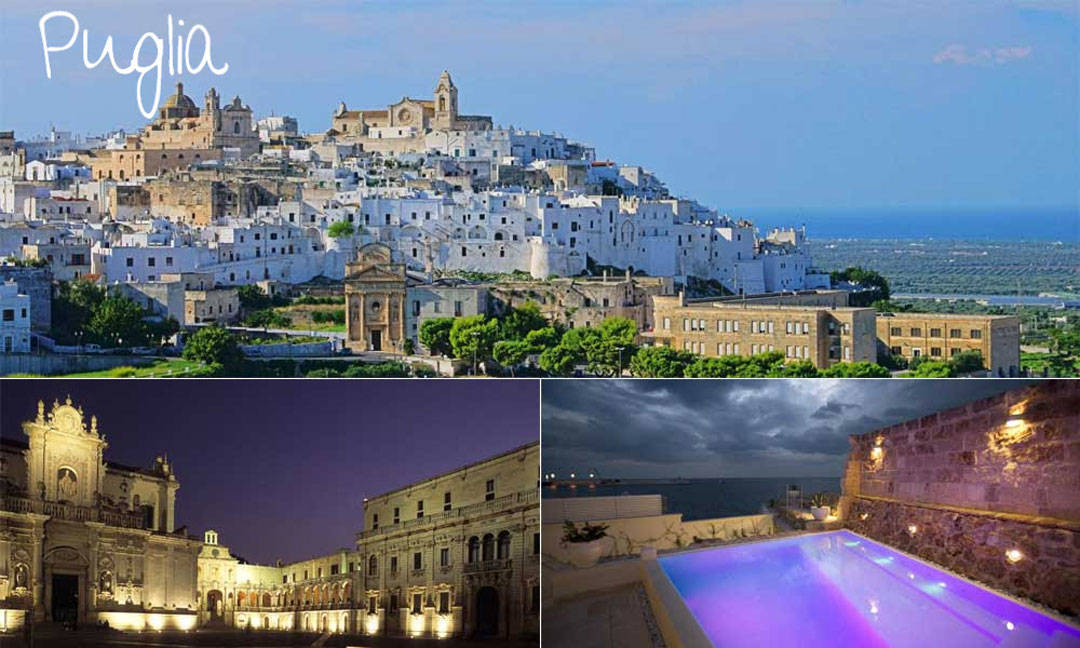 Recommended Occasion: Corporate Retreat
Corporate groups traveling in Puglia for incentives travel and team building outings are guaranteed to love this region's colorful, tasty and entertaining activities. Even business meetings themselves cannot be dull or boring if held in historic properties built entirely of tufa rock.
Beautiful small treasures can be created with one's hands and creativity. Inspired by the trulli of Alberobello, team-building groups can participate in a painting workshop with experienced artisans to learn how to decorate terracotta and wood objects. Moving towards Martina Franca, the art of leather can be appreciated in small family ateliers. Groups can also join fun cooking lessons that will put their culinary skills to the test with the preparation of traditional orecchiette and taralli.
Perfect Venues
Travel back in time and feel like a nobleman or noblewoman at Don Ferrante: it is a small, charming townhouse in what was once a fortress carved into the defensive walls. Located in the historic center of Monopoli, this ancient complex boasts magnificent views of the Adriatic Sea on one side and of whitewashed houses on the other.
In Apulia you can keep things grand yet simple: another fantastic venue for hospitality and events is Torre del Parco, a monumental complex from 1419 that is a Medieval and Renaissance symbol of Lecce. It features a majestic, 30-meter-tall tower, and amazing guestrooms in what used to be a convent from the 1600s!

Campania
Top Sense: Sight
Campania offers splendid natural landscapes, a mild climate, hypnotic archeological remains, ancient Greek and Roman myths, historical and artistic wealth, a famous culinary heritage, and a great variety of contemporary artistic events… a real feast for your eyes! Its distinctive character is shaped by the contagious liveliness of its local inhabitants.
Treasure Trove
You cannot miss the largest historic city center in Europe, a World Heritage Site enclosing 27 centuries of history: Naples has long been a major cultural center with a global sphere of influence, particularly during the Renaissance and Enlightenment eras. Amazing culturally and historically significant sites are located in the vicinity of Naples, including the famous Reggia di Caserta, the ruins of Pompeii and Ercolano, and jewel islands like the renowned Capri.
But you also find off-the-beaten-path attractions within Naples itself – like a Roman marketplace beneath the Church of San Lorenzo Maggiore – or around Campania, like the Phlegraean Fields with 24 volcanos and craters, or the Grotta della Sibilla in Lake Averno, a 300-meter tunnel that many claim is the entrance to Hades!
Why is this region particularly recommended for a spectacular Christmas event? Of all the regions of Italy, Campania holds the traditional Christmas Nativity scenes with the most reverence. The origin of the Neapolitan presepe can trace its beginnings to 1025, and still today local artisans create hand-carved wooden figurines to add to the usual animals and local landscapes.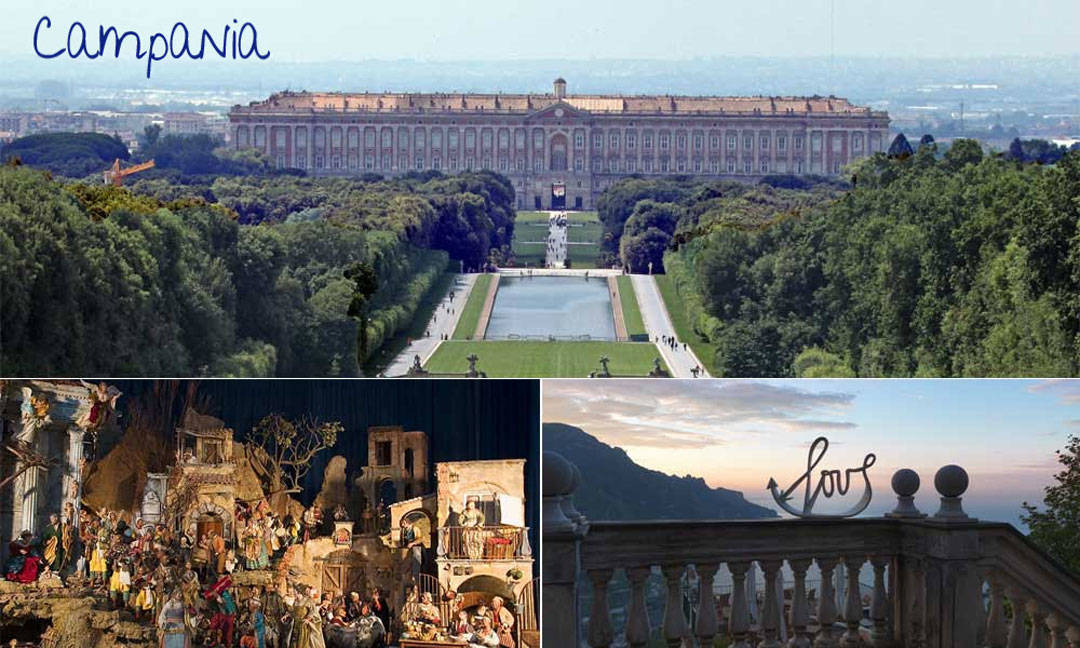 Recommended Occasion: Wedding
Just imagine the charm and uniqueness of a winter wedding in the Mediterranean Sun, somewhere in an ancient town built into startlingly steep cliffs overlooking a panoramic bay.
Few places can equal the glorious views and ambiance of wedding venues in Campania, from ancient, intimate chapels to enchanted gardens, from stately palaces to a beach wedding on a private island with its lighthouse!
Perfect Venues
Beautiful Ravello is home to the stunning Palazzo Alvino, was once a 12th century private villa for an Italian noble family. The venue still keeps some of the original features, such as the entrance hall and what is today a cellar in the Michelin-starred restaurant.
Brides will feel like princesses in Palazzo Belmonte, which was built for the princely Pignatelli di Belmonte family and was used as a hunting lodge by the Kings of Spain and Italy. The estate features its own private island of Licosa, home of the legendary Sirens.