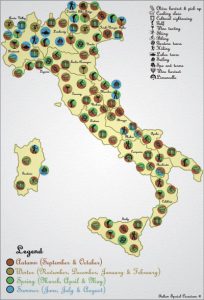 Responsible Travel within the Seasons
If you are at the initial planning (or daydreaming) stages of your Italian special occasion, why not consider embracing the seasonality movement?
Weddings or other types of events do not have to necessarily take place in late spring or in summer: they can be just as wonderful, if not even better, in the seasons of autumn and winter!
Each season has something special and different to offer, and we at Italian Special Occasions DMC can suggest you the best region-season combination for an event that not only helps your pockets, but also the local environment and community.
To get a better idea, have a look at this video about Fall Activities in Tuscany or check out our

Seasonality Map

!
GEMS TRAVEL TRADE NEWSLETTER SOCIAL MEDIA PRIVACY
Telephones: +39 329 769 2116 / +39 0564 813 473 | Email:
Italian Special Occasions DMC – VAT: IT06462190486 – Insurance Policy RM 2250734 – © all rights reserved